 Touring motorcycle
A
touring motorcycle
is a type of
motorcycle
Motorcycle
A motorcycle is a single-track, two-wheeled motor vehicle. Motorcycles vary considerably depending on the task for which they are designed, such as long distance travel, navigating congested urban traffic, cruising, sport and racing, or off-road conditions.Motorcycles are one of the most...
designed for
touring
Motorcycle touring
Motorcycle touring is a format of tourism that brings the adventure, skill and coexistence within a framework of personal challenge, with the freedom and diversity that takes a person along routes that are less traffic-bound that lead to the doors of castles, to the shores of lakes, to the entrance...
. Although any motorcycle can be used to tour with, manufacturers have brought specific models designed to address the particular needs of these riders. Common to the touring motorcycle models are usually large displacement, fairings and windshields (to offer a high degree of weather and wind protection), large-capacity
fuel tank
Fuel tank
A fuel tank is safe container for flammable fluids. Though any storage tank for fuel may be so called, the term is typically applied to part of an engine system in which the fuel is stored and propelled or released into an engine...
s (for long ranges between fill-ups), engines offering lots of low-end
horsepower
Horsepower
Horsepower is the name of several units of measurement of power. The most common definitions equal between 735.5 and 750 watts.Horsepower was originally defined to compare the output of steam engines with the power of draft horses in continuous operation. The unit was widely adopted to measure the...
, and a more relaxed, more upright seating position than
sport bike
Sport bike
A sport bike, also written as sportbike, is a motorcycle optimized for speed, acceleration, braking, and cornering on paved roads, typically at the expense of comfort and fuel economy in comparison to less specialized motorcycles...
s. These motorcycles can be further divided into multiple sub-categories, which are commonly used terms within the motorcycle industry.
Full-dress tourers
Full-Dress touring motorcycles are generally characterized by extremely large fairings and ample bodywork compared to other forms of tourers, the integration of hard luggage into the design of the motorcycle (often including both saddlebags and a top-mounted box), very large displacement, torque-rich engines, and a very upright, comfortable riding position. Additionally, standard and optional amenities on full-dress tourers often include equipment not normally offered on other motorcycles, such as complete stereos (AM/FM radios with CD players or MP3 connections are standard, and satellite radio is becoming increasingly common), heated seats and hand-grips, GPS navigation systems, selective venting, power windshields, and, for certain models in certain model-years, such oddities as integrated air compressors and air bags. Full-dress tourers are designed specifically for riding on pavement. While they may theoretically be taken onto hard, compacted dirt roads, they are not specifically designed for off-road duties. Common current examples of full-dress tourers include the
Yamaha
Yamaha
Yamaha may refer to:* Yamaha Corporation, a Japanese company with a wide range of products and services** Yamaha Motor Company, a Japanese motorized vehicle-producing company...
Royal Star Venture, the
Honda Goldwing
Honda Goldwing
The Honda Gold Wing is a touring motorcycle designed and manufactured by Honda. It was introduced October 1974, and went on to become a popular model in North America, Western Europe and Australia. Over the course of its history, it has had numerous modifications to its design. In 1975 it featured...
, the BMW K1600GTL, the Harley-Davidson Electra Glide, and the controversially styled
Victory
Victory Motorcycles
Victory Motorcycles is a motorcycle manufacturer based in Spirit Lake, Iowa, United States, which began production of its vehicles in 1998. Its parent company, Polaris Industries, created the firm following the modern success of Harley-Davidson...
Vision Tour.
Global on- and off-road tourers
This category encompasses dual-sport motorcycles designed specifically to provide global touring capabilities on both pavement and off-road with the intent of making virtually any destination reachable. Motorcycles in this category share a unique combination of traits that provide them very high ground clearance (for off-road purposes); particularly large fuel reserves; large displacement understressed engines for high reliability and heavy torque output; large size; and good high-speed highway behavior and handling. This combination of traits, along with their weight, is also what separates them from traditional off-road,
Enduro
Enduro
Enduro is a form of motorcycle sport run on courses that are predominantly off-road. Enduro consists of many different obstacles and challenges...
, and MX class motorcycles.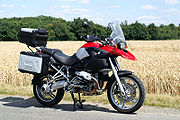 It is common for a large selection of purpose-driven options to be available for global tourers, including skid plates (to protect the engine and transmission during off-road use), larger and additional fuel tanks than stock, metal-formed hard luggage for extreme condition use, hardened GPS navigation systems designed to handle off-road abuse, etc. These bikes do not necessarily ship with hard luggage, but usually offer them as optional extras either from the manufacturer or via third-party suppliers. These motorcycles are often used as the basis for competitions in extreme rally events, including the grueling
Dakar Rally
Dakar Rally
The Dakar Rally is an annual rally raid type of off-road automobile race, organised by the Amaury Sport Organisation...
.
Noteworthy current examples include the BMW
F800GS and F650GS
BMW GS parallel-twin
The BMW F800GS and F650GS are members of the GS family of dual-sport motorcycles manufactured in Berlin, Germany by BMW Motorrad. Both bikes were launched in 2008, and use the same 798 cc parallel-twin engine with chain drive, but with different power outputs and equipment levels...
and
R1200GS
BMW R1200GS
The BMW R1200GS and R1200GS Adventure are motorcycles manufactured in Berlin, Germany by BMW Motorrad, part of the BMW group. It is one of the BMW GS family of dual sport motorcycles. Both motorcycles feature a 1,170 cc, 2-cylinder boxer engine with 4-valves per cylinder...
; the
KTM
KTM
KTM Sportmotorcycle AG is an Austrian motorcycle, bicycle and moped manufacturer.The company was founded in 1934 by engineer Hans Trunkenpolz in Mattighofen. It started out as a metal working shop and was named Kraftfahrzeuge Trunkenpolz Mattighofen...
950 and
990 Adventure
KTM 990 Adventure
The KTM 990 Adventure is an updated version of KTM 950 Adventure Dual-sport motorcycle produced in Austria by KTM. The bike is powered by the LC8 liquid cooled, four-stroke, DOHC 999 cc 75° V-twin engine, based on the design used in the KTM 990 Super Duke, producing around...
series; the Suzuki V-Strom 1000 and V-Strom 650; and the
Kawasaki KLR650
Kawasaki KLR650
The Kawasaki KLR650 is a dual-sport motorcycle intended for use on both paved and unpaved roads. It has been a long-standing model in Kawasaki's lineup, having been introduced in 1987 and remaining almost unchanged through the 2007 model. The 2008 model was the first significant redesign of the...
. In recent years, other manufacturers have also introduced models with some off-road ability like the
Buell Ulysses
Buell Motorcycle Company
The Buell Motorcycle Company was an American motorcycle manufacturer based in East Troy, Wisconsin and founded in 1983 by ex-Harley-Davidson engineer Erik Buell.Harley-Davidson acquired 49% of Buell in 1993, and it became a wholly owned subsidiary by 2003....
and the
Triumph Tiger
Triumph Tiger 1050
The Triumph Tiger 1050 is a continuation of the Triumph Tiger motorcycle model line from the Triumph Tiger 955i produced in Hinckley, England by Triumph Motorcycles. The model name is derived from Triumph's long history of sporting motorcycles of both single and twin cylinder design and of previous...
, although from 2007 the Tiger is much more road oriented.
Sport tourers
Sport tourers are a hybrid form between sport bikes and tourers, allowing long-distance riding at higher speeds but with more emphasis on sport-like performance (in both handling and speed) than standard tourers. These bikes offer a middle ground between both segments. The sport touring category includes such motorcycles as the
Honda VFR (Interceptor)
Honda VF and VFR
The VF and VFR series was a motorcycle made by Honda and had a V4 engine. The bike was also the first to utilize a Sprag clutch.-V4 engine:...
and
ST series
Honda ST series
The Honda ST series, also known as the Pan-European in some markets, fills the gap between touring-oriented sport motorcycles such as the CBR1000F and full-dress tourers such as the Honda Goldwing....
; the
Yamaha FJR1300
Yamaha FJR1300
The Yamaha FJR1300 is the Yamaha Motor Company's largest sport touring motorcycle, currently in production as the FJR1300A and FJR1300AS .-History:...
; the
Triumph
Triumph Motorcycles Ltd
Triumph Motorcycles Ltd is the largest surviving British motorcycle manufacturer, which was established in 1984 by John Bloor after the original manufacturer Triumph Engineering went into receivership...
Sprint and
Sprint ST
Triumph Sprint ST
The Triumph Sprint ST is a sport touring motorcycle manufactured in the United Kingdom since 1999 by Triumph.-955 cc:The Sprint ST was first introduced in 1999 as a complete redesign of the earlier Sprint 900 styled by Rod Scivyer...
; Ducati ST series; the
Moto Guzzi
Moto Guzzi
Moto Guzzi is an Italian motorcycle manufacturer. It is one of seven brands owned by Piaggio.Established in 1921 in Mandello del Lario, Italy, the company is noted for its central historic role in Italy's motorcycling manufacture, its prominence worldwide in motorcycle racing, and a series of...
Norge; the
Suzuki Katana
Suzuki Katana
The original Suzuki Katana was a then-novel sport motorcycle designed in 1979–1980 by the southern Bavarian firm of Target Design at the request of Suzuki of Germany specifically for their market....
; the
Kawasaki Concours 14
Kawasaki 1400GTR
The Kawasaki 1400GTR, also known as the Concours 14 or ZG1400 in some markets, is a motorcycle produced by Kawasaki. The 1400GTR was introduced in September 2007 and is based on the ZX-14 platform....
(1400GTR); as well as many
BMW
BMW Motorrad
BMW Motorrad is the motorcycle brand of the German company BMW, part of its Corporate and Brand Development division. The current General Director of the unit is Hendrik von Kuenheim....
GT, ST, and RT models. These bikes sometimes ship with hard luggage, but some manufacturers offer them as optional extras, either from the manufacturers themselves or via third-party suppliers.
See also
Outline of motorcycles and motorcycling

Outline of motorcycles and motorcycling

The following outline is provided as an overview of motorcycles and motorcycling:Motorcycle – single-track, engine-powered, two-wheeled motor vehicle...