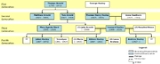 Tom Arnold (academic)
Tom Arnold
also known as
Thomas Arnold the Younger
, was a British literary scholar.
Life
He was the second son of
Thomas Arnold
Thomas Arnold
Dr Thomas Arnold was a British educator and historian. Arnold was an early supporter of the Broad Church Anglican movement...
, headmaster of
Rugby School
Rugby School
Rugby School is a co-educational day and boarding school located in the town of Rugby, Warwickshire, England. It is one of the oldest independent schools in Britain.-History:...
, and younger brother of the poet
Matthew Arnold
Matthew Arnold
Matthew Arnold was a British poet and cultural critic who worked as an inspector of schools. He was the son of Thomas Arnold, the famed headmaster of Rugby School, and brother to both Tom Arnold, literary professor, and William Delafield Arnold, novelist and colonial administrator...
. After taking a first class degree at
University College, Oxford
University College, Oxford
.University College , is a constituent college of the University of Oxford in England. As of 2009 the college had an estimated financial endowment of £110m...
, Arnold grew discontented with
Victorian
Victorian era
The Victorian era of British history was the period of Queen Victoria's reign from 20 June 1837 until her death on 22 January 1901. It was a long period of peace, prosperity, refined sensibilities and national self-confidence...
Britain and attempted to take up farming in
New Zealand
New Zealand
New Zealand is an island country in the south-western Pacific Ocean comprising two main landmasses and numerous smaller islands. The country is situated some east of Australia across the Tasman Sea, and roughly south of the Pacific island nations of New Caledonia, Fiji, and Tonga...
. Failing to make a success of this career, in 1850 he moved to
Tasmania
Tasmania
Tasmania is an Australian island and state. It is south of the continent, separated by Bass Strait. The state includes the island of Tasmania—the 26th largest island in the world—and the surrounding islands. The state has a population of 507,626 , of whom almost half reside in the greater Hobart...
, having been invited to take the job of Inspector of Schools by Governor
William Denison
William Denison
Sir William Thomas Denison, KCB was Lieutenant Governor of Van Diemen's Land from 1847 to 1855, Governor of New South Wales from 20 January 1855 to 22 January 1861, and Governor of Madras from 1861 to 1866....
. Soon after arriving in Hobart, he fell in love with and married Julia Sorell, granddaughter of former Governor
William Sorell
William Sorell
William Sorell was a soldier and third Lieutenant-Governor of Van Diemen's Land.-Early life:Sorell was born probably in the West Indies, the eldest son of Lieutenant-general William Alexander Sorell and his wife Jane...
. They had nine children (four of whom died young), among them
Mary
Mary Augusta Ward
Mary Augusta Ward née Arnold; , was a British novelist who wrote under her married name as Mrs Humphry Ward.- Early life:...
, who became a best-selling novelist under the name Mrs Humphry Ward, and Julia, who married
Leonard Huxley
Leonard Huxley (writer)
Leonard Huxley was an English schoolteacher, writer and editor.- Family :His father was the zoologist Thomas Henry Huxley, 'Darwin's bulldog'. Leonard was educated at University College School, London, St. Andrews University, and Balliol College, Oxford. He first married Julia Arnold, daughter of...
, the son of
Thomas
Thomas Huxley
Thomas Henry Huxley PC FRS was an English biologist, known as "Darwin's Bulldog" for his advocacy of Charles Darwin's theory of evolution....
, and gave birth to
Julian
Julian Huxley
Sir Julian Sorell Huxley FRS was an English evolutionary biologist, humanist and internationalist. He was a proponent of natural selection, and a leading figure in the mid-twentieth century evolutionary synthesis...
and
Aldous
Aldous Huxley
Aldous Leonard Huxley was an English writer and one of the most prominent members of the famous Huxley family. Best known for his novels including Brave New World and a wide-ranging output of essays, Huxley also edited the magazine Oxford Poetry, and published short stories, poetry, travel...
. After being widowed in 1888, Arnold in 1890 married for a second time, to Josephine Benison, daughter of James Benison,
Ballyconnell
Ballyconnell
Ballyconnell is a town in County Cavan, Ireland. It is situated on the N87 national secondary road at the junction of four townlands Annagh, Cullyleenan, Doon and Derryginny in the parish of Tomregan, Barony of Tullyhaw. The town has an altitude of 55 metres above sea level...
,
County Cavan
County Cavan
County Cavan is a county in Ireland. It is part of the Border Region and is also located in the province of Ulster. It is named after the town of Cavan. Cavan County Council is the local authority for the county...
,
Ireland
Ireland
Ireland is an island to the northwest of continental Europe. It is the third-largest island in Europe and the twentieth-largest island on Earth...
.
While in Tasmania Arnold converted from
Anglicanism
Anglicanism
Anglicanism is a tradition within Christianity comprising churches with historical connections to the Church of England or similar beliefs, worship and church structures. The word Anglican originates in ecclesia anglicana, a medieval Latin phrase dating to at least 1246 that means the English...
to Roman Catholicism, a move which angered his Protestant wife sufficiently to cause her to smash the windows of the chapel during his confirmation. The marriage was to be plagued by domestic strife over religious loyalty until Julia's death. At the time Tasmania would not employ Catholics in senior civil service positions, and so in 1857 the family moved back to England. Arnold took a job teaching
English literature
English literature
English literature is the literature written in the English language, including literature composed in English by writers not necessarily from England; for example, Robert Burns was Scottish, James Joyce was Irish, Joseph Conrad was Polish, Dylan Thomas was Welsh, Edgar Allan Poe was American, J....
at the
Catholic University
Catholic University of Ireland
The Catholic University of Ireland was a Catholic university in Dublin, Ireland and was founded in 1851 following the Synod of Thurles in 1850, and in response to the Queen's University of Ireland and its associated colleges which were nondenominational...
in
Dublin
, and wrote
A Manual of English Literature
(1862), which became a standard textbook. He resigned from the university in 1862 to become head of classics at the
Oratory School
Oratory School
An Oratory School is any of several schools founded or initially operated by the Oratorians , a congregation of Catholic priests.-List of Oratory Schools:...
in
Birmingham
Birmingham
Birmingham is a city and metropolitan borough in the West Midlands of England. It is the most populous British city outside the capital London, with a population of 1,036,900 , and lies at the heart of the West Midlands conurbation, the second most populous urban area in the United Kingdom with a...
. He left in 1865, when a letter he had written insisting that he would need a higher salary to continue at the school was interpreted by Cardinal Newman as a tendering of resignation.
Arnold opened a private tutoring establishment in Oxford, and began to attend
Church of England
Church of England
The Church of England is the officially established Christian church in England and the Mother Church of the worldwide Anglican Communion. The church considers itself within the tradition of Western Christianity and dates its formal establishment principally to the mission to England by St...
services. He edited a number of important literary works, including
Beowulf
Beowulf
Beowulf , but modern scholars agree in naming it after the hero whose life is its subject." of an Old English heroic epic poem consisting of 3182 alliterative long lines, set in Scandinavia, commonly cited as one of the most important works of Anglo-Saxon literature.It survives in a single...
. In 1876 he stood for election to the Chair of Anglo-Saxon at Oxford. Finding that some supporters were campaigning for him as the "Anglican" candidate, he felt this put him in a false position; on the eve of the election he announced his intention of being reconciled to the Catholic Church. It is unlikely that this had much impact on the outcome of the election, but family tradition maintained that he had cast away a golden opportunity for a scruple. After a period of financial hardship, in which his main occupation was editorial work for the
Rolls Series
Rolls Series
The Rolls Series, official title The Chronicles and Memorials of Great Britain and Ireland during the Middle Ages, is a major collection of British and Irish historical materials and primary sources, published in the second half of the 19th century. Some 255 volumes, representing 99 separate...
, Arnold returned to Dublin in 1882 as professor of English literature at
University College
University College Dublin
University College Dublin ) - formally known as University College Dublin - National University of Ireland, Dublin is the Republic of Ireland's largest, and Ireland's second largest, university, with over 1,300 faculty and 17,000 students...
, teaching to the end of his life in 1900. One of his last students was
James Joyce
James Joyce
James Augustine Aloysius Joyce was an Irish novelist and poet, considered to be one of the most influential writers in the modernist avant-garde of the early 20th century...
.
As author
A Manual of English Literature, Historical and Critical. London: Longman & Co., 1862 (much reprinted to 1897).
Chaucer to Wordsworth: a Short History of English Literature to the present day. London: Thomas Murby, 1870. 2nd ed. 1875.
Catholic Higher Education in Ireland. Dublin: M. H. Gill & Son, 1897.
Notes on Beowulf. London: Longmans, Green, 1898.
Passages in a Wandering Life. London: Edward Arnold, 1900.
As editor
Select English Works of John Wycliffe from Original Manuscripts. 3 vols. Oxford: Clarendon Press, 1869–1871.
Selections from Addison's Papers contributed to the Spectator. Oxford: Clarendon Press, 1875.
Beowulf: an Heroic Poem of the Eighth Century, with a translation. London: Longmans, Green, 1876.
Henrici Archidiaconi Huntendunensis Historia Anglorum. The History of the English, by Henry, Archdeacon of Huntingdon, from A.D. 55 to A.D. 1154. Chronicles and memorials of Great Britain and Ireland during the Middle Ages ("Rolls Series") 74. London: Longman & Co., 1879.
English Poetry and Prose: a collection of illustrative passages from the writings of English authors, commencing in the Anglo-Saxon period, and brought down to the present time. 2nd edition. London: Longmans, Green, and Co., 1882.
Symeonis monachi opera omnia. 2 vols. Rolls Series 75. London: Longman & Co., 1882-1885.
Edward Hyde, The History of the Rebellion and Civil Wars in England. Book VI. Second edition, 1894.
Together with William E. Addis he compiled A Catholic Dictionary. First edition, London: Kegan Paul & Co., 1884. Much reissued.