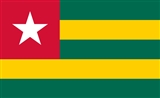 Togo
Togo
, officially the
Togolese Republic
, is a country in
West Africa
West Africa
West Africa or Western Africa is the westernmost region of the African continent. Geopolitically, the UN definition of Western Africa includes the following 16 countries and an area of approximately 5 million square km:-Flags of West Africa:...
bordered by
Ghana
Ghana
Ghana , officially the Republic of Ghana, is a country located in West Africa. It is bordered by Côte d'Ivoire to the west, Burkina Faso to the north, Togo to the east, and the Gulf of Guinea to the south...
to the west,
Benin
Benin
Benin , officially the Republic of Benin, is a country in West Africa. It borders Togo to the west, Nigeria to the east and Burkina Faso and Niger to the north. Its small southern coastline on the Bight of Benin is where a majority of the population is located...
to the east and
Burkina Faso
Burkina Faso
Burkina Faso – also known by its short-form name Burkina – is a landlocked country in west Africa. It is surrounded by six countries: Mali to the north, Niger to the east, Benin to the southeast, Togo and Ghana to the south, and Côte d'Ivoire to the southwest.Its size is with an estimated...
to the north. It extends south to the
Gulf of Guinea
Gulf of Guinea
The Gulf of Guinea is the northeasternmost part of the tropical Atlantic Ocean between Cape Lopez in Gabon, north and west to Cape Palmas in Liberia. The intersection of the Equator and Prime Meridian is in the gulf....
, on which the capital
Lomé
Lomé
Lomé, with an estimated population of 737,751, is the capital and largest city of Togo. Located on the Gulf of Guinea, Lomé is the country's administrative and industrial center and its chief port. The city exports coffee, cocoa, copra, and palm kernels...
is located. Togo covers an area of approximately 57000 square kilometres (22,007.8 sq mi) with a population of approximately 6.7 million. Togo is a tropical, sub-Saharan nation, highly dependent on
agriculture
Agriculture
Agriculture is the cultivation of animals, plants, fungi and other life forms for food, fiber, and other products used to sustain life. Agriculture was the key implement in the rise of sedentary human civilization, whereby farming of domesticated species created food surpluses that nurtured the...
, with a climate that provides good growing seasons.