 Tiramisu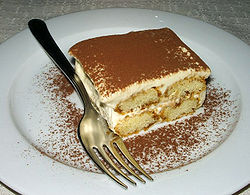 Tiramisu
, tiɾamiˈsu, literally "pick me up", is an Italian cake and dessert.
It is made of ladyfingers (Italian:
Savoiardi
) dipped in coffee, layered with a whipped mixture of egg yolks and
mascarpone
Mascarpone
Mascarpone |denaturation]], whey is removed without pressing or aging. One can manufacture mascarpone by using cream and tartaric acid, citric acid, or even lemon juice....
, and flavored with liquor and cocoa. The
recipe
Recipe
A recipe is a set of instructions that describe how to prepare or make something, especially a culinary dish.-Components:Modern culinary recipes normally consist of several components*The name of the dish...
has been adapted into many varieties of puddings, cakes and other desserts.
History
There is some debate regarding tiramisu's origin. It may have originated as a variation of another layered dessert, the
Zuppa Inglese
Zuppa Inglese
Zuppa Inglese is an Italian custard-based dessert.-History:Recipes for this sweet first appeared in the towns of Parma, Bologna, Forlì, Ferrara and Reggio Emilia, all in the Emilia-Romagna region, in the late 19th century...
.
It is mentioned in Giovanni Capnist's 1983 cookbook
I Dolci Del Veneto
, while Merriam-Webster's Online Dictionary gives 1982 as the first mention of the dessert.
Several sources (from
Vin Veneto
, dated 1981, to the Italian Academy of Giuseppe Maffioli and several cuisine websites) claim that tiramisu was invented in
Treviso
Treviso
Treviso is a city and comune in Veneto, northern Italy. It is the capital of the province of Treviso and the municipality has 82,854 inhabitants : some 3,000 live within the Venetian walls or in the historical and monumental center, some 80,000 live in the urban center proper, while the city...
at
Le Beccherie
restaurant by the god-daughter and apprentice of confectioner Roberto Linguanotto, Francesca Valori, whose maiden name was Tiramisu. It is believed that Linguanotto named the dish in honour of Francesca's culinary skill.
Other sources report the creation of the cake to have originated in the city of
Siena
Siena
Siena is a city in Tuscany, Italy. It is the capital of the province of Siena.The historic centre of Siena has been declared by UNESCO a World Heritage Site. It is one of the nation's most visited tourist attractions, with over 163,000 international arrivals in 2008...
. Some confectioners were said to have created it in honour of Cosimo III on the occasion of his visit to the city. Alternatively, accounts by Carminantonio Iannaccone as researched and written about by
The Washington Post
establish the creation of tiramisu by him on 24 December 1969 in Via Sottotreviso while he was head chef at Treviso, near Venice.
Preparation
Tiramisu is a layered dessert, consisting of alternating layers of coffee-soaked
Savoiardi
biscuits and sweet mixture of mascarpone cheese and eggs and sugar. Eggs, sugar and Marsala wine are cooked as a zabaione. Cocoa powder is sifted on top (and sometimes between layers) as both a garnish and a bitter counterpoint to the sweetened cheese mixture.
To prepare the biscuit layer,
Savoiardi
(light, finger-sized
sponge cake
Sponge cake
Sponge cake is a cake based on flour , sugar, and eggs, sometimes leavened with baking powder which has a firm, yet well aerated structure, similar to a sea sponge. A sponge cake may be produced by either the batter method, or the foam method. Typicially the batter method in the U.S. is known as a...
s, commonly known as ladyfingers in the United States) are soaked in espresso or strong coffee, often with an addition of a flavorful liquor such as sweet Marsala wine or dark
rum
Rum
Rum is a distilled alcoholic beverage made from sugarcane by-products such as molasses, or directly from sugarcane juice, by a process of fermentation and distillation. The distillate, a clear liquid, is then usually aged in oak barrels...
.
For the mascarpone cheese layer, a mixture of egg yolks and sugar is first prepared: egg yolks are mixed with sugar to form a thick cream to which the mascarpone cheese is added, then the egg whites are beaten stiff and folded in to the mascarpone/egg cream. This mixture is spread over the coffee-soaked biscuits. The layer is then topped with a dusting of cocoa powder, and more layers are added.
Countless variations for tiramisu exist. Some cooks use other cakes or sweet, yeasted breads, such as
panettone
Panettone
thumb|200px|right|A non-traditionally shaped panettone loaf.Panettone is a type of sweet bread loaf originally from Milan , usually prepared and enjoyed for Christmas and New Year in Italy, Malta, Brazil, Germany and Switzerland, and is one of the symbols of the city of Milan. Maltese nationals are...
, in place of ladyfingers. Other cheese mixtures are used as well, some containing raw eggs, and others containing no eggs at all. Other liquors are frequently substituted for the traditional Marsala wine in both the coffee and the cheese mixture, including dark rum, Madeira, port, brandy and cognac.
See also
Cheesecake

Cheesecake

Cheesecake is a dessert consisting of a topping made of soft, fresh cheese, usually on a crust or base made from biscuit , pastry or sponge cake. They may be baked or unbaked...



Italian cuisine

Italian cuisine

Italian cuisine has developed through centuries of social and political changes, with roots as far back as the 4th century BCE. Italian cuisine in itself takes heavy influences, including Etruscan, ancient Greek, ancient Roman, Byzantine, Jewish and Arab cuisines...



Profiterole
Trifle

Trifle

Trifle is a dessert dish made from thick custard, fruit, sponge cake, fruit juice or gelatin, and whipped cream. These ingredients are usually arranged in layers with fruit and sponge on the bottom, and custard and cream on top....