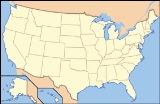 Thunder Basin National Grassland
The
Thunder Basin National Grassland
is located in northeastern
Wyoming
Wyoming
Wyoming is a state in the mountain region of the Western United States. The western two thirds of the state is covered mostly with the mountain ranges and rangelands in the foothills of the Eastern Rocky Mountains, while the eastern third of the state is high elevation prairie known as the High...
in the
Powder River Basin
Powder River Basin
The Powder River Basin is a geologic region in southeast Montana and northeast Wyoming, about east to west and north to south, known for its coal deposits. The region supplies about 40 percent of coal in the United States. It is both a topographic drainage and geologic structural basin...
between the
Big Horn Mountains
Big Horn Mountains
The Big Horn Mountains are a mountain range in northern Wyoming and southern Montana in the United States, forming a northwest-trending spur from the Rocky Mountains extending approximately 200 miles northward on the Great Plains...
and the
Black Hills
Black Hills
The Black Hills are a small, isolated mountain range rising from the Great Plains of North America in western South Dakota and extending into Wyoming, USA. Set off from the main body of the Rocky Mountains, the region is something of a geological anomaly—accurately described as an "island of...
. The Grassland ranges in elevation from 3600 feet (1,097.3 m) feet to 5200 feet (1,585 m) and the climate is semi-arid. The Grassland provides opportunities for recreation, including hiking, sightseeing, hunting, and fishing. There are no developed campgrounds; however, camping is allowed. The Grassland abounds with wildlife year-round, provides forage for livestock, and is underlain with vast mineral resources. Land patterns are very complex because of the intermingled federal, state, and private lands.
In descending order of land area it is located in parts of
Weston
,
Converse
,
Campbell
,
Niobrara
, and
Crook
counties. It is managed together with
Medicine Bow - Routt National Forest
Medicine Bow - Routt National Forest
Medicine Bow – Routt National Forest is the official title to a U.S. Forest Service managed area extending over 2,769,949 acres in the states of Wyoming and Colorado, United States...
from Forest Service offices in
Laramie, Wyoming
Laramie, Wyoming
Laramie is a city in and the county seat of Albany County, Wyoming, United States. The population was 30,816 at the . Located on the Laramie River in southeastern Wyoming, the city is west of Cheyenne, at the junction of Interstate 80 and U.S. Route 287....
; its local ranger district office is in
Douglas
Douglas, Wyoming
Douglas is a city in Converse County, Wyoming, United States. The population was 5,288 at the 2000 census. It is the county seat of Converse County...
.
External links