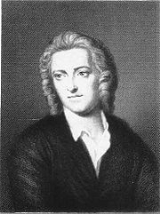 Thomas Gray
Thomas Gray
was a poet, letter-writer, classical scholar and professor at
Cambridge University
University of Cambridge
The University of Cambridge is a public research university located in Cambridge, United Kingdom. It is the second-oldest university in both the United Kingdom and the English-speaking world , and the seventh-oldest globally...
.
Thomas Gray was born in Cornhill, London, the son of an exchange broker and a milliner. He was the fifth of 12 children and the only child of Philip and Dorothy Gray to survive infancy. He lived with his mother after she left his abusive father. He was educated at
Eton College
Eton College
Eton College, often referred to simply as Eton, is a British independent school for boys aged 13 to 18. It was founded in 1440 by King Henry VI as "The King's College of Our Lady of Eton besides Wyndsor"....
where his uncle was one of the masters.
Where his glowing eye−balls turn, Thousand banners round him burn. Where he points his purple spear, Hasty, hasty Rout is there, Marking with indignant eye Fear to stop and shame to fly. There Confusion, Terror's child, Conflict fierce and Ruin wild, Agony that pants for breath, Despair and honourable Death.

"The Triumphs of Owen. A Fragment", from Mr. Evans's Specimens of the Welch Poetry (1764)
See the wretch that long has tost On the thorny bed of pain, At length repair his vigour lost, And breathe and walk again: The meanest floweret of the vale,The simplest note that swells the gale,The common sun, the air, the skies,To him are opening paradise.

Ode on the Pleasure Arising from Vicissitude, Line 41 (1754)