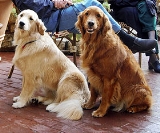 Therapy dog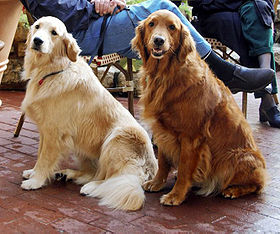 A
therapy dog
is a
dog
Dog
The domestic dog is a domesticated form of the gray wolf, a member of the Canidae family of the order Carnivora. The term is used for both feral and pet varieties. The dog may have been the first animal to be domesticated, and has been the most widely kept working, hunting, and companion animal in...
trained to provide affection and comfort to people in
hospital
Hospital
A hospital is a health care institution providing patient treatment by specialized staff and equipment. Hospitals often, but not always, provide for inpatient care or longer-term patient stays....
s,
retirement home
Retirement home
A retirement home is a multi-residence housing facility intended for senior citizens. Typically each person or couple in the home has an apartment-style room or suite of rooms. Additional facilities are provided within the building, including facilities for meals, gathering, recreation, and some...
s,
nursing home
Nursing home
A nursing home, convalescent home, skilled nursing unit , care home, rest home, or old people's home provides a type of care of residents: it is a place of residence for people who require constant nursing care and have significant deficiencies with activities of daily living...
s,
school
School
A school is an institution designed for the teaching of students under the direction of teachers. Most countries have systems of formal education, which is commonly compulsory. In these systems, students progress through a series of schools...
s, people with learning difficulties, and stressful situations, such as
disaster area
Disaster area
A disaster area is a region or a locale heavily damaged by either natural hazards, such as tornadoes, hurricanes, tsunamis, floods, earthquakes, technological hazards including nuclear and radiation accidents, or sociological hazards like riots, terrorism or war. The population living there often...
s.
Therapy dogs come in all sizes and breeds. The most important characteristic of a therapy dog is its temperament. A good therapy dog must be friendly, patient, confident, gentle, and at ease in all situations. Therapy dogs must enjoy human contact and be content to be petted and handled, sometimes clumsily.
A therapy dog's primary job is to allow unfamiliar people to make physical contact with it and to enjoy that contact. Children in particular enjoy hugging animals; adults usually enjoy simply petting the dog. The dog might need to be lifted onto, or climb onto, an individual's lap or bed and sit or lie comfortably there. Many dogs contribute to the visiting experience by performing small tricks for their audience or by playing carefully structured games.
History of the therapy dog
During World War II, under combat operations against Japanese forces on the island of New Guinea,
Corporal William Wynne
Bill Wynne
William "Bill" A. Wynne is an American author, decorated World War II veteran, dog trainer, photographer, award winning photojournalist, and community advocate. He also owned and trained one of the most famous dogs in history.-Personal life:...
came into possession of a young adult
Yorkshire Terrier
Yorkshire Terrier
The Yorkshire Terrier is a small dog breed of terrier type, developed in the 19th century in the county of Yorkshire, England to catch rats in clothing mills. The defining features of the breed are its size, to , and its silky blue and tan coat...
abandoned on the battlefield. He named the female dog
Smoky
Smoky (dog)
Smoky , a Yorkshire Terrier, was a famous war dog who served in World War II. She weighed only and stood tall. Smoky is credited with beginning a renewal of interest in the once obscure Yorkshire Terrier breed....
.
Smoky accompanied Wynne on numerous combat missions, provided comfort and entertainment for troops, and even assisted the Signal Corps in running a telegraph cable through an underground pipe, completing in minutes what might have been a dangerous, three-day construction job which would have exposed men and equipment to enemy bombers.
Smoky's service as a therapy dog began when Corporal Wynne was hospitalized for a jungle disease. As Wynne recovered, Wynne's Army pals brought Smoky to the hospital for a visit and to cheer the soldier up. Smoky immediately became a hit with the other wounded soldiers. Dr. Charles Mayo, of the famed
Mayo Clinic
Mayo Clinic
Mayo Clinic is a not-for-profit medical practice and medical research group specializing in treating difficult patients . Patients are referred to Mayo Clinic from across the U.S. and the world, and it is known for innovative and effective treatments. Mayo Clinic is known for being at the top of...
, was the commanding officer who allowed Smoky to go on rounds and also permitted her to sleep with Wynne in his hospital bed for five nights. Smoky's work as a therapy dog continued for 12 years, during and after World War II.
The establishment of a systematic approach to the use of therapy dogs is attributed to Elaine Smith, an American who worked as a
registered nurse
Registered nurse
A registered nurse is a nurse who has graduated from a nursing program at a university or college and has passed a national licensing exam. A registered nurse helps individuals, families, and groups to achieve health and prevent disease...
for a time in
England
England
England is a country that is part of the United Kingdom. It shares land borders with Scotland to the north and Wales to the west; the Irish Sea is to the north west, the Celtic Sea to the south west, with the North Sea to the east and the English Channel to the south separating it from continental...
. Smith noticed how well patients responded to visits by a certain chaplain and his canine companion, a
Golden Retriever
Golden Retriever
The Golden Retriever is a medium-sized breed of dog. They were historically developed as gundogs to retrieve shot waterfowl such as ducks and upland game birds during hunting and shooting parties. As such, they were bred to have a soft mouth to retrieve game undamaged and have an instinctive love...
. Upon returning to the
United States
United States
The United States of America is a federal constitutional republic comprising fifty states and a federal district...
in 1976, Smith started a program for training dogs to visit institutions. Over the years other health care professionals have noticed the therapeutic effect of animal companionship, such as relieving stress, lowering blood pressure, and raising spirits, and the demand for therapy dogs continues to grow. In recent years, therapy dogs have been enlisted to help children overcome speech and emotional disorders.
In 1982, Nancy Stanley founded Tender Loving Zoo (TLZ), a nonprofit organization that introduced animal therapy to severely handicapped children and to convalescent hospitals for the elderly. She got the idea while working at the Los Angeles Zoo, where she noticed how handicapped visitors responded eagerly to animals. She researched the beneficial effects that animals can have on patients and soon thereafter, Ms. Stanley began taking her pet miniature poodle, Freeway, to the Revere Developmental Center for the severely handicapped.
Inspired by the response of the patients and the encouragement of the staff, she took $7,500 of her own money, bought a van, recruited helpers, and persuaded a pet store to lend baby animals. Soon requests for TLZ were coming from schools, hospitals and convalescent homes all over the county. Partly as a result of Ms. Stanley's work, the concept of dog-therapy has broadened to "animal-assisted therapy" or "pet therapy", including many other species, such as
therapy cat
Therapy cat
Some nursing homes have therapy cats that are used to be companions to their elderly residents. Therapy cats are also sometimes used in hospitals to relax children who are staying there....
s, therapy rabbits, therapy birds and so on.
Classification of therapy dogs
Therapy dogs are not
service or assistance dogs
Assistance dog
An assistance dog is a dog trained to aid or assist a person with a disability. Many are trained by a specific organization, while others are trained by their handler .-Classification:...
. Service dogs directly assist humans and have a legal right to accompany their owners in most areas. In the United States, service dogs are legally protected at the federal level by the
Americans with Disabilities Act of 1990
Americans with Disabilities Act of 1990
The Americans with Disabilities Act of 1990 is a law that was enacted by the U.S. Congress in 1990. It was signed into law on July 26, 1990, by President George H. W. Bush, and later amended with changes effective January 1, 2009....
. Therapy dogs do not provide direct assistance and are not mentioned in the Americans with Disabilities Act. Institutions may invite, limit, or prohibit access by therapy dogs. If allowed, many institutions have rigorous requirements for therapy dogs.
Many organizations provide testing and accreditation for therapy dogs. In the United States, some organizations require that a dog pass the equivalent of the
American Kennel Club
American Kennel Club
The American Kennel Club is a registry of purebred dog pedigrees in the United States. Beyond maintaining its pedigree registry, this kennel club also promotes and sanctions events for purebred dogs, including the Westminster Kennel Club Dog Show, an annual event which predates the official...
's
Canine Good Citizen
Canine Good Citizen
The Canine Good Citizen program, established in 1989, is an American Kennel Club program to promote responsible dog ownership and to encourage the training of well-mannered dogs...
test and then add further requirements specific to the environments in which the dogs will be working. Other organizations have their own testing requirements. Typical tests might ensure that a dog can handle sudden loud or strange noises; can walk on assorted unfamiliar surfaces comfortably; are not frightened by people with canes, wheelchairs, or unusual styles of walking or moving; get along well with children and with the elderly; and so on.
In Canada, St John Ambulance provides therapy dog certification.
In the UK Pets As Therapy (PAT) provides visiting dogs and cats to establishments where pets are otherwise not available.
External links