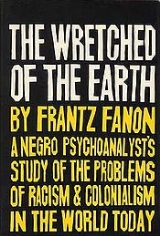 The Wretched of the Earth
The Wretched of the Earth
(
French
French language
French is a Romance language spoken as a first language in France, the Romandy region in Switzerland, Wallonia and Brussels in Belgium, Monaco, the regions of Quebec and Acadia in Canada, and by various communities elsewhere. Second-language speakers of French are distributed throughout many parts...
:
Les Damnés de la Terre
, first published 1961) is
Frantz Fanon
Frantz Fanon
Frantz Fanon was a Martiniquo-Algerian psychiatrist, philosopher, revolutionary and writer whose work is influential in the fields of post-colonial studies, critical theory and Marxism...
's most famous work, written during and regarding the Algerian struggle for independence from
colonial
Colonialism
Colonialism is the establishment, maintenance, acquisition and expansion of colonies in one territory by people from another territory. It is a process whereby the metropole claims sovereignty over the colony and the social structure, government, and economics of the colony are changed by...
rule. As a psychiatrist, Fanon explored the psychological effect of colonization on the psyche of a nation as well as its broader implications for building a movement for
decolonization
Decolonization
Decolonization refers to the undoing of colonialism, the unequal relation of polities whereby one people or nation establishes and maintains dependent Territory over another...
. The original title of the book is an allusion to the opening words of
The Internationale
The Internationale
The Internationale is a famous socialist, communist, social-democratic and anarchist anthem.The Internationale became the anthem of international socialism, and gained particular fame under the Soviet Union from 1922 to 1944, when it was that communist state's de facto central anthem...
.
A controversial introduction to the text by
Jean-Paul Sartre
Jean-Paul Sartre
Jean-Paul Charles Aymard Sartre was a French existentialist philosopher, playwright, novelist, screenwriter, political activist, biographer, and literary critic. He was one of the leading figures in 20th century French philosophy, particularly Marxism, and was one of the key figures in literary...
presents the thesis as an advocacy of violence (which Sartre had also examined in his voluminous
Critique of Dialectical Reason
Critique of Dialectical Reason
Critique of Dialectical Reason, , was the last of Jean-Paul Sartre's major philosophical works...
).