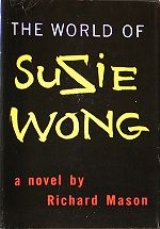 The World of Suzie Wong
The World of Suzie Wong
is a 1957
novel
Novel
A novel is a book of long narrative in literary prose. The genre has historical roots both in the fields of the medieval and early modern romance and in the tradition of the novella. The latter supplied the present generic term in the late 18th century....
written by Richard Mason. The main characters are Robert Lomax, a young British artist living in Hong Kong, and Suzie Wong, the title character, a Chinese woman who works as a prostitute. The novel has been adapted into a play, spawned two unofficial sequels, a hit film and a ballet.
Plot
Robert Lomax is a young Englishman who, after leaving
National Service
National service
National service is a common name for mandatory government service programmes . The term became common British usage during and for some years following the Second World War. Many young people spent one or more years in such programmes...
, decides to go and work on a plantation in
British Malaya
British Malaya
British Malaya loosely described a set of states on the Malay Peninsula and the Island of Singapore that were brought under British control between the 18th and the 20th centuries...
. During his time in Malaya Lomax decides as an experiment to pursue a new career as an artist for a year.
Lomax visits
Hong Kong
Hong Kong
Hong Kong is one of two Special Administrative Regions of the People's Republic of China , the other being Macau. A city-state situated on China's south coast and enclosed by the Pearl River Delta and South China Sea, it is renowned for its expansive skyline and deep natural harbour...
in search of inspiration for his paintings. He checks into the Nam Kok Hotel, not realizing, at first, that it is an unofficial brothel catering mainly to British and American sailors. However, the discovery of that fact only makes the hotel more charming in Lomax's opinion and a better source of subject matter for his paintings.
Lomax quickly befriends most of the hotel's
bargirl
Bargirl
A bargirl is a woman who works as a hostess or dancer in bars to provide company or sexual services to patrons; the exact nature of services and varieties of bar varying by country/region. In most cases, these cater mostly to male clients, although in some cases women are also clients...
s but is most fascinated by the archetypal "
hooker with a heart of gold
Hooker with a heart of gold
The hooker with a heart of gold is a stock character in which a "fallen woman", usually a prostitute, is a kindly and internally wholesome person.-Characteristics:...
", Suzie Wong. Wong previously introduced herself to him as Wong Mee-ling, a rich virgin whose father had five houses and more cars than she could count, and initially pretended not to recognize him at the hotel. Lomax had originally decided that he would not sleep with any of the bargirls at the hotel because he would be living with them for a long time and did not want to put a strain on their relationships. However, it soon emerges that Suzie Wong is interested in him, not as a customer but as a serious boyfriend. Although Suzie Wong becomes the kept woman of two other men and Robert Lomax briefly becomes attracted to a young British nurse, Lomax and Wong are eventually reunited and the novel ends happily.
Film, TV and theatrical adaptations
The novel was adapted into a stage production and was first produced in 1958 by
David Merrick
David Merrick
David Merrick was a prolific Tony Award-winning American theatrical producer.-Life and career:Born David Lee Margulois to Jewish parents in St. Louis, Missouri, Merrick graduated from Washington University, then studied law at the Jesuit-run Saint Louis University School of Law...
and starred
William Shatner
William Shatner
William Alan Shatner is a Canadian actor, musician, recording artist, and author. He gained worldwide fame and became a cultural icon for his portrayal of James T...
and
France Nuyen
France Nuyen
France Nuyen is a French actress.-Biography:Nuyen was born in Marseille, Bouches-du-Rhône, Provence-Alpes-Côte d'Azur, France. Her mother was French, her father Vietnamese. During World War II, her mother and grandfather were persecuted by the Nazis for being Gypsies...
.
Tsai Chin
Tsai Chin (actress)
Tsai Chin , also known as Irene Chow, is a Chinese-born actress living in England.-Early life, family & education:Chin was born to Peking Opera actor Zhou Xinfang in 1936. She spent her early life in Shanghai. She had two short marriages which both ended in divorce. Her brother is Michael...
played the title role in the
West End
West End theatre
West End theatre is a popular term for mainstream professional theatre staged in the large theatres of London's 'Theatreland', the West End. Along with New York's Broadway theatre, West End theatre is usually considered to represent the highest level of commercial theatre in the English speaking...
1959 production. The book was later adapted into a
hit 1960 film
The World of Suzie Wong (film)
The World of Suzie Wong is a 1960 British-American romantic drama film directed by Richard Quine. The screenplay by John Patrick was adapted from the stage play by Paul Osborn, which was based on the novel of the same title by Richard Mason...
, directed by
Richard Quine
Richard Quine
Richard Quine was an American stage, film, and radio actor and film director.Quine was born in Detroit. He made his Broadway debut in the Jerome Kern/Oscar Hammerstein II musical Very Warm for May in 1939 and appeared in My Sister Eileen the following year...
and starring
William Holden
William Holden
William Holden was an American actor. Holden won the Academy Award for Best Actor in 1954 and the Emmy Award for Best Actor in 1974...
,
Nancy Kwan
Nancy Kwan
Nancy "Ka Shen" Kwan is a Eurasian-American actress, who played a pivotal role in the acceptance of actors of Asian descent in major Hollywood film roles...
,
Sylvia Syms
Sylvia Syms
Sylvia M. L. Syms OBE is a British actress. She is probably best known for her roles in the films Woman in a Dressing Gown , Ice-Cold in Alex , No Trees in the Street , Victim and The Tamarind Seed...
, and
Michael Wilding
Michael Wilding (actor)
-Early life:Born in Leigh-on-Sea, Essex, England, Wilding was a successful commercial artist when he joined the art department of a London film studio in 1933. He soon embarked on an acting career.-Career:...
. Executive Producer
Ray Stark
Ray Stark
Ray Stark was an American film producer and powerbroker known for his Machiavellian ways.While putting together the Broadway musical Funny Girl - the highly fictionalized account of the life of his mother-in-law, Fanny Brice - its producer David Merrick took Stark and his wife to see an unknown...
.
In March 2006 a new dance version by Stephen Jefferies, entitled
Suzie Wong
, was premiered by the
Hong Kong Ballet
Hong Kong Ballet
The Hong Kong Ballet is Hong Kong's leading professional ballet company, and also the famous group for Classical Ballet, since it founded in 1979....
.
Sequels
In 2008 Sebastian Gerard, wrote an unofficial sequel
For Goodness Sake : the Afterlife of Suzie Wong
, ISBN 978-0-615-19055-6. The novel is set in 1998 Hong Kong, forty-seven years after the original events that occur in
Richard Mason
Richard Mason
Richard Mason may refer to:* Richard Mason , English author of The World of Suzie Wong* Richard Mason , English writer, the author of The Drowning People* Richard Mason Richard Mason may refer to:* Richard Mason (novelist 1919–1997), English author of The World of Suzie Wong* Richard Mason...
's book. Gerard's novel explores the experience of Dr Poderosa a
Vietnam War
Vietnam War
The Vietnam War was a Cold War-era military conflict that occurred in Vietnam, Laos, and Cambodia from 1 November 1955 to the fall of Saigon on 30 April 1975. This war followed the First Indochina War and was fought between North Vietnam, supported by its communist allies, and the government of...
veteran who is in Hong Kong for research. The book is Gerard's interpretation of what might have happened after the happy ending from the film, which unlike the novel does not end with Robert Lomax becoming a successful artist but merely with Suzie and Robert walking off into the sunset together.
There is also an unofficial modern interpretation of the
World of Suzie Wong
by Leon Pang written in 2010 entitled
Suzie
ISBN 978-0-9566137-0-7. One of the chracters in the book takes on the name of Suzie Wong in an attempt to latch onto the fame of the original. The novel explores sixty years of changes in Hong Kong and themes including
poverty
Poverty
Poverty is the lack of a certain amount of material possessions or money. Absolute poverty or destitution is inability to afford basic human needs, which commonly includes clean and fresh water, nutrition, health care, education, clothing and shelter. About 1.7 billion people are estimated to live...
, the rise of
China
China
Chinese civilization may refer to:* China for more general discussion of the country.* Chinese culture* Greater China, the transnational community of ethnic Chinese.* History of China* Sinosphere, the area historically affected by Chinese culture...
,
employment
Employment
Employment is a contract between two parties, one being the employer and the other being the employee. An employee may be defined as:- Employee :...
instability in the world in 2008,
outsourcing
Outsourcing
Outsourcing is the process of contracting a business function to someone else.-Overview:The term outsourcing is used inconsistently but usually involves the contracting out of a business function - commonly one previously performed in-house - to an external provider...
and the failings of
capitalism
Capitalism
Capitalism is an economic system that became dominant in the Western world following the demise of feudalism. There is no consensus on the precise definition nor on how the term should be used as a historical category...
.
Locations from the novel
The Nam Kok Hotel featured in the story is based on the Luk Kwok Hotel on
Gloucester Road
Gloucester Road, Hong Kong
Gloucester Road is a major road in Hong Kong. It is in the north of Wan Chai and East Point on Hong Kong Island. It connects to Harcourt Road at its western end and it ends east along west side of Victoria Park. It forms part of Hong Kong's Route 4 and connects to the Island Eastern Corridor via...
in Wanchai, where Mason stayed, although the building is now more modern, the site having been redeveloped in the 1980s. Also, unlike the hotel in the book, the modern hotel is not a pseudo-brothel but is one of many smaller smart hotels on
Hong Kong Island
Hong Kong Island
Hong Kong Island is an island in the southern part of the Hong Kong Special Administrative Region. It has a population of 1,289,500 and its population density is 16,390/km², as of 2008...
.
External links