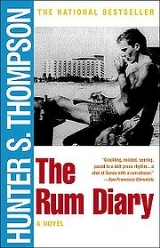 The Rum Diary (novel)
The Rum Diary
is an early
novel
Novel
A novel is a book of long narrative in literary prose. The genre has historical roots both in the fields of the medieval and early modern romance and in the tradition of the novella. The latter supplied the present generic term in the late 18th century....
by
American
United States
The United States of America is a federal constitutional republic comprising fifty states and a federal district...
writer
Writer
A writer is a person who produces literature, such as novels, short stories, plays, screenplays, poetry, or other literary art. Skilled writers are able to use language to portray ideas and images....
Hunter S. Thompson
Hunter S. Thompson
Hunter Stockton Thompson was an American journalist and author who wrote The Rum Diary , Fear and Loathing in Las Vegas and Fear and Loathing on the Campaign Trail '72 .He is credited as the creator of Gonzo journalism, a style of reporting where reporters involve themselves in the action to...
that was written in the early 1960s but was not published until 1998.
Background and plot
The story involves a journalist named Paul Kemp, who moves from
New York
New York
New York is a state in the Northeastern region of the United States. It is the nation's third most populous state. New York is bordered by New Jersey and Pennsylvania to the south, and by Connecticut, Massachusetts and Vermont to the east...
to work for a major newspaper,
The Daily News
, in
San Juan
San Juan, Puerto Rico
San Juan , officially Municipio de la Ciudad Capital San Juan Bautista , is the capital and most populous municipality in Puerto Rico, an unincorporated territory of the United States. As of the 2010 census, it had a population of 395,326 making it the 46th-largest city under the jurisdiction of...
,
Puerto Rico
Puerto Rico
Puerto Rico , officially the Commonwealth of Puerto Rico , is an unincorporated territory of the United States, located in the northeastern Caribbean, east of the Dominican Republic and west of both the United States Virgin Islands and the British Virgin Islands.Puerto Rico comprises an...
. Set in the late 1950s, the novel encompasses a tangled love story of jealousy, treachery and violent
alcoholic
Alcoholism
Alcoholism is a broad term for problems with alcohol, and is generally used to mean compulsive and uncontrolled consumption of alcoholic beverages, usually to the detriment of the drinker's health, personal relationships, and social standing...
lust among the Americans who staff the newspaper.
Thompson himself traveled from New York to San Juan in 1960 to write for an ill-fated sports newspaper on the island. Thompson had unsuccessfully applied to work at the larger English-language daily called the
San Juan Star
while novelist William J. Kennedy was the editor. While in Puerto Rico, Thompson befriended many of the writers at the
Star
, providing the context for
The Rum Diary's
fictional storyline.
Although Thompson was only 22 when he wrote the story, it deals extensively with a fear of "going over the hill" and growing old. The prominent characters are typical of Thompson's work; violent, maniacal and alcoholic, stumbling through life. It is written in a highly paced and rather exciting style, also typical of his work.
Thompson told PBS talk show host
Charlie Rose
Charlie Rose
Charles Peete "Charlie" Rose, Jr. is an American television talk show host and journalist. Since 1991 he has hosted Charlie Rose, an interview show distributed nationally by PBS since 1993...
in 1999 that he had given up the novel because it had originally "bounced about seven times – I got the standard list of rejection letters – and I came back from South America and I got into the politics of the 60s and 70s, and it was a full time job." He then said that he revisited the book because "it's got a romantic notion...that and money...and I was faced with the fact of having to dig out my 40-year old story...I can't change it, like, 'ye gods, this is me, this is the world I lived in'...so I approached it as a writer...it's a good story."
It is Thompson's second novel, preceded by the still-unpublished
Prince Jellyfish
Prince Jellyfish
Prince Jellyfish is an unpublished novel by American journalist and author Hunter S. Thompson.The novel was Thompson's first, having been written around 1960 while he was in his early 20s and was working as a reporter for the Middletown Daily Record in New York State...
.
Film adaptation
The Rum Diary
has been adapted into a Hollywood film .
Bruce Robinson
Bruce Robinson
Bruce Robinson is an English director, screenwriter, novelist and actor. He is arguably most famous for writing and directing the cult classic Withnail and I , a film with comic and tragic elements, set in London during the 1960s which drew on his experiences as 'a chronic alcoholic and resting...
wrote the screenplay and directed the film, which stars
Johnny Depp
Johnny Depp
John Christopher "Johnny" Depp II is an American actor, producer and musician. He has won the Golden Globe Award and Screen Actors Guild award for Best Actor. Depp rose to prominence on the 1980s television series 21 Jump Street, becoming a teen idol...
as journalist Paul Kemp. Filming took place in
Puerto Rico
Puerto Rico
Puerto Rico , officially the Commonwealth of Puerto Rico , is an unincorporated territory of the United States, located in the northeastern Caribbean, east of the Dominican Republic and west of both the United States Virgin Islands and the British Virgin Islands.Puerto Rico comprises an...
2009. It was released October 28th, 2011.
Quotes
1. Not so much of what he said was original. What made him unique was the fact that he had no sense of detachment at all. He was like the fanatical football fan who runs onto the field and tackles a player. He saw life as the Big Game, and the whole of making was divided into two teams- Sala's Boys, and the others. The stakes were fantastic and every play was vital – and although he watched with a nearly obsessive interest, he was very much the fan, shouting unheard advice in a crowd of unheard advisors and knowing all the while that nobody was paying any attention to him because he was not running the team and never would be. And like all fans he was frustrated by the knowledge that the best he could do, even in a pinch, would be to run onto the field and cause some kind of illegal trouble, then he be hauled off by guards while the crowd laughed
2."Happy," I muttered, trying to pin the word down. But it is one of those words like Love, that I never quite understood. Most people who deal in words don't have much faith in them and I am no exception—especially the big ones like Happy and Love and Honest and Strong. They are too elusive and far too relative when you compare them to sharp, mean little words like Punk and Cheap and Phony. I feel at home with these, because they're scrawny and easy to pin, but the big ones are tough and it takes either a priest of a fool to use them with any confidence.
3. Yeah, they all ended up like Puerto Ricans. They fled and they couldn't say why, but they damn well wanted out and they didn't care if he newspapers understood or not. Somehow they got the idea that by getting the hell away from where they were they could find something better. They heard the word, the rotten devilish word that makes people incoherent with desire to move o – not everybody in the world lives in tin shacks with no toilets and no money at all and no food but rice and beans' not everybody cuts sugarcane for a dollar a day, or hauls a load of coconuts into town to sell for two sense each – the cheap, hot, hungry, world of their fathers and their grandfathers and all their brothers and sisters was not the whole story, because if a man could muster the guts or even the desperation to move a few thousand miles there was a pretty good chance that he'd have money in his pocked and meat in his belly and one hell of a romping good time.
4. On the way down the hill we walked three abreast in the cobblestone street, drunk and laughing and talking like men who knew they would separate at dawn and travel to the far corners of the earth.
5. They were eerie days, and my fatalistic view of Yeamon was not so much conviction as necessity, because if I granted him even the slightest optimism I would have to admit a lot of unhappy things about myself.
6. He was just another noisy little punk in the great legion of punks who march between the banners of bigger and better men. Freedom, Truth, Honor – you could rattle off a hundred such words and behind every one of them would gather a thousand punks, pompous little farts, waving the banner with one hand and reaching under the table with the other.
7. Those were good mornings, when the sun was hot and the air was quick and promising, when the Real Business seemed right on the verge of happening and I felt that If I went just a little faster I might overtake that bright and fleeting thing that was always just ahead of me.
8. Then came noon, and morning withered like a lost dream. The sweat was torture and the rest of the day was littered with the dead remains of all those things that might have happened, but couldn't stand the heat. When the sun got hot enough it burned away all the illusions and I saw the place as it was—cheap, sullen, and garish – nothing good was going to happen here.
10. Voices rose and fell in the house next door and the raucous sound of a jukebox came from a bar down the street. Sounds of a San Jean night, drifting across the city through layers of humid air; sounds of life and movement, people getting ready and people giving up, the sound of hope and the sound of hanging on and behind them all, the quiet, deadly ticking of a thousand hungry clocks, the lonely sound of time passing in long Caribbean night.
For more quotes and discussion go to http://goodbooksincquotes.blogspot.com/2009/01/rum-diary.html.
External links
totallygonzo.org Totally Gonzo – The Hunter S. Thompson and Gonzo Journalism Community
The Rum Diary at the Internet Movie Database

Internet Movie Database

Internet Movie Database is an online database of information related to movies, television shows, actors, production crew personnel, video games and fictional characters featured in visual entertainment media. It is one of the most popular online entertainment destinations, with over 100 million...