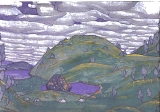 The Rite of Spring
The Rite of Spring
, original
French
French language
French is a Romance language spoken as a first language in France, the Romandy region in Switzerland, Wallonia and Brussels in Belgium, Monaco, the regions of Quebec and Acadia in Canada, and by various communities elsewhere. Second-language speakers of French are distributed throughout many parts...
title
Le sacre du printemps
, is a
ballet
Ballet
Ballet is a type of performance dance, that originated in the Italian Renaissance courts of the 15th century, and which was further developed in France and Russia as a concert dance form. The early portions preceded the invention of the proscenium stage and were presented in large chambers with...
with music by
Igor Stravinsky
Igor Stravinsky
Igor Fyodorovich Stravinsky ; 6 April 1971) was a Russian, later naturalized French, and then naturalized American composer, pianist, and conductor....
; choreography by
Vaslav Nijinsky
Vaslav Nijinsky
Vaslav Nijinsky was a Russian ballet dancer and choreographer of Polish descent, cited as the greatest male dancer of the 20th century. He grew to be celebrated for his virtuosity and for the depth and intensity of his characterizations...
; and concept, set design and costumes by
Nicholas Roerich
Nicholas Roerich
Nicholas Roerich, also known as Nikolai Konstantinovich Rerikh , was a Russian mystic, painter, philosopher, scientist, writer, traveler, and public figure. A prolific artist, he created thousands of paintings and about 30 literary works...
. It was produced by
Sergei Diaghilev
Sergei Diaghilev
Sergei Pavlovich Diaghilev , usually referred to outside of Russia as Serge, was a Russian art critic, patron, ballet impresario and founder of the Ballets Russes, from which many famous dancers and choreographers would arise.-Early life and career:...
for his
Ballets Russes
Ballets Russes
The Ballets Russes was an itinerant ballet company from Russia which performed between 1909 and 1929 in many countries. Directed by Sergei Diaghilev, it is regarded as the greatest ballet company of the 20th century. Many of its dancers originated from the Imperial Ballet of Saint Petersburg...
ballet company and had its première in Paris on 29 May 1913.
The music's innovative complex rhythmic structures, timbres, and use of
dissonance
Consonance and dissonance
In music, a consonance is a harmony, chord, or interval considered stable, as opposed to a dissonance , which is considered to be unstable...
have made it a seminal 20th century composition.
"This intersecting of inherently non-symmetrical diatonic elements with inherently non-diatonic symmetrical elements seems to me the defining principle of the musical language of Le Sacre and the source of the unparalleled tension and conflicted energy of the work."

George Perle (1990). The Listening Composer, p. 83. California: University of California Press. ISBN 0520069919.