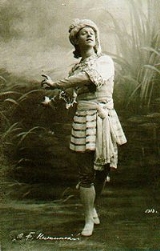 Vaslav Nijinsky
Vaslav Nijinsky
( /
Vaclav Fomič Nižinskij
; ˌvatslɐf foˌmʲitʃ nʲɪˈʐinskʲɪj; ; ; March 12, 1890 - April 8, 1950) was a
Russian
Russians
The Russian people are an East Slavic ethnic group native to Russia, speaking the Russian language and primarily living in Russia and neighboring countries....
ballet
Ballet
Ballet is a type of performance dance, that originated in the Italian Renaissance courts of the 15th century, and which was further developed in France and Russia as a concert dance form. The early portions preceded the invention of the proscenium stage and were presented in large chambers with...
dancer and choreographer of
Polish
Poles
thumb|right|180px|The state flag of [[Poland]] as used by Polish government and diplomatic authoritiesThe Polish people, or Poles , are a nation indigenous to Poland. They are united by the Polish language, which belongs to the historical Lechitic subgroup of West Slavic languages of Central Europe...
descent, cited as the greatest male dancer of the 20th century. He grew to be celebrated for his virtuosity and for the depth and intensity of his characterizations. He could perform
en pointe
En pointe
En pointe means "on the tip" and is a part of classical ballet technique, usually practised using specially reinforced shoes called pointe shoes or toe shoes. The technique developed from the desire for dancers to appear weightless and sylph-like and has evolved to enable dancers to dance on the...
, a rare skill among male dancers at the time (Albright, 2004) and his ability to perform seemingly gravity-defying leaps was also legendary.
I merely leap and pause.