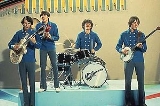 The Monkees (TV series)
The Monkees
is an American
situation comedy
Situation comedy
A situation comedy, often shortened to sitcom, is a genre of comedy that features characters sharing the same common environment, such as a home or workplace, accompanied with jokes as part of the dialogue...
that aired on
NBC
NBC
The National Broadcasting Company is an American commercial broadcasting television network and former radio network headquartered in the GE Building in New York City's Rockefeller Center with additional major offices near Los Angeles and in Chicago...
from September 1966 to March 1968. The series follows the adventures of four young men (
The Monkees
The Monkees
The Monkees are an American pop rock group. Assembled in Los Angeles in 1966 by Robert "Bob" Rafelson and Bert Schneider for the American television series The Monkees, which aired from 1966 to 1968, the musical acting quartet was composed of Americans Micky Dolenz, Michael Nesmith and Peter Tork,...
) trying to make a name for themselves as rock 'n roll singers. The show introduced a number of innovative new-wave film techniques to series television and won two
Emmy Award
Emmy Award
An Emmy Award, often referred to simply as the Emmy, is a television production award, similar in nature to the Peabody Awards but more focused on entertainment, and is considered the television equivalent to the Academy Awards and the Grammy Awards .A majority of Emmys are presented in various...
s in 1967. The program ended on
Labor Day
Labor Day
Labor Day is a United States federal holiday observed on the first Monday in September that celebrates the economic and social contributions of workers.-History:...
, 1968 at the finish of its second season and has received a long afterlife in Saturday morning repeats (CBS and ABC) and syndication, as well as overseas broadcasts.
Conception and casting
In the early 1960s, aspiring filmmakers
Bob Rafelson
Bob Rafelson
Robert "Bob" Rafelson is an Emmy Award winning American film director, writer and producer. He was an early member of the New Hollywood movement in the 1970s and is most famous for directing and co-writing the film Five Easy Pieces, starring Jack Nicholson, as well as being one of the creators of...
and
Bert Schneider
Bert Schneider
Berton "Bert" Schneider is an American movie producer, who was behind a number of important and topical films of the late-1960s and early-1970s. The son of Abraham Schneider, onetime president of Columbia Pictures, the younger Schneider tended toward the rebellious. He briefly attended Cornell...
had formed
Raybert Productions
Raybert Productions
Raybert Productions was a 1960s production company, founded by Robert Rafelson and Bert Schneider. Its principal works were the wildly successful situation comedy The Monkees , and the 1969 movie Easy Rider...
and were trying to get a foot in the door in Hollywood. Inspired by the Beatles' film
A Hard Day's Night
A Hard Day's Night (film)
A Hard Day's Night is a 1964 British black-and-white comedy film directed by Richard Lester and starring The Beatles—John Lennon, Paul McCartney, George Harrison and Ringo Starr—during the height of Beatlemania. It was written by Alun Owen and originally released by United Artists...
, the duo decided to develop a television series about a fictional rock 'n' roll group. In April, 1965, Raybert sold the series idea to Screen Gems, and by August, a pilot script titled "The Monkeys" was completed by
Paul Mazursky
Paul Mazursky
Paul Mazursky is an American film director, screenwriter and actor.-Personal life:He was born Irwin Mazursky in Brooklyn, New York, the son of Jean , a piano player for dance classes, and David Mazursky, a laborer. Mazursky was born to a Jewish family; his grandfather was an immigrant from...
and Larry Tucker. Rafelson has said that he had the idea for a TV series about a music group as early as 1960, but had a hard time interesting anyone in it until 1965, by which time rock and roll music was firmly entrenched in pop culture.
On September 8, 1965, trade publications
Daily Variety
Variety (magazine)
Variety is an American weekly entertainment-trade magazine founded in New York City, New York, in 1905 by Sime Silverman. With the rise of the importance of the motion-picture industry, Daily Variety, a daily edition based in Los Angeles, California, was founded by Silverman in 1933. In 1998, the...
and
The Hollywood Reporter
The Hollywood Reporter
Formerly a daily trade magazine, The Hollywood Reporter re-launched in late 2010 as a unique hybrid publication serving the entertainment industry and a consumer audience...
ran an ad seeking "Folk & Roll Musicians-Singers for acting roles in new TV series." As many as 400 hopefuls showed up to be considered as one of "4 insane boys." Fourteen actors from the audition pool were brought back for screen tests, and after audience research, Raybert chose their final four.
Micky Dolenz
Micky Dolenz
George Michael "Micky" Dolenz, Jr. is an American actor, musician, television director, radio personality and theater director, best known as a member of the 1960s made-for-television band The Monkees.-Biography:...
, son of screen actor George M. Dolenz, Sr., had prior screen experience (under the name "Mickey Braddock") as the 10-year-old star of the
Circus Boy
Circus Boy
Circus Boy is an American action/adventure/drama series that aired in prime time on NBC, and then on ABC, from 1956 to 1958. It was then rerun by NBC on Saturday mornings, from 1958 to 1960...
series in the 1950s. He was actively auditioning for pilots at the time and was told about the Raybert project by his agent.
Englishman
Davy Jones
Davy Jones (actor)
David Thomas "Davy" Jones is an English rock singer-songwriter and actor best known as a member of the Monkees.-Early life:...
was a former jockey who had achieved some initial success on the musical stage (appearing with the cast of
Oliver!
Oliver!
Oliver! is a British musical, with script, music and lyrics by Lionel Bart. The musical is based upon the novel Oliver Twist by Charles Dickens....
on
The Ed Sullivan Show
The Ed Sullivan Show
The Ed Sullivan Show is an American TV variety show that originally ran on CBS from Sunday June 20, 1948 to Sunday June 6, 1971, and was hosted by New York entertainment columnist Ed Sullivan....
the night of the Beatles' live American debut). Already appearing in Columbia Pictures productions and recording for the Colpix record label, he had been identified in advance as a potential star for the series.
Texan
Michael Nesmith
Michael Nesmith
Robert Michael Nesmith is an American musician, songwriter, actor, producer, novelist, businessman, and philanthropist, best known as a member of the musical group The Monkees and star of the TV series of the same name...
had served a brief stint in the U.S. Air Force and had also recorded for Colpix under the name "Michael Blessing." Nesmith was the only one of The Monkees who had come in based on seeing the trade magazine ad. He showed up to the audition with his laundry and impressed Rafelson and Schneider with his laid-back style and droll sense of humor. Nesmith also wore a woolen hat to keep his hair out of his eyes when he rode his motorcycle, leading to early promotional materials which nicknamed him "Wool Hat." The hat remained part of Nesmith's wardrobe, but the name was dropped after the pilot.
Peter Tork
Peter Tork
Peter Tork is an American musician and actor, best known as a member of The Monkees.-Early life:Tork was born Peter Halsten Thorkelson in Washington, D.C.. Although he was born in 1942, many news articles report him as born in 1944 in New York City as this was the date and place given on early...
was recommended to Rafelson and Schneider by friend
Stephen Stills
Stephen Stills
Stephen Arthur Stills is an American guitarist and singer/songwriter best known for his work with Buffalo Springfield and Crosby, Stills & Nash . He has performed on a professional level in several other bands as well as maintaining a solo career at the same time...
at his own audition. Tork, a skilled multi-instrumentalist, had performed at various Greenwich Village folk clubs before moving west, where he was a dishwasher before becoming a Monkee.
Development
Rafelson and Schneider wanted the style of the series to reflect avant garde film techniques—such as improvisation, quick cuts, jump cuts, breaking the
fourth wall
Fourth wall
The fourth wall is the imaginary "wall" at the front of the stage in a traditional three-walled box set in a proscenium theatre, through which the audience sees the action in the world of the play...
, and free-flowing, loose narratives—then being pioneered by European film directors. Each episode would contain at least one musical "romp" which might have nothing to do with the storyline. In retrospect, these vignettes now look very much like music videos: short, self-contained films of songs in ways that echoed Beatles' recent ventures into promotional films for their singles. They also believed strongly in the program's ability to appeal to young people, intentionally framing the kids as heroes and the adults as heavies.
Rafelson and Schneider also conceived of heavy cross-promotion and product placement, such as has become common today, with prominent promotion of sponsors such as Gretsch (for musical instruments), Kellogg's breakfast cereals, and Yardley's shaving supplies. Television programs are normally produced under the loss-leader model, with heavy investment in initial production paying off only years later when shows are syndicated in reruns. Rafelson and Schneider hoped that their cross-promotion and cost-cutting measures would represent a model through which a television show could profit sooner.
Rafelson and Schneider hired novice director
James Frawley
James Frawley
James Frawley is an American director and actor. Frawley was born in Houston, Texas. He has worked on Smallville, Ghost Whisperer, Judging Amy and The Monkees, as well as many other programs...
to teach the four actors improvisational comedy. Each of the four was given a different personality to portray: Dolenz the funny one, Nesmith the smart and serious one, Tork the naive one, and Jones the cute one. Their characters were loosely based on their real selves, with the exception of Tork, who was actually a quiet intellectual. The character types also had much in common with the respective personalities of
The Beatles
The Beatles
The Beatles were an English rock band, active throughout the 1960s and one of the most commercially successful and critically acclaimed acts in the history of popular music. Formed in Liverpool, by 1962 the group consisted of John Lennon , Paul McCartney , George Harrison and Ringo Starr...
, with Dolenz representing the madcap attitude of
John Lennon
John Lennon
John Winston Lennon, MBE was an English musician and singer-songwriter who rose to worldwide fame as one of the founding members of The Beatles, one of the most commercially successful and critically acclaimed acts in the history of popular music...
, Nesmith affecting the deadpan seriousness of
George Harrison
George Harrison
George Harrison, MBE was an English musician, guitarist, singer-songwriter, actor and film producer who achieved international fame as lead guitarist of The Beatles. Often referred to as "the quiet Beatle", Harrison became over time an admirer of Indian mysticism, and introduced it to the other...
, Tork depicting the odd-man-out quality of
Ringo Starr
Ringo Starr
Richard Starkey, MBE better known by his stage name Ringo Starr, is an English musician and actor who gained worldwide fame as the drummer for The Beatles. When the band formed in 1960, Starr was a member of another Liverpool band, Rory Storm and the Hurricanes. He became The Beatles' drummer in...
, and Jones conveying the pin-up appeal of
Paul McCartney
Paul McCartney
Sir James Paul McCartney, MBE, Hon RAM, FRCM is an English musician, singer-songwriter and composer. Formerly of The Beatles and Wings , McCartney is listed in Guinness World Records as the "most successful musician and composer in popular music history", with 60 gold discs and sales of 100...
.
A pilot episode was shot in San Diego and Los Angeles on a shoestring budget—in many scenes the Monkees wore their own clothes. However, initial audience tests (which were just then being pioneered) resulted in very low responses.
Given just two days to try again, Rafelson decided that before screening the pilot, he would show the audience clips from Nesmith and Jones's screen tests. These successfully conveyed the actors' likable personalities and prepared the viewers to be sympathetic to the characters they would be seeing in the disjointed presentation to come. The second round of tests resulted in spectacular responses.
Production
The Monkees
debuted September 12, 1966, on the NBC television network. The series was sponsored on alternate weeks by Kellogg's Cereals and
Yardley of London
Yardley of London
Yardley of London is a traditional British cosmetics brand and is one of the oldest in the world. Established in 1770, Yardley was a major producer of soap and perfumery by the beginning of the 20th century. By 1910, it moved to London's Bond Street, and in 1921 Yardley received its first Royal...
.
The series was filmed by
Screen Gems
Screen Gems
Screen Gems is an American movie production company and subsidiary company of Sony Pictures Entertainment's Columbia TriStar Motion Picture Group that has served several different purposes for its parent companies over the decades since its incorporation....
, and many of the same sets and props from The Three Stooges short films made by the studio were used on
The Monkees
: A pair of
pajamas
Pajamas
Pajamas, also spelled pyjamas , can refer to several related types of clothing. The original paijama are loose, lightweight trousers fitted with drawstring waistbands and worn in South and West Asia by both sexes...
with a bunny design on the front that had been worn by
Curly Howard
Curly Howard
Jerome Lester "Jerry" Horwitz , better known by his stage name Curly Howard, was an American comedian and vaudevillian. He is best known as a member of the American slapstick comedy team the Three Stooges, along with his older brothers Moe Howard and Shemp Howard, and actor Larry Fine...
in shorts such as
Cactus Makes Perfect
Cactus Makes Perfect (film)
Cactus Makes Perfect is the 61st short subject starring American slapstick comedy team the Three Stooges. The trio made a total of 190 shorts for Columbia Pictures between 1934 and 1959.-Plot:...
and
In the Sweet Pie and Pie
In the Sweet Pie and Pie
In the Sweet Pie and Pie is the 58th short subject starring American slapstick comedy team the Three Stooges. The trio made a total of 190 shorts for Columbia Pictures between 1934 and 1959.-Plot:...
were the same ones worn by Peter Tork in various episodes such as "A Coffin Too Frequent" and "Monkee See, Monkee Die".
To keep noise on the set down during filming, any of the four Monkees who was not needed in front of the cameras was locked into a converted meat locker. In DVD commentary, Tork noted that this had the added benefit of concealing any marijuana use that might be going on, although he admitted that he was the sole "serious 'head'" of the four of them. (In the 1980s, Tork gave up alcohol and marijuana use and has volunteered time to help people recovering from alcoholism.) In a studio outtake included in the 1990s re-release of
Headquarters
, Nesmith quips, before launching into "Nine Times Blue": "Only difference between me and Peter is I'm just
stone
legal."
Due to the loosely scripted nature of the series, some episodes would come in too short for air. The producers decided to fill time with various "extras", including the Monkees' original screen tests and candid interviews with the group. The show also bucked the trend of using a
laugh track
Laugh track
A laugh track is a separate soundtrack invented by Charles "Charley" Douglass, with the artificial sound of audience laughter, made to be inserted into television programming of comedy shows and sitcoms.The term "laugh track" does not apply to the genuine audience laughter on shows that shoot in...
, which was standard practice at the time. Most of the episodes from Season 2 did not contain canned laughter, which NBC later used as one of several reasons for cancelling the series.
Dolenz said in a 2007 interview on the
Roe Conn
Roe Conn
Roe B. Conn is an American talk radio host of The Roe Conn Show with Richard Roeper, which airs on WLS-AM 890 in Chicago live from 2 to 6 p.m. , Monday through Friday. Three hours of the radio show are also simulcast on NBC Chicago Digital 5.2 television between 3 and 6 p.m. weekdays...
radio program that, while inspiration did come from the Beatles, the band's image was not meant to be a rip-off of them. He said that the Beatles were always depicted as superstars with legions of fans, whereas the Monkees were always depicted as unsigned and struggling to make a buck. This is reflected numerous times throughout the series, such as in the pilot where Mike Nesmith is seen throwing darts at a Beatles album sleeve, and in the episode "Find The Monkees (The Audition)" where the Monkees struggle to see a famous television producer who is looking for a rock act for use in commercial advertisements; in the episode "I Was A 99-Pound Weakling" Micky is tricked into signing onto a bogus weight-training program but objects by noting, "Where am I gonna get that kind of money? I'm an unemployed drummer." Also in a screen test, a Monkee asks what the Beatles have that they don't have. They sing "Thirteen million dollars!"
The Monkees' "Pad"
The Monkees resided in a two-story beach house at 1334 North Beechwood Blvd. in
Malibu, California
. The front of the first floor was a combination of the living room, dining room and kitchen. In the back, overlooking the Pacific Ocean, was an alcove where the Monkees kept their instruments and rehearsed songs. The walls were covered with various signs and posters, such as the "MONEY IS THE ROOT OF ALL EVIL" sign near the kitchen and the "IN CASE OF FIRE, RUN" sign with an arrow pointing to an old-fashioned fire extinguisher near the front door. There were also two doors in the kitchen area; one led to a bathroom, the other to Davy and Peter's bedroom. The second floor (via spiral staircase near the front door) only consisted of Micky and Mike's bedroom. By the second season, the upstairs bedroom was occupied by all four Monkees. Also "residing" with the Monkees was Mr. Schneider, a mannequin who dispensed philosophical advice with the pull of his cord. Mr. Schneider was named after the show's co-producer Bert Schneider and was mostly voiced by main director James Frawley.
Monkeemobile
The Monkeemobile was a modified
Pontiac GTO
Pontiac GTO
The Pontiac GTO is an automobile built by Pontiac Division of General Motors in the United States from 1964 to 1974, and by GM subsidiary Holden in Australia from 2004 to 2006. It is considered an innovative, and now classic muscle car of the 1960s and 1970s...
designed and built by designer
Dean Jeffries
Dean Jeffries
Dean Jeffries is an American custom vehicle designer, fabricator, stuntman and stunt coordinator for motion pictures and television programs based in Los Angeles, California....
. The car featured a tilted forward split two-piece
windshield
Windshield
The windshield or windscreen of an aircraft, car, bus, motorbike or tram is the front window. Modern windshields are generally made of laminated safety glass, a type of treated glass, which consists of two curved sheets of glass with a plastic layer laminated between them for safety, and are glued...
, a touring car T-bucket-type
convertible
Convertible
A convertible is a type of automobile in which the roof can retract and fold away having windows which wind-down inside the doors, converting it from an enclosed to an open-air vehicle...
top, modified rear quarter panels and front fenders, exaggerated tail lamps, set of four bucket seats with an extra third row bench where the rear deck should have been, and a
parachute
Parachute
A parachute is a device used to slow the motion of an object through an atmosphere by creating drag, or in the case of ram-air parachutes, aerodynamic lift. Parachutes are usually made out of light, strong cloth, originally silk, now most commonly nylon...
. The
front grille
Grille
A grille or grill is an opening of several slits side by side in a wall or metal sheet or other barrier, usually to let air or water enter and/or leave but keep larger objects including people and animals in or out.-Spelling:In the United States, "grille" is used to differentiate the automotive...
sported the GTO emblem.
Awards
The Monkees
won two Emmy Awards in 1967: Outstanding Comedy Series and Outstanding Directorial Achievement in Comedy (
James Frawley
James Frawley
James Frawley is an American director and actor. Frawley was born in Houston, Texas. He has worked on Smallville, Ghost Whisperer, Judging Amy and The Monkees, as well as many other programs...
). Frawley was nominated for the same award the following season. Its win for Comedy Series was considered somewhat of an upset, as it bested long-time favorites
The Andy Griffith Show
The Andy Griffith Show
The Andy Griffith Show is an American sitcom first televised by CBS between October 3, 1960, and April 1, 1968. Andy Griffith portrays a widowed sheriff in the fictional small community of Mayberry, North Carolina...
,
Bewitched
Bewitched
Bewitched is an American situation comedy originally broadcast for eight seasons on ABC from 1964 to 1972, starring Elizabeth Montgomery, Dick York and Dick Sargent , Agnes Moorehead, and David White. The show is about a witch who marries a mortal and tries to lead the life of a typical suburban...
,
Get Smart
Get Smart
Get Smart is an American comedy television series that satirizes the secret agent genre. Created by Mel Brooks with Buck Henry, the show starred Don Adams , Barbara Feldon , and Edward Platt...
and
Hogan's Heroes
Hogan's Heroes
Hogan's Heroes is an American television sitcom that ran for 168 episodes from September 17, 1965, to March 28, 1971, on the CBS network. The show was set in a German prisoner of war camp during the Second World War. Bob Crane had the starring role as Colonel Robert E...
.
Syndication
The Monkees
enjoyed a resurgence on Saturday afternoon television on
CBS
CBS
CBS Broadcasting Inc. is a major US commercial broadcasting television network, which started as a radio network. The name is derived from the initials of the network's former name, Columbia Broadcasting System. The network is sometimes referred to as the "Eye Network" in reference to the shape of...
from September 1969 to September 1972, and on ABC from September 1972 to August 1973. To coincide with the releases of
The Monkees Present
The Monkees Present
The Monkees Present is The Monkees' eighth album.By the time recording had begun in earnest for this album, the Monkees had passed their popularity peak, and as Screen Gems cared less and less about the Monkees' activities, the members were given more control over the creation of this, the second...
and
Changes
albums during this time period, many episodes replaced the older songs with tracks from these recent releases. The 58 episodes were then sold to local markets for syndication in September 1975, where they typically appeared on independent television stations on weekday afternoons. The series currently airs in reruns on
Antenna TV
Antenna TV
Antenna TV is an American digital broadcast television network, primarily featuring classic television series from the 1950s to the 1990s, along with some feature films. It is owned by Tribune Broadcasting, a division of the Chicago-based Tribune Company...
, a digital subchannel that airs classic programming from the 1950s to the 1990s.
A second, massive resurgence occurred when a
Monkees
marathon aired on February 23, 1986 on
MTV
MTV
MTV, formerly an initialism of Music Television, is an American network based in New York City that launched on August 1, 1981. The original purpose of the channel was to play music videos guided by on-air hosts known as VJs....
. Within months, the 58 episodes were airing throughout the United States, and in Canada on
MuchMusic
MuchMusic
MuchMusic is a Canadian English language Category A specialty channel owned by Bell Media. MuchMusic is dedicated to music-related programs, pop and youth culture.-History:...
. Dolenz, Tork and Jones, already reunited for a "20th Anniversary Tour", went from playing small clubs to playing stadiums as the series caught on, and the tour drew critical praise.
Although Rhino Records now serves as the underlying rights holder for this series,
Sony Pictures Television
Sony Pictures Television
Sony Pictures Television, Inc. is an American and global television production/distribution subsidiary of Sony Pictures Entertainment. In turn, the latter is part of the Japanese conglomerate Sony.-Background:...
remains the television distributor for syndication.
Home video and DVD releases
Six 2-episode VHS volumes of the television series were distributed by Musicvision/RCA/Columbia Pictures Home Video between July 15, 1986 and June 25, 1987, taking advantage of the group's twentieth anniversary.
On October 17, 1995, with The Monkees' thirtieth anniversary looming, Rhino Home Video issued the complete series as a deluxe VHS boxed set, containing all 58 episodes, plus the pilot and the 1969 special,
33⅓ Revolutions Per Monkee
, in a total of 21 videotapes, along with a specially created full-color photo book that tells about the history of the series, information of each episode and a variety of photographs from the series. First-run issues of this set also included a limited-edition wristwatch. A few months before, on May 22, Columbia House started releasing a Collector's Edition series also collecting all 58
Monkees
episodes and the 1969 special; the lone exception being the unaired 1965
Monkees
pilot, which was available only on Rhino's Video Box Set.
Rhino then released individual 2-episode VHS volumes of the TV series between March 26, 1996 and April 11, 2000; it would be the last time
The Monkees
television show would be distributed on videocassette.
In May and November 2003, Rhino Home Video released the complete 2 seasons of the original television series onto the DVD market, for the very first time. Seasons 1 and 2 were each released separately. Each set features six DVDs for Season 1 and five DVDs for Season 2.
Both seasons have been re-released via Eagle Rock Entertainment on September 27, 2011.
External links