 The Gazette (Montreal)
The Gazette
, often called the
Montreal Gazette
to avoid ambiguity, is the only English-language daily
newspaper
Newspaper
A newspaper is a scheduled publication containing news of current events, informative articles, diverse features and advertising. It usually is printed on relatively inexpensive, low-grade paper such as newsprint. By 2007, there were 6580 daily newspapers in the world selling 395 million copies a...
published in
Montreal
Montreal
Montreal is a city in Canada. It is the largest city in the province of Quebec, the second-largest city in Canada and the seventh largest in North America...
,
Quebec
Quebec
Quebec or is a province in east-central Canada. It is the only Canadian province with a predominantly French-speaking population and the only one whose sole official language is French at the provincial level....
,
Canada
Canada
Canada is a North American country consisting of ten provinces and three territories. Located in the northern part of the continent, it extends from the Atlantic Ocean in the east to the Pacific Ocean in the west, and northward into the Arctic Ocean...
, with three other daily English newspapers all having shut down at different times during the second half of the 20th century.
History
In 1778,
Fleury Mesplet
Fleury Mesplet
Fleury Mesplet was a French-born Canadian printer.Born in Marseille and apprenticed in Lyon, he emigrated to London in 1773 where he set up shop in Covent Garden. In 1774 he emigrated to Philadelphia; it is thought that he may have been persuaded to do so by Benjamin Franklin...
, founded the French-language newspaper called La Gazette du commerce et littéraire, pour la ville et district de Montréal. This paper was shut down in 1779, with Mesplet and the editor, Valentin Jautard, being imprisoned. Mesplet began a second weekly in 1785, La Gazette de Montréal, which was the direct ancestor of the current newspaper. The Gazette evolved from a French-language newspaper to a dual French-English format to the present English-only paper.
For many years, The Gazette was caught in a three-way fight for the English newspaper audience in Montreal with the tabloid Montreal Herald and the broadsheet
Montreal Star
Montreal Star
The Montreal Star was an English-language Canadian newspaper published in Montreal, Quebec, Canada. It folded in 1979 following an eight-month pressmen's strike....
. The Gazette was second in circulation to the Montreal Star, which sold more newspapers in the city and had a significant national reputation in the first half of the 20th century. The Montreal Herald closed in 1957, after publishing for 146 years. The Montreal Star, part of the Free Press chain (which owned
The Globe and Mail
The Globe and Mail
The Globe and Mail is a nationally distributed Canadian newspaper, based in Toronto and printed in six cities across the country. With a weekly readership of approximately 1 million, it is Canada's largest-circulation national newspaper and second-largest daily newspaper after the Toronto Star...
and the
Winnipeg Free Press
Winnipeg Free Press
The Winnipeg Free Press is a daily broadsheet newspaper in Winnipeg, Manitoba. Founded in 1872, as the Manitoba Free Press, it is the oldest newspaper in western Canada. It is the newspaper with the largest readership in the province....
), was hit by a long
strike action
Strike action
Strike action, also called labour strike, on strike, greve , or simply strike, is a work stoppage caused by the mass refusal of employees to work. A strike usually takes place in response to employee grievances. Strikes became important during the industrial revolution, when mass labour became...
and ceased publication in 1979, less than a year after the strike was settled.
In 1988, a competing English-language daily,
The Montreal Daily News
Montreal Daily News
The Montreal Daily News was a short-lived English language Canadian daily newspaper in Quebec. Quebecor founder Pierre Péladeau and British tabloid publisher Robert Maxwell teamed up to launch a competing English-language newspaper against The Gazette...
, was launched. The Montreal Daily News adopted a tabloid format and introduced a Sunday edition, forcing The Gazette to respond. After The Montreal Daily News folded in 1989, after less than two years in operation, The Gazette kept its Sunday edition going until August 2010.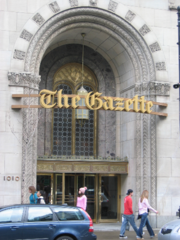 In 1968, The Gazette was acquired by the Southam newspaper chain, which owned major dailies across Canada. In 1996, the Southam papers were bought by
Conrad Black
Conrad Black
Conrad Moffat Black, Baron Black of Crossharbour, OC, KCSG, PC is a Canadian-born member of the British House of Lords, and a historian, columnist and publisher, who was for a time the third largest newspaper magnate in the world. Lord Black controlled Hollinger International, Inc...
's
Hollinger Inc.
Hollinger Inc.
Hollinger Inc. was a Canadian media company based in Toronto. It was created by the Canadian businessman Conrad Black as a holding company for his media interests after he acquired control of The Daily Telegraph in 1986. It was the parent company of Chicago-based Hollinger International, whose...
Then in August, 2000, Hollinger sold the Southam newspapers, including The Gazette, to Canwest Global Communications Corp., controlled by the Winnipeg-based Asper family. In 2010, a new media group, Postmedia, bought the Gazette and other papers from the financially troubled Canwest.
To celebrate its 150th anniversary, The Gazette published a
facsimile
Facsimile
A facsimile is a copy or reproduction of an old book, manuscript, map, art print, or other item of historical value that is as true to the original source as possible. It differs from other forms of reproduction by attempting to replicate the source as accurately as possible in terms of scale,...
of one of its earliest issues. Much effort was made to use a type of paper that imitated 18th century paper, with fake chainlines and laidlines to make the paper look old.
Today
Today, The Gazettes audience is primarily Quebec's official English-speaking minority, which accounts for about 13 percent of the population of the province. Out of the four dailies published in Montreal, the other three being the French-language newspapers (
La Presse
La Presse (Canada)
La Presse, founded in 1884, is a French-language Monday-Saturday newspaper published in Montreal, Quebec, Canada. It is owned today by Groupe Gesca, a subsidiary of Power Corporation of Canada. The Sunday version was dropped in 2009.-Description:...
,
Le Journal de Montréal
Le Journal de Montréal
Le Journal de Montréal is a daily tabloid newspaper published in Montreal, Quebec, Canada, and is the largest-circulation French-language newspaper in North America. Established by Pierre Péladeau in 1964, it is owned by the Sun Media division of Quebecor Media. It is also Canada's largest tabloid...
, and
Le Devoir
Le Devoir
Le Devoir is a French-language newspaper published in Montreal and distributed in Quebec and the rest of Canada. It was founded by journalist, politician, and nationalist Henri Bourassa in 1910....
), The Gazette has the third largest circulation, behind Le Journal de Montréal and La Presse.
In recent years, The Gazette has stepped up efforts to reach bilingual francophone professionals and adjusted its coverage accordingly. The publisher of The Gazette is Alan Allnutt, who served as editor-in-chief of the paper from 1996 to 2000. The current executive editor is Raymond Brassard, while the managing editor is Catherine Wallace.
Past and present personalities
Aislin

Terry Mosher

Christopher Terry Mosher, OC is a Canadian political cartoonist for the Montreal Gazette. He draws under the name "Aislin", a rendition of the name of his eldest daughter Aislinn ....



Nick Auf der Maur

Nick Auf der Maur

Nick Auf der Maur was a journalist, politician and "man about town" boulevardier in Montreal, Quebec, Canada. He was also the father of rock musician Melissa Auf der Maur, through his marriage to Linda Gaboriau....



Dave Bist

Dave Bist

Dave Bist is a Canadian journalist who covered the John Lennon, Yoko Ono Bed-In at the Queen Elizabeth Hotel in 1969 for the Montreal Gazette.He earned a Juno Award in 1971 as "Canadian Journalist of the Year".-Bibliography:...



Ted Blackman

Ted Blackman

Ted Blackman was a well known Canadian media personality in the Montreal area.Blackman's career started as a disc jockey at high school and teen club dances in the 1950s...



Richard Burnett

Richard Burnett

Richard Burnett is a writer, editor, journalist and columnist. His column and blog, "Three Dollar Bill", deals with gay life and culture across Canada and around the world....



Edgar Andrew Collard

Edgar Andrew Collard

Edgar Andrew Collard, CM was a Canadian journalist and historian, best known for his Montreal Gazette column "All Our Yesterdays". He was born in Montreal, Quebec....



T'cha Dunlevy
Michael Farber

Red Fisher

Red Fisher (journalist)

Red Fisher is a Canadian sports journalist whose columns focus on the National Hockey League and its Montreal Canadiens team....



Pat Hickey
William Johnson

William Johnson (author)

William Johnson, CM is a Canadian academic, journalist and author.Johnson's mother was francophone and his father anglophone and Johnson himself speaks both English and French...



Dane Lanken

Dane Lanken

Dane Lanken is a Canadian journalist.He was a film critic for the Montreal Gazette from 1967 to 1977, and has since been a freelance journalist who writes regularly for Canadian Geographic, among other publications....



Don Macpherson
L. Ian MacDonald

L. Ian MacDonald

- Biography :MacDonald graduated from Concordia University in 1969 with an honours degree in political science. He has been a columnist for the Montreal Gazette and the defunct Montreal Daily News, and has been a sessional lecturer at Concordia University....



Montreal newspapers
La Presse

La Presse (Canada)

La Presse, founded in 1884, is a French-language Monday-Saturday newspaper published in Montreal, Quebec, Canada. It is owned today by Groupe Gesca, a subsidiary of Power Corporation of Canada. The Sunday version was dropped in 2009.-Description:...



Le Journal de Montréal

Le Journal de Montréal

Le Journal de Montréal is a daily tabloid newspaper published in Montreal, Quebec, Canada, and is the largest-circulation French-language newspaper in North America. Established by Pierre Péladeau in 1964, it is owned by the Sun Media division of Quebecor Media. It is also Canada's largest tabloid...



Montreal Daily News

Montreal Daily News

The Montreal Daily News was a short-lived English language Canadian daily newspaper in Quebec. Quebecor founder Pierre Péladeau and British tabloid publisher Robert Maxwell teamed up to launch a competing English-language newspaper against The Gazette...


(defunct)
The Montreal Star (defunct)
External links