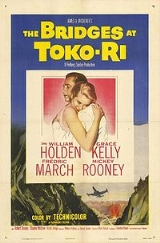 The Bridges at Toko-Ri
The Bridges at Toko-Ri
is a 1954 film based on a
novel
The Bridges at Toko-Ri (novel)
The Bridges at Toko-Ri is a novella by American author James A. Michener. The book details the experiences of American fighter pilots in the Korean War as they undertake a mission to destroy heavily protected supply bridges in enemy territory...
by James Michener about a
naval aviator
Naval Aviator
A United States Naval Aviator is a qualified pilot in the United States Navy, Marine Corps or Coast Guard.-Naming Conventions:Most Naval Aviators are Unrestricted Line Officers; however, a small number of Limited Duty Officers and Chief Warrant Officers are also trained as Naval Aviators.Until 1981...
assigned to bomb a group of heavily defended bridges during the
Korean War
Korean War
The Korean War was a conventional war between South Korea, supported by the United Nations, and North Korea, supported by the People's Republic of China , with military material aid from the Soviet Union...
. It was made into a motion picture by
Paramount Pictures
Paramount Pictures
Paramount Pictures Corporation is an American film production and distribution company, located at 5555 Melrose Avenue in Hollywood. Founded in 1912 and currently owned by media conglomerate Viacom, it is America's oldest existing film studio; it is also the last major film studio still...
and won the Special Effects Oscar at the
28th Academy Awards
28th Academy Awards
The 28th Academy Awards were presented at the RKO Pantages Theatre in Los Angeles, California. Marty, a simple and low-budget film usually uncharacteristic of Best Picture awardees, became the shortest film to win the top honor.This year also was notable for having only 2 of the best picture...
. It follows the book of the same title emphasizing the lives of the pilots and crew in the context of a war that seems remote to all except those who fight in it. The goal of the mission is set above everything else and the heroes perish as victims of fate. The novel and film are a composite of actual missions flown against bridges at Majon-ni and Changnim-Ni,
North Korea
North Korea
The Democratic People's Republic of Korea , , is a country in East Asia, occupying the northern half of the Korean Peninsula. Its capital and largest city is Pyongyang. The Korean Demilitarized Zone serves as the buffer zone between North Korea and South Korea...
, in the winter of 1951–1952, when Michener was a correspondent aboard the aircraft carriers
Essex
USS Essex (CV-9)
USS Essex was an aircraft carrier, the lead ship of the 24-ship built for the United States Navy during World War II. She was the fourth US Navy ship to bear the name. Commissioned in December 1942, Essex participated in several campaigns in the Pacific Theater of Operations, earning the...
and
Valley Forge
USS Valley Forge (CV-45)
USS Valley Forge was one of 24 s built during and shortly after World War II for the United States Navy. The ship was the first US Navy ship to bear the name, and was named for Valley Forge, the 1777–1778 winter encampment of General George Washington's Continental Army...
, and with a pair of rescue missions on February 8, 1952, one of which involved the shoot-down of a plane off the
Valley Forge
. However, in the rescue incident referenced the downed airmen survived the crash and rescue attempt but were captured by North Korean soldiers. (At the time Michener believed the men to have been killed.)
Plot
U.S. Navy
Lieutenant
Lieutenant
A lieutenant is a junior commissioned officer in many nations' armed forces. Typically, the rank of lieutenant in naval usage, while still a junior officer rank, is senior to the army rank...
Harry Brubaker (
William Holden
William Holden
William Holden was an American actor. Holden won the Academy Award for Best Actor in 1954 and the Emmy Award for Best Actor in 1974...
) is a pilot who previously fought during World War II, went back to his civilian job as an attorney, and is now a recalled naval reservist further engaged in the Korean War flying jets from carriers. The film starts with him returning from a mission where his jet sustained battle damage and he has to ditch it into the bone chilling cold of the Sea of Japan.
Brubaker is about to freeze to death when a Navy rescue helicopter appears. The rescue helicopter that saves Brubaker is flown by an enlisted Naval Aviation Pilot (NAP), the eccentric green top hat-and-scarf wearing
Chief Petty Officer
Chief Petty Officer
A chief petty officer is a senior non-commissioned officer in many navies and coast guards.-Canada:"Chief Petty Officer" refers to two ranks in the Canadian Navy...
Mike Forney (
Mickey Rooney
Mickey Rooney
Mickey Rooney is an American film actor and entertainer whose film, television, and stage appearances span nearly his entire lifetime. He has won multiple awards, including an Honorary Academy Award, a Golden Globe and an Emmy Award...
), with Forney's crewman AD2 Nestor Gamidge (
Earl Holliman
Earl Holliman
-Early life:Earl Holliman was born at Delhi in Richland Parish of northeastern Louisiana. Holliman's biological father died before he was born, and his biological mother, living in poverty with several other children, gave him up for adoption at birth...
) jumping into the freezing water to hook Brubaker to the rescue harness.
Rear Admiral
Rear Admiral
Rear admiral is a naval commissioned officer rank above that of a commodore and captain, and below that of a vice admiral. It is generally regarded as the lowest of the "admiral" ranks, which are also sometimes referred to as "flag officers" or "flag ranks"...
Tarrant (
Fredric March
Fredric March
Fredric March was an American stage and film actor. He won the Academy Award for Best Actor in 1932 for Dr. Jekyll and Mr...
), the carrier task force commander, lost his own son at the
Battle of Midway
Battle of Midway
The Battle of Midway is widely regarded as the most important naval battle of the Pacific Campaign of World War II. Between 4 and 7 June 1942, approximately one month after the Battle of the Coral Sea and six months after Japan's attack on Pearl Harbor, the United States Navy decisively defeated...
during World War II and Brubaker's manner and bearing brings back memories of his lost son. The admiral finds the pilot is tired of war and just wants to return to civilian life to be with his family and the legal career he left behind. Nevertheless, they both agree to the necessity of seeing this conflict through to its conclusion.
A new mission is set. The target is a group of bridges used by Communist forces.
Commander
Commander (United States)
In the United States, commander is a military rank that is also sometimes used as a military title, depending on the branch of service. It is also used as a rank or title in some organizations outside of the military, particularly in police and law enforcement.-Naval rank:In the United States...
Wayne Lee, the Commander of the Carrier Air Group ("CAG"), is dedicated to his men, but Tarrant would rather see him dedicated to his mission. He decides not to recommend promoting Lee to the rank of Captain for this reason.
Brubaker is told that his wife Nancy (
Grace Kelly
Grace Kelly
Grace Patricia Kelly was an American actress who, in April 1956, married Rainier III, Prince of Monaco, to become Princess consort of Monaco, styled as Her Serene Highness The Princess of Monaco, and commonly referred to as Princess Grace.After embarking on an acting career in 1950, at the age of...
) and children arrived in Tokyo on an unexpected visit and he is given a three-day pass during a port visit. Their reunion is interrupted when Nestor shows up at their hotel asking Brubaker's help in bailing Forney out of the guardhouse after a brawl with another sailor. Nancy, anxious to have her husband back home, is terrified to discover the signs of a man ready to crack from combat fatigue. Nancy is deep into thoughts of being left a widow. Tarrant will try to support her, although he, too, remembers how his own daughter-in-law had almost turned insane after losing her husband, Tarrant's son.
Back to the carrier, Lee presents to his pilots the air photos taken from a low pass over Toko-Ri. The flak is extremely dense and the pilots have to fly very low into the banks of the river while receiving fire from all sides. Brubaker gets sick after this briefing and believes his days are numbered. He is ready to write a letter to Nancy predicting his own death. Lee tries to boost the pilot's morale by asking him to stay behind if he feels he cannot accomplish his mission. Brubaker vows to do his duty.
The initial attack is on a series of bridges. Lee organizes two formations, the second one to be led by Brubaker. The results from the first attack are incomplete, so he orders the second group led by Brubaker to attack. Brubaker's team dashes in low and completes the destruction of the last bridge. Lee then directs the air group to attack a secondary target, an ammunition dump. As Brubaker completes the run, his plane receives a hit that creates a fuel leak. Lee escorts Brubaker, guiding him back to the carrier, but the fuel loss will not allow Brubaker to overcome the last hill before the sea. He belly-lands onto a relatively flat area. The rescue helicopter and his faithful friends Mike and Nestor land close by to pick him up, but North Korean ground troops arrive and machine gun the helicopter, killing Nestor. Brubaker and Forney try to hide in a small ditch to defend themselves with carbines and pistols, but eventually are outnumbered and both are killed.
After getting confirmation from the U.S. Army that the three Americans are killed, Admiral Tarrant is shattered by the news and demands an explanation. Lee retorts that despite the losses, the mission was a success. Tarrant sorrowfully must accept that Lee has "matured", recommending him for promotion. The film ends with Tarrant alone, wondering where Brubaker and all the others under his command could have found the bravery to do what is asked from them. The movie ends with a famous quote: "Where do we get such men?"
Production

The movie was shot using , a 27,100-ton , standing in as the fictional USS
Savo Island
.
The aircraft that Brubaker and his squadron fly is the F9F-2 Panther
The squadron represented in the film is Fighter Squadron 192, VF-192, "The Golden Dragons." The squadron still exists today as Strike Fighter Squadron 192,
VFA-192
VFA-192
Strike Fighter Squadron 192 , also known as the "World Famous Golden Dragons", are a United States Navy F/A-18C Hornet fighter squadron stationed at NAS Lemoore...
, an
F/A-18 Hornet
F/A-18 Hornet
The McDonnell Douglas F/A-18 Hornet is a supersonic, all-weather carrier-capable multirole fighter jet, designed to dogfight and attack ground targets . Designed by McDonnell Douglas and Northrop, the F/A-18 was derived from the latter's YF-17 in the 1970s for use by the United States Navy and...
squadron now known, due to its part in the film, as the "World Famous Golden Dragons". Coincidently, VPA-192 had been aboard the just after the Korean War in September 1953.
Cast
External links
.