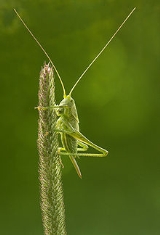 Tettigoniidae
The
family
Family (biology)
In biological classification, family is* a taxonomic rank. Other well-known ranks are life, domain, kingdom, phylum, class, order, genus, and species, with family fitting between order and genus. As for the other well-known ranks, there is the option of an immediately lower rank, indicated by the...
Tettigoniidae
, known in
American English
American English
American English is a set of dialects of the English language used mostly in the United States. Approximately two-thirds of the world's native speakers of English live in the United States....
as
katydids
and in
British English
British English
British English, or English , is the broad term used to distinguish the forms of the English language used in the United Kingdom from forms used elsewhere...
as
bush-crickets
, contains more than 6,400
species
Species
In biology, a species is one of the basic units of biological classification and a taxonomic rank. A species is often defined as a group of organisms capable of interbreeding and producing fertile offspring. While in many cases this definition is adequate, more precise or differing measures are...
. It is part of the suborder
Ensifera
Ensifera
Ensifera is a suborder of the order Orthoptera, comprising insects commonly known as crickets, katydids and bush crickets. "Ensifer" means "sword bearer" in Latin, and refers to the typically elongated and blade-like ovipositor of the females...
and the only family in the superfamily Tettigonioidea. They are also known as
long-horned grasshoppers
, although they are more closely related to
crickets
Cricket (insect)
Crickets, family Gryllidae , are insects somewhat related to grasshoppers, and more closely related to katydids or bush crickets . They have somewhat flattened bodies and long antennae. There are about 900 species of crickets...
than to grasshoppers. Many tettigoniids exhibit mimicry and
camouflage
Camouflage
Camouflage is a method of concealment that allows an otherwise visible animal, military vehicle, or other object to remain unnoticed, by blending with its environment. Examples include a leopard's spotted coat, the battledress of a modern soldier and a leaf-mimic butterfly...
, commonly with shapes and colors similar to leaves.
Description and life cycle
Tettigoniids may be distinguished from
grasshopper
Grasshopper
The grasshopper is an insect of the suborder Caelifera in the order Orthoptera. To distinguish it from bush crickets or katydids, it is sometimes referred to as the short-horned grasshopper...
s by the length of their filamentous
antennae
Antenna (biology)
Antennae in biology have historically been paired appendages used for sensing in arthropods. More recently, the term has also been applied to cilium structures present in most cell types of eukaryotes....
, which may exceed their own body length, while grasshoppers' antennae are always relatively short and thickened.
The males of tettigoniids have sound-producing
organs
Organ (anatomy)
In biology, an organ is a collection of tissues joined in structural unit to serve a common function. Usually there is a main tissue and sporadic tissues . The main tissue is the one that is unique for the specific organ. For example, main tissue in the heart is the myocardium, while sporadic are...
(via
stridulation
Stridulation
Stridulation is the act of producing sound by rubbing together certain body parts. This behavior is mostly associated with insects, but other animals are known to do this as well, such as a number of species of fishes, snakes and spiders...
) located on the hind angles of their front wings. In some species females are also capable of
stridulation
Stridulation
Stridulation is the act of producing sound by rubbing together certain body parts. This behavior is mostly associated with insects, but other animals are known to do this as well, such as a number of species of fishes, snakes and spiders...
. The males provide a nuptial gift for the females in the form of a
spermatophylax
Spermatophylax
A spermatophylax is a gelatinous bolus which some male insects eject during copulation with females through their aedeagi together with spermatophores, and which functions as a nutritive addition for the female....
, a body attached to the males'
spermatophore
Spermatophore
A spermatophore or sperm ampulla is a capsule or mass created by males of various animal species, containing spermatozoa and transferred in entirety to the female's ovipore during copulation...
which is consumed by the female. The function of the spermatophylax is to increase the attachment time of the males' spermatophore and thereby increase his paternity.
The eggs of tettigoniids are typically oval shaped and laid in rows on the host plant.
Distribution
There are about 255 species in
North America
North America
North America is a continent wholly within the Northern Hemisphere and almost wholly within the Western Hemisphere. It is also considered a northern subcontinent of the Americas...
, but the majority of species live in the tropical regions of the world.
Ecology
The
diet
Diet (nutrition)
In nutrition, diet is the sum of food consumed by a person or other organism. Dietary habits are the habitual decisions an individual or culture makes when choosing what foods to eat. With the word diet, it is often implied the use of specific intake of nutrition for health or weight-management...
of tettigoniids includes
leaves
Leaves
-History:Vocalist Arnar Gudjonsson was formerly the guitarist with Mower, and he was joined by Hallur Hallsson , Arnar Ólafsson , Bjarni Grímsson , and Andri Ásgrímsson . Late in 2001 they played with Emiliana Torrini and drew early praise from the New York Times...
, flowers,
bark
Bark
Bark is the outermost layers of stems and roots of woody plants. Plants with bark include trees, woody vines and shrubs. Bark refers to all the tissues outside of the vascular cambium and is a nontechnical term. It overlays the wood and consists of the inner bark and the outer bark. The inner...
, and
seed
Seed
A seed is a small embryonic plant enclosed in a covering called the seed coat, usually with some stored food. It is the product of the ripened ovule of gymnosperm and angiosperm plants which occurs after fertilization and some growth within the mother plant...
s, but many species are exclusively predatory, feeding on other
insect
Insect
Insects are a class of living creatures within the arthropods that have a chitinous exoskeleton, a three-part body , three pairs of jointed legs, compound eyes, and two antennae...
s,
snail
Snail
Snail is a common name applied to most of the members of the molluscan class Gastropoda that have coiled shells in the adult stage. When the word is used in its most general sense, it includes sea snails, land snails and freshwater snails. The word snail without any qualifier is however more often...
s or even small
vertebrate
Vertebrate
Vertebrates are animals that are members of the subphylum Vertebrata . Vertebrates are the largest group of chordates, with currently about 58,000 species described. Vertebrates include the jawless fishes, bony fishes, sharks and rays, amphibians, reptiles, mammals, and birds...
s such as
snake
Snake
Snakes are elongate, legless, carnivorous reptiles of the suborder Serpentes that can be distinguished from legless lizards by their lack of eyelids and external ears. Like all squamates, snakes are ectothermic, amniote vertebrates covered in overlapping scales...
s and
lizard
Lizard
Lizards are a widespread group of squamate reptiles, with nearly 3800 species, ranging across all continents except Antarctica as well as most oceanic island chains...
s. Some are also considered pests by commercial crop growers and are sprayed to limit growth. Large tettigoniids can inflict a painful bite or pinch if handled but seldom break the skin.
Some species of bush crickets are consumed by people, like the
nsenene
Nsenene
Nsenene is the Luganda name for a long-horned grasshopper that is a central Ugandan delicacy as well as an important source of income. The insect is also eaten in neighbouring areas of Kenya and Tanzania. Traditionally in Uganda, nsenene were collected by children and women...
(
Ruspolia baileyi
) in
Uganda
Uganda
Uganda , officially the Republic of Uganda, is a landlocked country in East Africa. Uganda is also known as the "Pearl of Africa". It is bordered on the east by Kenya, on the north by South Sudan, on the west by the Democratic Republic of the Congo, on the southwest by Rwanda, and on the south by...
and neighbouring areas.
Reproductive behavior
The reproductive behavior of bush crickets has been studied in great depth. Studies conducted in 2010 at the University of Derby by Karim Vahed, Darren Parker and James Gilbert found that the Tuberous Bushcricket (
Platycleis affinis
) has the largest testes in proportion to body mass of any animal recorded. They account for 14% of the insect's body mass and are thought to enable a fast re-mating rate.
Classification
Tettigoniidae is a large family and has been divided into a number of subfamilies:
Acridoxeninae
Agraeciinae
Austrosaginae
Bradyporinae
Conocephalinae
Copiphorinae
Decticinae
Ephippigerinae
Hetrodinae
Lipotactinae
Listroscelidinae
Meconematinae
Mecopodinae
Microtettigoniinae
Phaneropterinae

Phaneropterinae

Phaneropterinae is a subfamily of bush crickets or katydids. Belonging to the family Tettigoniidae, they have nearly 2060 species in 85 genera throughout the world...



Phasmodinae
Phyllophorinae
Pseudophyllinae

Pseudophyllinae

The true katydid subfamily Pseudophyllinae contains numerous species of Tettigoniidae . Like the other crickets of suborder Ensifera, it is part of the insect order Orthoptera which also contains e.g. grasshoppers and locusts....



Saginae
Tettigoniinae

Tettigoniinae

The subfamily Tettigoniinae, also called shield-backed katydids, contains hundreds of species, with 123 in North America. It is part of the family Tettigoniidae.-Examples:...



Tympanophorinae
Zaprochilinae
The family name is based on the genus
Tettigonia
Tettigonia
Tettigonia is a genus of insect described by Linnaeus in 1758, belonging to the family Tettigoniidae, subfamily Tettigoniinae. The Latin name Tettigonia derives from the Greek τεττιξ, meaning cicada....
, which is
New Latin
New Latin
The term New Latin, or Neo-Latin, is used to describe the Latin language used in original works created between c. 1500 and c. 1900. Among other uses, Latin during this period was employed in scholarly and scientific publications...
(Linnaeus, 1748), and derives from the
Greek
Greek language
Greek is an independent branch of the Indo-European family of languages. Native to the southern Balkans, it has the longest documented history of any Indo-European language, spanning 34 centuries of written records. Its writing system has been the Greek alphabet for the majority of its history;...
, a
cicada
Cicada
A cicada is an insect of the order Hemiptera, suborder Auchenorrhyncha , in the superfamily Cicadoidea, with large eyes wide apart on the head and usually transparent, well-veined wings. There are about 2,500 species of cicada around the world, and many of them remain unclassified...
.
External links
}}