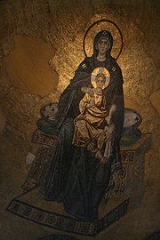 Tessera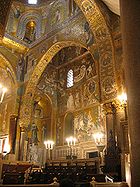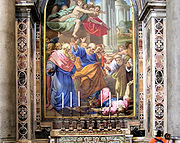 A
tessera
is an individual tile in a
mosaic
Mosaic
Mosaic is the art of creating images with an assemblage of small pieces of colored glass, stone, or other materials. It may be a technique of decorative art, an aspect of interior decoration, or of cultural and spiritual significance as in a cathedral...
, usually formed in the shape of a cube. It is also known as an
abaciscus
,
abaculus
, or, in Persian کاشي معرق. In antiquity, mosaics were formed from naturally colored
pebble
Pebble
A pebble is a clast of rock with a particle size of 4 to 64 millimetres based on the Krumbein phi scale of sedimentology. Pebbles are generally considered to be larger than granules and smaller than cobbles . A rock made predominantly of pebbles is termed a conglomerate...
s, but by 200 BC purpose-made tesserae were being used.
Marble
Marble
Marble is a metamorphic rock composed of recrystallized carbonate minerals, most commonly calcite or dolomite.Geologists use the term "marble" to refer to metamorphosed limestone; however stonemasons use the term more broadly to encompass unmetamorphosed limestone.Marble is commonly used for...
or
limestone
Limestone
Limestone is a sedimentary rock composed largely of the minerals calcite and aragonite, which are different crystal forms of calcium carbonate . Many limestones are composed from skeletal fragments of marine organisms such as coral or foraminifera....
was cut into small cubes that were arranged into the design. Later, tesserae were made from colored glass, or clear glass backed with metal foils. The Byzantines used tesserae with
gold leaf
Gold leaf
right|thumb|250px|[[Burnishing]] gold leaf with an [[agate]] stone tool, during the water gilding processGold leaf is gold that has been hammered into extremely thin sheets and is often used for gilding. Gold leaf is available in a wide variety of karats and shades...
, in which case the glass pieces were flatter, with two glass pieces sandwiching the gold. This produced a golden reflection emanating from in between the tesserae as well as their front, causing a far richer and more luminous effect than even plain gold leaf would create.
Contemporary types
Vitreous Glass: These are manufactured glass tiles made to a uniform shape and size. They are made by molten glass being poured into trays and fired. An imprint of grooves is made on their underside for help with adhesion to cement when fixing.
Ceramic Tesserae: These are the cheapest range of bought materials and can be glazed or unglazed. The glazed ceramic tiles have the colour painted onto the top of the clay and then fired to a high temperature in a kiln. The unglazed or body glazed version has the coloured mixed into the wet clay so the colour runs through them. They vary in size.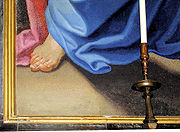 Smalti: This is the classic mosaic material. It is opaque glass fired in large slabs in a kiln and then hand cut with a hammer and hardy(chisel) into small cubes. Their irregular finish makes them a wonderful reflector of light and this material is best used working straight into cement. It is produced in Venice and sold by colour and weight.
Gold Smalti: This tile is made with real gold and silver leaf sandwiched between two layers of glass and fired twice in the kiln to embed in the metal.
Mirror

Mirror

A mirror is an object that reflects light or sound in a way that preserves much of its original quality prior to its contact with the mirror. Some mirrors also filter out some wavelengths, while preserving other wavelengths in the reflection...


: Mirror adds great depth and sparkle to a mosaic. It is cheap as offcuts from a glass cutting shop are often free. Use mirror glue as this protects the silver on the back of the mirror.
Stained Glass

Stained glass

The term stained glass can refer to coloured glass as a material or to works produced from it. Throughout its thousand-year history, the term has been applied almost exclusively to the windows of churches and other significant buildings...


: Known for its translucent qualities stained glass is also available in opaque form. It comes as large sheets that can be cut into smaller sections with a glasscutter. It can provide areas of larger tesserae pieces for variety and contrast.
Household Ceramic Tiles & China: Colours and surfaces are limitless and can add wonderful texture and contrast to mosaic work.
See also
Mosaic

Mosaic

Mosaic is the art of creating images with an assemblage of small pieces of colored glass, stone, or other materials. It may be a technique of decorative art, an aspect of interior decoration, or of cultural and spiritual significance as in a cathedral...


(describes techniques for assembling tesserae into a design)
Tessellation

Tessellation

A tessellation or tiling of the plane is a pattern of plane figures that fills the plane with no overlaps and no gaps. One may also speak of tessellations of parts of the plane or of other surfaces. Generalizations to higher dimensions are also possible. Tessellations frequently appeared in the art...


(describes tessellation patterns)
Tesseract

Tesseract

In geometry, the tesseract, also called an 8-cell or regular octachoron or cubic prism, is the four-dimensional analog of the cube. The tesseract is to the cube as the cube is to the square. Just as the surface of the cube consists of 6 square faces, the hypersurface of the tesseract consists of 8...



External links