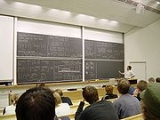 Tertiary education
Tertiary education,
also referred to as
third stage, third level,
and
post-secondary education,
is the educational level following the completion of a school providing a
secondary education
Secondary education
Secondary education is the stage of education following primary education. Secondary education includes the final stage of compulsory education and in many countries it is entirely compulsory. The next stage of education is usually college or university...
, such as a
high school
High school
High school is a term used in parts of the English speaking world to describe institutions which provide all or part of secondary education. The term is often incorporated into the name of such institutions....
,
secondary school
Secondary school
Secondary school is a term used to describe an educational institution where the final stage of schooling, known as secondary education and usually compulsory up to a specified age, takes place...
,
university-preparatory school
University-preparatory school
A university-preparatory school or college-preparatory school is a secondary school, usually private, designed to prepare students for a college or university education...
.
Higher education
Higher education
Higher, post-secondary, tertiary, or third level education refers to the stage of learning that occurs at universities, academies, colleges, seminaries, and institutes of technology...
is taken to include undergraduate and
postgraduate education
Postgraduate education
Postgraduate education involves learning and studying for degrees or other qualifications for which a first or Bachelor's degree generally is required, and is normally considered to be part of higher education...
, while
vocational education and training
Vocational education
Vocational education or vocational education and training is an education that prepares trainees for jobs that are based on manual or practical activities, traditionally non-academic, and totally related to a specific trade, occupation, or vocation...
beyond secondary education is known as
further education
Further education
Further education is a term mainly used in connection with education in the United Kingdom and Ireland. It is post-compulsory education , that is distinct from the education offered in universities...
in the
United Kingdom
United Kingdom
The United Kingdom of Great Britain and Northern IrelandIn the United Kingdom and Dependencies, other languages have been officially recognised as legitimate autochthonous languages under the European Charter for Regional or Minority Languages...
, or
continuing education
Continuing education
Continuing education is an all-encompassing term within a broad spectrum of post-secondary learning activities and programs. The term is used mainly in the United States and Canada...
in the
United States
United States
The United States of America is a federal constitutional republic comprising fifty states and a federal district...
.
College
College
A college is an educational institution or a constituent part of an educational institution. Usage varies in English-speaking nations...
s,
universities
University
A university is an institution of higher education and research, which grants academic degrees in a variety of subjects. A university is an organisation that provides both undergraduate education and postgraduate education...
and
polytechnics
Institute of technology
Institute of technology is a designation employed in a wide range of learning institutions awarding different types of degrees and operating often at variable levels of the educational system...
are the main institutions that provide tertiary education (sometimes known collectively as tertiary institutions).