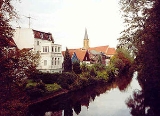 Telgte
Telgte
is a
town
Town
A town is a human settlement larger than a village but smaller than a city. The size a settlement must be in order to be called a "town" varies considerably in different parts of the world, so that, for example, many American "small towns" seem to British people to be no more than villages, while...
in the
Warendorf district
Warendorf (district)
Warendorf is a Kreis in the northern part of North Rhine-Westphalia, Germany. Neighboring districts are Steinfurt, Osnabrück , Gütersloh, Soest, district-free city Hamm, Coesfeld and the district-free city Münster.-History:...
,
North Rhine-Westphalia
North Rhine-Westphalia
North Rhine-Westphalia is the most populous state of Germany, with four of the country's ten largest cities. The state was formed in 1946 as a merger of the northern Rhineland and Westphalia, both formerly part of Prussia. Its capital is Düsseldorf. The state is currently run by a coalition of the...
,
Germany
Germany
Germany , officially the Federal Republic of Germany , is a federal parliamentary republic in Europe. The country consists of 16 states while the capital and largest city is Berlin. Germany covers an area of 357,021 km2 and has a largely temperate seasonal climate...
. It is situated on the river Ems, 10 km east of
Münster
Münster
Münster is an independent city in North Rhine-Westphalia, Germany. It is located in the northern part of the state and is considered to be the cultural centre of the Westphalia region. It is also capital of the local government region Münsterland...
, and 15 km west of
Warendorf
Warendorf
Warendorf is a town in North Rhine-Westphalia, Germany, and capital of Warendorf District.The town is best known today for its well-preserved medieval town centre, for horse-riding, and the opportunities it provides for cycling...
.
History
Telgte received
town privileges
Town privileges
Town privileges or city rights were important features of European towns during most of the second millennium.Judicially, a town was distinguished from the surrounding land by means of a charter from the ruling monarch that defined its privileges and laws. Common privileges were related to trading...
in 1238. It developed at a fork of larger
trade
Trade
Trade is the transfer of ownership of goods and services from one person or entity to another. Trade is sometimes loosely called commerce or financial transaction or barter. A network that allows trade is called a market. The original form of trade was barter, the direct exchange of goods and...
routes to the
North Sea
North Sea
In the southwest, beyond the Straits of Dover, the North Sea becomes the English Channel connecting to the Atlantic Ocean. In the east, it connects to the Baltic Sea via the Skagerrak and Kattegat, narrow straits that separate Denmark from Norway and Sweden respectively...
and
Baltic Sea
Baltic Sea
The Baltic Sea is a brackish mediterranean sea located in Northern Europe, from 53°N to 66°N latitude and from 20°E to 26°E longitude. It is bounded by the Scandinavian Peninsula, the mainland of Europe, and the Danish islands. It drains into the Kattegat by way of the Øresund, the Great Belt and...
, at a ford across the river Ems. 1469 Telgte is mentioned as member of the
Hanseatic League
Hanseatic League
The Hanseatic League was an economic alliance of trading cities and their merchant guilds that dominated trade along the coast of Northern Europe...
.
Prince-Bishop
Prince-Bishop
A Prince-Bishop is a bishop who is a territorial Prince of the Church on account of one or more secular principalities, usually pre-existent titles of nobility held concurrently with their inherent clerical office...
Franz von Waldeck
Franz von Waldeck
Count Franz von Waldeck , was Prince-Bishop of Münster, Osnabrück, and Minden and a leading figure in putting down the Münster Rebellion....
of
Münster
Münster
Münster is an independent city in North Rhine-Westphalia, Germany. It is located in the northern part of the state and is considered to be the cultural centre of the Westphalia region. It is also capital of the local government region Münsterland...
was granted asylum in Telgte during the
Münster Rebellion
Münster Rebellion
The Münster Rebellion was an attempt by radical Anabaptists to establish a communal sectarian government in the German city of Münster. The city became an Anabaptist center from 1534 to 1535, and fell under Anabaptist rule for 18 months — from February 1534, when the city hall was seized and...
of the Anabaptists in the 1530s.
Culture
Telgte is famous for the annual
Telgte Pilgrimage
Telgte Pilgrimage
The pilgrimage from Osnabrück to Telgte takes place since 1852 on the second Sunday after the Feast of Saints Peter and Paul; it is known as Telgte pilgrimage or Osnabrück pilgrimage ....
, the second largest
pilgrimage
Pilgrimage
A pilgrimage is a journey or search of great moral or spiritual significance. Typically, it is a journey to a shrine or other location of importance to a person's beliefs and faith...
in Germany. Dedicated to the Blessed Virgin Mary and beginning in
Osnabrück
Osnabrück
Osnabrück is a city in Lower Saxony, Germany, some 80 km NNE of Dortmund, 45 km NE of Münster, and some 100 km due west of Hanover. It lies in a valley penned between the Wiehen Hills and the northern tip of the Teutoburg Forest...
, the summertime pilgrimage regularly consists of 8,000
pilgrim
Pilgrim
A pilgrim is a traveler who is on a journey to a holy place. Typically, this is a physical journeying to some place of special significance to the adherent of a particular religious belief system...
s. Approximately 150,000 pilgrims visit Telgte annually. Telgte is also known for its Nativity Museum (
Krippenmuseum
) and its
fair
Fair
A fair or fayre is a gathering of people to display or trade produce or other goods, to parade or display animals and often to enjoy associated carnival or funfair entertainment. It is normally of the essence of a fair that it is temporary; some last only an afternoon while others may ten weeks. ...
(
Mariä-Geburts-Markt
).
Nobel
Nobel Prize in Literature
Since 1901, the Nobel Prize in Literature has been awarded annually to an author from any country who has, in the words from the will of Alfred Nobel, produced "in the field of literature the most outstanding work in an ideal direction"...
-winner
Günter Grass
Günter Grass
Günter Wilhelm Grass is a Nobel Prize-winning German author, poet, playwright, sculptor and artist.He was born in the Free City of Danzig...
's story
The Meeting in Telgte
(
Das Treffen in Telgte
) is set in Telgte during the negotiations of the
Peace of Westphalia
Peace of Westphalia
The Peace of Westphalia was a series of peace treaties signed between May and October of 1648 in Osnabrück and Münster. These treaties ended the Thirty Years' War in the Holy Roman Empire, and the Eighty Years' War between Spain and the Dutch Republic, with Spain formally recognizing the...
which ended the
Thirty Years' War
Thirty Years' War
The Thirty Years' War was fought primarily in what is now Germany, and at various points involved most countries in Europe. It was one of the most destructive conflicts in European history....
.
Politics
The city of Telgte consists of three quarters: Telgte, Westbevern and Westbevern Vadrup. Until the 1970s Westbevern was an independently administered village which consisted of Vadrup and Brock (Brock was incorporated into
Ostbevern
Ostbevern
Ostbevern is a municipality in the district of Warendorf, in North Rhine-Westphalia, Germany.-Geography:Ostbevern is situated on the river Bever, approx...
in a communal reform). Through Westbevern flows the river
Bever
Bever (Ems)
The Bever is an approximately 20 km long river in western Germany, right tributary of the river Ems. It has its springs in the Teutoburg Forest. It runs though the northern part of North Rhine-Westphalia and flows into the Ems near Telgte . Another town on the Bever is Ostbevern....
, a tributary of the Ems. An attractive touristic tourist destinataion is
Haus Langen
, with a former double
mill
Watermill
A watermill is a structure that uses a water wheel or turbine to drive a mechanical process such as flour, lumber or textile production, or metal shaping .- History :...
at the Bever.
International relations
Telgte is
twinned
Town twinning
Twin towns and sister cities are two of many terms used to describe the cooperative agreements between towns, cities, and even counties in geographically and politically distinct areas to promote cultural and commercial ties.- Terminology :...
with:=
Polanica Zdrój

Polanica Zdrój

Polanica-Zdrój is a town in Kłodzko County, Lower Silesian Voivodeship, in south-western Poland.It lies approximately south-west of Kłodzko, and south-west of the regional capital Wrocław...


, Poland

Poland

Poland , officially the Republic of Poland , is a country in Central Europe bordered by Germany to the west; the Czech Republic and Slovakia to the south; Ukraine, Belarus and Lithuania to the east; and the Baltic Sea and Kaliningrad Oblast, a Russian exclave, to the north...



Stupino

Stupino

Stupino is a town and the administrative center of Stupinsky District of Moscow Oblast, Russia, located on the Oka River south of Moscow. Population:...


, Russia

Russia

Russia or , officially known as both Russia and the Russian Federation , is a country in northern Eurasia. It is a federal semi-presidential republic, comprising 83 federal subjects...



Tomball

Tomball, Texas

Tomball is a city in Harris county in the U.S. state of Texas, a part of the Houston metropolitan area. The population was 9,089 at the 2000 census. In 1907, the community of Peck was renamed Tomball. The city are named for local congressman Thomas Henry Ball, who had a major role in the...


, United States

United States

The United States of America is a federal constitutional republic comprising fifty states and a federal district...



Mayors since 1946
1946–1947
Wilhelm Lütke-Schwienhorst, CDU
1947–1949
Ferdinand Busch, CDU
1949–1951
Friedrich Sube, Zentrum
1951–1952
Heinrich Decker, CDU
1952–1964
Bernhard Rumphorst, CDU
1964–1967
Wilhelm Hotte, CDU
1967–1969
Friedrich Koppernagel, CDU
1969–1975
Günter Karthaus, CDU
1975–1978
Albert Bruens, CDU
1978–1984
Günter Karthaus, CDU
1984–1996
Reinhold Hotte, CDU
1996–1999
Klaus Beck, SPD
1999–2004
Ulrich Roenigh, CDU
2004–2009
Dr. Dietrich Meendermann, CDU
since 2010
Wolfgang Pieper, BUENDNIS 90/DIE GRUENEN
Population trend
| | |
| --- | --- |
| 1818 | 4437 |
| 1843 | 5166 |
| 1871 | 5360 |
| 1890 | 6109 |
| 1905 | 6692 |
| 1913 | 7006 |
| 1915 | 7260 |
| 1917 | 7275 |
| 1919 | 7483 |
| 1921 | 7719 |
| 1924 | 8174 |
| 1925 | 8250 |
| 1926 | 8473 |
>
Year
Inhabitants
1927
8445
1933
8727
May 17, 1939
9698
1944
10923
1945
11979
1946
12989
1947
13707
1948
13736
1949
13852
1950
13692
1951
13576
1952
13477
1953
13432
>
Year
Inhabitants
1954
13392
1956
13383
June 6, 1961
13767
1962
14379
1963
14810
1964
15068
1965
15414
1966
15694
1967
15883
1968
16005
1969
16197
1970 ¹
15826
1971
16019
>
Year
Inhabitants
1972
16760
1973
16968
1974
17269
1975
15122
1976
15365
1977
15377
1978
15589
1979
15780
1980
16254
1981
16388
1982
16515
1983
16576
1984
16613
>
Year
Inhabitants
1985
16664
1986
16534
1987
16555
1988
16834
1989
16997
1990
17358
1991
17725
1992
18125
1993
18219
1994
18303
1995
18472
1996
18585
1997
18728
>
Year
Inhabitants
1998
18774
1999
18836
2000
18992
2001
19370
2002
19489
2003
19432
2004
19444
1.2.2005
19615
2006
?
2007
?
2008
?
2009
?
2010
?
¹ Correction of the updating numbers by the census 1970
External links
Municipal website