 Telemarketing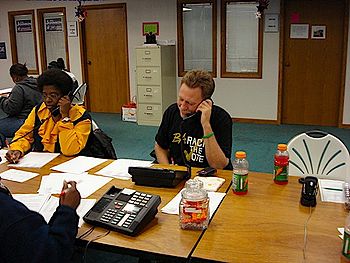 Telemarketing
is a method of
direct marketing
Direct marketing
Direct marketing is a channel-agnostic form of advertising that allows businesses and nonprofits to communicate straight to the customer, with advertising techniques such as mobile messaging, email, interactive consumer websites, online display ads, fliers, catalog distribution, promotional...
in which a
sales
Sales
A sale is the act of selling a product or service in return for money or other compensation. It is an act of completion of a commercial activity....
person solicits prospective
customer
Customer
A customer is usually used to refer to a current or potential buyer or user of the products of an individual or organization, called the supplier, seller, or vendor. This is typically through purchasing or renting goods or services...
s to buy
products
Product (business)
In general, the product is defined as a "thing produced by labor or effort" or the "result of an act or a process", and stems from the verb produce, from the Latin prōdūce ' lead or bring forth'. Since 1575, the word "product" has referred to anything produced...
or services, either over the phone or through a subsequent face to face or
Web conferencing
Web conferencing
Web conferencing refers to a service that allows conferencing events to be shared with remote locations. Most vendors also provide either a recorded copy of an event, or a means for a subscriber to record an event. The service allows information to be shared simultaneously, across geographically...
appointment scheduled during the call.
Telemarketing can also include recorded sales pitches programmed to be played over the phone via automatic dialing. Telemarketing has come under fire in recent years, being viewed as an annoyance by many.
History
Many believe that in the 1950s,
DialAmerica Marketing, Inc
DialAmerica Marketing, Inc
DialAmerica is a marketing company and one of the first to specialize in telemarketing.-History:DialAmerica is one of the oldest telemarketing companies still operating today. The company's roots began in 1957. In 1963, operating as Life Circulation Co., the company developed a sales campaign to...
became the first company completely dedicated to inbound and outbound telephone sales and services. The company, spun off and sold by Time, Inc.
magazine
Magazine
Magazines, periodicals, glossies or serials are publications, generally published on a regular schedule, containing a variety of articles. They are generally financed by advertising, by a purchase price, by pre-paid magazine subscriptions, or all three...
in 1976, became the largest provider of telephone sales and services to magazine publishing companies. The term telemarketing was first used extensively in the late 1970s to describe
Bell System
Bell System
The Bell System was the American Bell Telephone Company and then, subsequently, AT&T led system which provided telephone services to much of the United States and Canada from 1877 to 1984, at various times as a monopoly. In 1984, the company was broken up into separate companies, by a U.S...
communications which related to new uses for the outbound
WATS
Wide Area Telephone Service
In U.S. telecommunications, a Wide Area Telephone Service is a long distance service offering for customer dial-type telecommunications between a given customer [user] station and stations within specified geographic rate areas employing a single telephone line between the customer user location...
and inbound
Toll-free
Toll-free telephone number
A toll-free, Freecall, Freephone, 800, 0800 or 1-800 number is a special telephone number which is free to the calling party, and instead the telephone carrier charges the called party the cost of the call...
services.
Categories
The two major categories of telemarketing are
Business-to-business
Business-to-business
Business-to-business describes commerce transactions between businesses, such as between a manufacturer and a wholesaler, or between a wholesaler and a retailer...
and Business-to-consumer.
Subcategories
Lead Generation, the gathering of information
Sales, using persuasion to sell a product or service
Outbound, proactive marketing in which prospective and preexisting customers are contacted directly
Inbound, reception of incoming orders and requests for information. Demand is generally created by advertising, publicity, or the efforts of outside salespeople.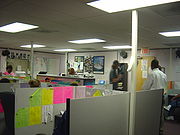 Procedure
Telemarketing may be done from a company office, from a
call centre
Call centre
A call centre or call center is a centralised office used for the purpose of receiving and transmitting a large volume of requests by telephone. A call centre is operated by a company to administer incoming product support or information inquiries from consumers. Outgoing calls for telemarketing,...
, or from
home
Homesourcing
Homesourcing also known as homeshoring is "the transfer of service industry employment from offices to home-based employees with appropriate telephone and Internet facilities". Homesourcing is best thought of as a combination of outsourcing and telecommuting.Homesourcing refers to hiring employees...
. It may involve either a live operator or a recorded message, in which case it is known as "automated telemarketing" using voice broadcasting. "
Robocall
Robocall
Robocall is a term for an automated phone call that uses both a computerized autodialer and a computer-delivered pre-recorded message. The implication is that a "robocall" resembles a telephone call from a robot...
ing" is a form of voice broadcasting which is most frequently associated with political messages.
An effective telemarketing process often involves two or more calls. The first call (or series of calls) determines the customer's needs. The final call (or series of calls) motivates the customer to make a purchase.
Prospective customers are identified by various means, including past purchase history, previous requests for information, credit limit, competition entry forms, and application forms. Names may also be purchased from another company's consumer
database
Database
A database is an organized collection of data for one or more purposes, usually in digital form. The data are typically organized to model relevant aspects of reality , in a way that supports processes requiring this information...
or obtained from a
telephone directory
Telephone directory
A telephone directory is a listing of telephone subscribers in a geographical area or subscribers to services provided by the organization that publishes the directory...
or another public list. The qualification process is intended to determine which customers are most likely to purchase the product or service.
Charitable organizations
Charitable trust
A charitable trust is an irrevocable trust established for charitable purposes, and is a more specific term than "charitable organization".-United States:...
,
alumni association
Alumni association
An alumni association is an association of graduates or, more broadly, of former students. In the United Kingdom and the United States, alumni of universities, colleges, schools , fraternities, and sororities often form groups with alumni from the same organisation...
s, and
political parties
Political party
A political party is a political organization that typically seeks to influence government policy, usually by nominating their own candidates and trying to seat them in political office. Parties participate in electoral campaigns, educational outreach or protest actions...
often use telemarketing to solicit donations.
Marketing research
Marketing research
Marketing research is "the function that links the consumer, customer, and public to the marketer through information — information used to identify and define marketing opportunities and problems; generate, refine, and evaluate marketing actions; monitor marketing performance; and improve...
companies use telemarketing techniques to survey the prospective or past customers of a client's business in order to assess market acceptance of or satisfaction with a particular product, service, brand, or company. Public opinion polls are conducted in a similar manner.
Telemarketing techniques are also applied to other forms of electronic marketing using
e-mail
E-mail
Electronic mail, commonly known as email or e-mail, is a method of exchanging digital messages from an author to one or more recipients. Modern email operates across the Internet or other computer networks. Some early email systems required that the author and the recipient both be online at the...
or
fax
Fax
Fax , sometimes called telecopying, is the telephonic transmission of scanned printed material , normally to a telephone number connected to a printer or other output device...
messages, in which case they are frequently considered spam by receivers.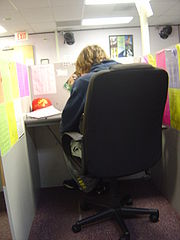 Negative perceptions and criticism
Telemarketing has been negatively associated with various scams and frauds, such as pyramid schemes, and with deceptively overpriced products and services. Fraudulent telemarketing companies are frequently referred to as "telemarketing boiler rooms" or simply "
boiler rooms
Boiler room (business)
In business, the term boiler room refers to a busy centre of activity, often selling questionable goods by telephone. It typically refers to a room where salesmen work using unfair, dishonest sales tactics, sometimes selling penny stock or committing outright stock fraud...
". Telemarketing is often criticized as an
unethical business practice
Business ethics
Business ethics is a form of applied ethics or professional ethics that examines ethical principles and moral or ethical problems that arise in a business environment. It applies to all aspects of business conduct and is relevant to the conduct of individuals and entire organizations.Business...
due to the perception of high-pressure sales techniques during unsolicited calls. Telemarketers marketing telephone companies may participate in
telephone slamming
Telephone slamming
Telephone slamming is an illegal telecommunications practice, in which a subscriber's telephone service is changed without their consent. Slamming became a more visible issue after the deregulation of the telecommunications industry in the mid-1980s, especially after several brutal price wars...
, the practice of switching a customer's telephone service without their knowledge or authorization.
Telemarketing calls are often considered an annoyance, especially when they occur during the dinner hour, early in the morning, or late in the evening.
Some companies have capitalized on these negative emotions. Since 2007 several forums have sprouted and act as complaint boards where consumers can voice their concerns and criticism. In response some telemarketing companies have filed law suits against these portals. The current legal system in the U.S grants such forums a certain degree of protection through "
Communications Decency Act, 47 U.S.C 230
Section 230 of the Communications Decency Act
Section 230 of the Communications Decency Act of 1996 is a landmark piece of Internet legislation in the United States, codified at...
" and California's Anti-
SLAPP
Strategic lawsuit against public participation
A strategic lawsuit against public participation is a lawsuit that is intended to censor, intimidate, and silence critics by burdening them with the cost of a legal defense until they abandon their criticism or opposition....
law.
A recent trend in telemarketing is to use
robocall
Robocall
Robocall is a term for an automated phone call that uses both a computerized autodialer and a computer-delivered pre-recorded message. The implication is that a "robocall" resembles a telephone call from a robot...
s: automated telephone calls that use both computerized autodialers and computer-delivered pre-recorded messages in a sales pitch. These often include intentionally deceptive tactics, with computer recorded messages saying things like "Don't panic but this is your final notice" or "We have already attempted to contact you through the mail." These messages are often outright lies, intended to incite concern or fear in the potential customer.
Robocalls are known for failing to add numbers to their do-not-call list and repeatedly interrupting individuals at all hours of the day.
Regulations
In some countries telemarketing is subject to regulatory and legislative controls related to
consumer privacy
Consumer privacy
Consumer privacy laws and regulations seek to protect any individual from loss of privacy due to failures or limitations of corporate customer privacy measures...
and
protection
Consumer protection
Consumer protection laws designed to ensure fair trade competition and the free flow of truthful information in the marketplace. The laws are designed to prevent businesses that engage in fraud or specified unfair practices from gaining an advantage over competitors and may provide additional...
.
United States of America
It is not known exactly when, or possibly if telemarketing officially became legal in the United States of America.
Telemarketing in the United States of America is restricted at the federal level by the
Telephone Consumer Protection Act of 1991
Telephone Consumer Protection Act of 1991
The Telephone Consumer Protection Act of 1991 was passed by the United States Congress in 1991 and signed into law by President George H. W. Bush as Public Law 102-243, amending the Communications Act of 1934. The current version of the statute is found principally at...
(TCPA) and the FTC's Telemarketing Sales Rule (TSR). The FCC derives regulatory authority from the TCPA, adopted as CFR 64.1200 and the Telemarketing and Consumer Fraud and Abuse Prevention Act, 15 U.S.C. 6101-6108. Many professional associations of telemarketers have codes of
ethics
Ethics
Ethics, also known as moral philosophy, is a branch of philosophy that addresses questions about morality—that is, concepts such as good and evil, right and wrong, virtue and vice, justice and crime, etc.Major branches of ethics include:...
and standards that member businesses follow to encourage public confidence.
Some jurisdictions have implemented "Do Not Call" lists through industry organizations or legislation; telemarketers are restricted from initiating contact with participating consumers. Legislative versions often provide for heavy penalties on companies which call individuals on these listings. The U.S.
Federal Trade Commission
Federal Trade Commission
The Federal Trade Commission is an independent agency of the United States government, established in 1914 by the Federal Trade Commission Act...
has implemented a National Do Not Call Registry in an attempt to reduce intrusive telemarketing nationwide. Telemarketing corporations and trade groups challenged this as a violation of
commercial speech
Commercial speech
Commercial Speech is speech done on behalf of a company or individual for the intent of making a profit. It is economic in nature and usually has the intent of convincing the audience to partake in a particular action, often purchasing a specific product...
rights. However, the U.S. 10th Circuit Court of Appeals upheld the National Do Not Call Registry on February 17, 2004.
Companies that use telemarketing as a sales tool are governed by the United States Federal regulations outlined in the TSR (amended on January 29, 2003 originally issued in 1995) and the TCPA. In addition to these Federal regulations, telemarketers calling nationally must also adhere to separate state regulations. Most states have adapted "do not call" files of their own, of which only some states share with the U.S. Federal Do Not Call registry. Each U.S. state also has its own regulations concerning: permission to record, permission to continue, no rebuttaling statutes, Sunday and Holiday calls; as well as the fines and punishments exacted for violations.
September 1, 2009, FTC regulations banning most
robocall
Robocall
Robocall is a term for an automated phone call that uses both a computerized autodialer and a computer-delivered pre-recorded message. The implication is that a "robocall" resembles a telephone call from a robot...
went into effect.
Telemarketing techniques are increasingly used in political campaigns. Because of free-speech issues, the laws governing political phone calls are much less stringent than those applying to commercial messages. Even so, a number of states have barred or restricted political robocalls.
Canada
In
Canada
Canada
Canada is a North American country consisting of ten provinces and three territories. Located in the northern part of the continent, it extends from the Atlantic Ocean in the east to the Pacific Ocean in the west, and northward into the Arctic Ocean...
, telemarketing is regulated by
Federal Government
Government of Canada
The Government of Canada, formally Her Majesty's Government, is the system whereby the federation of Canada is administered by a common authority; in Canadian English, the term can mean either the collective set of institutions or specifically the Queen-in-Council...
, specifically handled by Canadian Radio-television and Telecommunications Commission.
Australia
Telemarketing in
Australia
Australia
Australia , officially the Commonwealth of Australia, is a country in the Southern Hemisphere comprising the mainland of the Australian continent, the island of Tasmania, and numerous smaller islands in the Indian and Pacific Oceans. It is the world's sixth-largest country by total area...
is restricted by the Australian Federal Government and policed by the Australian Communications and Media Authority (ACMA). Australian Federal legislation provides for a restriction in calling hours for both Research and Marketing calls.
In 2007 a Do Not Call Register was established for Australian inbound telephone numbers. The register allows a user to register private use telephone numbers. Australian Federal Legislation limits the types of marketing calls that can be made to these registered telephone numbers; however, research calls are allowed. Other exemptions include calls made by charities and political members, parties and candidates however any organisation that is instructed by the recipient of a telemarketing call, not to call that number again, is legally obliged to comply, and must remove the phone number from the organisations calling list(s).
Inbound telemarketing is another major industry. It involves both live operators and IVR—Interactive Voice Response. IVR is also known as audiotext or automated call processing. Usually, major television campaigns and advertisers use
toll-free telephone number
Toll-free telephone number
A toll-free, Freecall, Freephone, 800, 0800 or 1-800 number is a special telephone number which is free to the calling party, and instead the telephone carrier charges the called party the cost of the call...
that are answered by IVR service bureaus. Such service bureaus have the technology and call capacity to process the large amounts of simultaneous calls that occur when an
toll-free telephone number
Toll-free telephone number
A toll-free, Freecall, Freephone, 800, 0800 or 1-800 number is a special telephone number which is free to the calling party, and instead the telephone carrier charges the called party the cost of the call...
is advertised on television.
Technology
Autodialer
Automatic call distributor

Automatic call distributor

In telephony, an Automatic Call Distributor , also known as Automated Call Distribution, is a device or system that distributes incoming calls to a specific group of terminals that agents use. It is often part of a computer telephony integration system.Routing incoming calls is the task of the ACD...



Customer relationship management

Customer relationship management

Customer relationship management is a widely implemented strategy for managing a company's interactions with customers, clients and sales prospects. It involves using technology to organize, automate, and synchronize business processes—principally sales activities, but also those for marketing,...



Predictive dialer

Predictive dialer

A predictive dialer dials a list of telephone numbers and connects answered dials to people making calls, often referred to as agents. Predictive dialers use statistical algorithms to minimize the time that agents spend waiting between conversations, while minimizing the occurrence of someone...



Private Branch eXchange
Teleblock

Teleblock

TeleBlock is a software program that automatically screens and blocks outbound calls against available federal, state, wireless, third party and in-house Do-Not-Call lists...



See also
Boiler room (business)

Boiler room (business)

In business, the term boiler room refers to a busy centre of activity, often selling questionable goods by telephone. It typically refers to a room where salesmen work using unfair, dishonest sales tactics, sometimes selling penny stock or committing outright stock fraud...



Call Centre

Call centre

A call centre or call center is a centralised office used for the purpose of receiving and transmitting a large volume of requests by telephone. A call centre is operated by a company to administer incoming product support or information inquiries from consumers. Outgoing calls for telemarketing,...



Cold calling

Cold calling

Cold calling is the marketing process of approaching prospective customers or clients, typically via telephone, who were not expecting such an interaction...



Direct marketing

Direct marketing

Direct marketing is a channel-agnostic form of advertising that allows businesses and nonprofits to communicate straight to the customer, with advertising techniques such as mobile messaging, email, interactive consumer websites, online display ads, fliers, catalog distribution, promotional...



Marketing

Marketing

Marketing is the process used to determine what products or services may be of interest to customers, and the strategy to use in sales, communications and business development. It generates the strategy that underlies sales techniques, business communication, and business developments...



Reloading scam

Reloading scam

In a reloading scam, a victim is repeatedly approached by con artists, often until "sucked dry". This form of fraud is perpetrated on those more susceptible to pressure after the first losses, perhaps because of hopes to recover money previously invested, perhaps because of inability to say "no" to...



Spamming
Sucker list

Sucker list

A sucker list is a list of people who have previously been successfully solicited for something.The major areas of "sucker lists" are solicitation of donations and fraud....



Telemarketing in Canada
External links