 Teatro Carlo Felice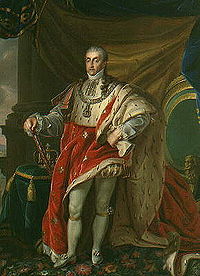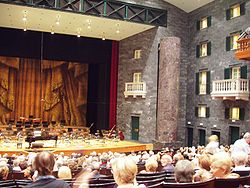 The
Teatro Carlo Felice
is the principal
opera house
Opera house
An opera house is a theatre building used for opera performances that consists of a stage, an orchestra pit, audience seating, and backstage facilities for costumes and set building...
of
Genoa
Genoa
Genoa |Ligurian]] Zena ; Latin and, archaically, English Genua) is a city and an important seaport in northern Italy, the capital of the Province of Genoa and of the region of Liguria....
,
Italy
Italy
Italy , officially the Italian Republic languages]] under the European Charter for Regional or Minority Languages. In each of these, Italy's official name is as follows:;;;;;;;;), is a unitary parliamentary republic in South-Central Europe. To the north it borders France, Switzerland, Austria and...
, used for performances of
opera
Opera
Opera is an art form in which singers and musicians perform a dramatic work combining text and musical score, usually in a theatrical setting. Opera incorporates many of the elements of spoken theatre, such as acting, scenery, and costumes and sometimes includes dance...
,
ballet
Ballet
Ballet is a type of performance dance, that originated in the Italian Renaissance courts of the 15th century, and which was further developed in France and Russia as a concert dance form. The early portions preceded the invention of the proscenium stage and were presented in large chambers with...
, orchestral music, and
recital
Recital
A recital is a musical performance. It can highlight a single performer, sometimes accompanied by piano, or a performance of the works of a single composer.The invention of the solo piano recital has been attributed to Franz Liszt....
s. It is located on the
Piazza De Ferrari
Piazza De Ferrari (Genoa)
Piazza De Ferrari is the main square of Genoa.Situated in the heart of the city between the historical and the modern center, Piazza De Ferrari is renowned for its fountain, which was restored in recent years along with a major restyling of the square....
.
The hall is named for Duke
Carlo Felice
Charles Felix of Sardinia
Charles Felix was the Duke of Savoy, Piedmont, Aosta and King of Sardinia from 1821 to 1831.-Early life:...
, and dates from December 24, 1824, when the Most Excellent Department of Theatres was established. On January 31, 1825, local architect Carlo Barabino submitted his design for the opera house which was to be built on the site of the church of San Domenico. The
Dominican
Dominican Order
The Order of Preachers , after the 15th century more commonly known as the Dominican Order or Dominicans, is a Catholic religious order founded by Saint Dominic and approved by Pope Honorius III on 22 December 1216 in France...
monks were moved elsewhere without delay or ceremony, and the first stone of the new building was laid on 19 March 1826.
The inaugural performance of
Bellini's
Vincenzo Bellini
Vincenzo Salvatore Carmelo Francesco Bellini was an Italian opera composer. His greatest works are I Capuleti ed i Montecchi , La sonnambula , Norma , Beatrice di Tenda , and I puritani...
Bianca e Fernando
Bianca e Fernando
Bianca e Fernando is an opera in two acts by Vincenzo Bellini.There are two versions of this opera: the first, entitled Bianca e Gernando has a libretto by Domenico Gilardoni, after Bianca e Fernando alla tomba di Carlo IV, duca di Agrigento by Carlo...
took place on April 7, 1828, even though the structure and decoration were not quite finished. The
auditorium
Auditorium
An auditorium is a room built to enable an audience to hear and watch performances at venues such as theatres. For movie theaters, the number of auditoriums is expressed as the number of screens.- Etymology :...
accommodated an audience of about 2,500 in five tiers (each with 33 boxes), a gallery above, and standing room in the orchestra pit. The acoustics were considered among the best of the time.
For nearly forty years from 1853,
Verdi
Giuseppe Verdi
Giuseppe Fortunino Francesco Verdi was an Italian Romantic composer, mainly of opera. He was one of the most influential composers of the 19th century...
spent the winter in Genoa, but he had few strong professional ties with the Teatro Carlo Felice. In 1892, Genoa commemorated the 400th anniversary of
Columbus'
Christopher Columbus
Christopher Columbus was an explorer, colonizer, and navigator, born in the Republic of Genoa, in northwestern Italy. Under the auspices of the Catholic Monarchs of Spain, he completed four voyages across the Atlantic Ocean that led to general European awareness of the American continents in the...
discovery of America and to celebrate the occasion the Carlo Felice was renovated and redecorated at a cost of 420,000 lire (nearly £17,000). Verdi was approached to compose a suitable opera, but he declined the honour, making the excuse that he was too old.
The hall was altered many times in the years 1859-1934, and remained remarkably unscathed by war until 9 February, 1941 when a shell fired by a
British
United Kingdom
The United Kingdom of Great Britain and Northern IrelandIn the United Kingdom and Dependencies, other languages have been officially recognised as legitimate autochthonous languages under the European Charter for Regional or Minority Languages...
warship hit the roof, leaving a large hole open to the sky and destroying the ceiling of the auditorium which had been a unique example of 19th century
rococo
Rococo
Rococo , also referred to as "Late Baroque", is an 18th-century style which developed as Baroque artists gave up their symmetry and became increasingly ornate, florid, and playful...
extravagance, its main feature being a wide circle of angels, cherubs and other winged creatures in brightly painted high relief.
Further damage was sustained on 5 August, 1943 when incendiary bombs started a backstage fire which destroyed all scenery and wooden fittings, but did not reach the main auditorium. Unfortunately additional damage was caused by looters who stripped the back of the theatre of every possible scrap of metal they could lay their hands on. Finally, an air raid in September 1944 caused the destruction of the front of the theatre leaving virtually only the outside walls and the corridors behind the tiers of boxes standing. What had been the most richly beautiful of opera houses had become a skeleton of bare walls and roofless porticos.
Reconstruction plans began immediately after the war's close. The first design by Paolo Antonio Chessa (1951) was rejected; the second by
Carlo Scarpa
Carlo Scarpa
Carlo Scarpa , was an Italian architect, influenced by the materials, landscape, and the history of Venetian culture, and Japan. Scarpa was also a glass and furniture designer of note....
was approved in 1977 but brought to a halt by his untimely death.
Aldo Rossi
Aldo Rossi
Aldo Rossi was an Italian architect and designer who accomplished the unusual feat of achieving international recognition in four distinct areas: theory, drawing, architecture and product design.-Early life:...
ultimately provided today's design, in which portions of the original facade have been recreated but the interior is entirely modern. The hall officially reopened in June 1991, with a main hall holding up to 2,000 seats and a smaller auditorium holding up to 200 seats.
External links