 Tax resistance
Tax resistance
is the refusal to pay
tax
Tax
To tax is to impose a financial charge or other levy upon a taxpayer by a state or the functional equivalent of a state such that failure to pay is punishable by law. Taxes are also imposed by many subnational entities...
because of opposition to the
government
Government
Government refers to the legislators, administrators, and arbitrators in the administrative bureaucracy who control a state at a given time, and to the system of government by which they are organized...
that is imposing the tax or to government policy.
Tax resistance is a form of
civil disobedience
Civil disobedience
Civil disobedience is the active, professed refusal to obey certain laws, demands, and commands of a government, or of an occupying international power. Civil disobedience is commonly, though not always, defined as being nonviolent resistance. It is one form of civil resistance...
and
direct action
Direct action
Direct action is activity undertaken by individuals, groups, or governments to achieve political, economic, or social goals outside of normal social/political channels. This can include nonviolent and violent activities which target persons, groups, or property deemed offensive to the direct action...
. Examples of tax resistance campaigns include those advocating
home rule
Home rule
Home rule is the power of a constituent part of a state to exercise such of the state's powers of governance within its own administrative area that have been devolved to it by the central government....
, such as the Salt March led by Mohandas Gandhi, and
women's suffrage
Women's suffrage
Women's suffrage or woman suffrage is the right of women to vote and to run for office. The expression is also used for the economic and political reform movement aimed at extending these rights to women and without any restrictions or qualifications such as property ownership, payment of tax, or...
such as the
Women's Tax Resistance League
Women's Tax Resistance League
The Women's Tax Resistance League was a direct action group associated with the Women's Freedom League that used tax resistance to protest the disenfranchisement of women during the British women's suffrage movement....
.
War tax resistance is the refusal to pay some or all of the taxes that pay for war, and a form of
nonviolent resistance
Nonviolent resistance
Nonviolent resistance is the practice of achieving goals through symbolic protests, civil disobedience, economic or political noncooperation, and other methods, without using violence. It is largely synonymous with civil resistance...
. War tax resistance may be practiced by
conscientious objector
Conscientious objector
A conscientious objector is an "individual who has claimed the right to refuse to perform military service" on the grounds of freedom of thought, conscience, and/or religion....
s,
pacifists
Pacifism
Pacifism is the opposition to war and violence. The term "pacifism" was coined by the French peace campaignerÉmile Arnaud and adopted by other peace activists at the tenth Universal Peace Congress inGlasgow in 1901.- Definition :...
, or those protesting against a particular war. War tax resisters may use methods such as lowering their
taxable income
Taxable income
Taxable income refers to the base upon which an income tax system imposes tax. Generally, it includes some or all items of income and is reduced by expenses and other deductions. The amounts included as income, expenses, and other deductions vary by country or system. Many systems provide that...
through
simple living
Simple living
Simple living encompasses a number of different voluntary practices to simplify one's lifestyle. These may include reducing one's possessions or increasing self-sufficiency, for example. Simple living may be characterized by individuals being satisfied with what they need rather than want...
or undertaking acts of civil disobedience.
Tax resisters are distinct from
tax protesters
Tax protester (United States)
A tax protester is someone who refuses to pay a tax on constitutional or legal grounds, typically because he or she believes that the tax laws are unconstitutional or otherwise invalid...
who deny that the legal obligation to pay taxes exists or applies. Tax resisters may accept that some law commands them to pay taxes but they still choose to resist taxation.
History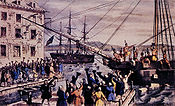 The earliest and most widespread forms of taxation were the
corvée
Corvée
Corvée is unfree labour, often unpaid, that is required of people of lower social standing and imposed on them by the state or a superior . The corvée was the earliest and most widespread form of taxation, which can be traced back to the beginning of civilization...
and
tithe
Tithe
A tithe is a one-tenth part of something, paid as a contribution to a religious organization or compulsory tax to government. Today, tithes are normally voluntary and paid in cash, cheques, or stocks, whereas historically tithes were required and paid in kind, such as agricultural products...
, both of which can be traced back to the beginning of
civilization
Civilization
Civilization is a sometimes controversial term that has been used in several related ways. Primarily, the term has been used to refer to the material and instrumental side of human cultures that are complex in terms of technology, science, and division of labor. Such civilizations are generally...
. The corvée was state-imposed
forced labour
Unfree labour
Unfree labour includes all forms of slavery as well as all other related institutions .-Payment for unfree labour:If payment occurs, it may be in one or more of the following forms:...
on
peasant
Peasant
A peasant is an agricultural worker who generally tend to be poor and homeless-Etymology:The word is derived from 15th century French païsant meaning one from the pays, or countryside, ultimately from the Latin pagus, or outlying administrative district.- Position in society :Peasants typically...
s too poor to pay other forms of taxation (
labour
in
ancient Egyptian
Ancient Egyptian literature
Ancient Egyptian literature was written in the Egyptian language from Ancient Egypt's pharaonic period until the end of Roman domination. It represents the oldest corpus of Egyptian literature...
is a synonym for taxes).
Because taxation is often perceived as oppressive, governments have always struggled with tax noncompliance and resistance. Indeed, it has been suggested that tax resistance played a significant role in the collapse of several
empire
Empire
The term empire derives from the Latin imperium . Politically, an empire is a geographically extensive group of states and peoples united and ruled either by a monarch or an oligarchy....
s, including the
Egyptian
Ancient Egypt
Ancient Egypt was an ancient civilization of Northeastern Africa, concentrated along the lower reaches of the Nile River in what is now the modern country of Egypt. Egyptian civilization coalesced around 3150 BC with the political unification of Upper and Lower Egypt under the first pharaoh...
,
Roman
Roman Empire
The Roman Empire was the post-Republican period of the ancient Roman civilization, characterised by an autocratic form of government and large territorial holdings in Europe and around the Mediterranean....
,
Spanish
Spanish Empire
The Spanish Empire comprised territories and colonies administered directly by Spain in Europe, in America, Africa, Asia and Oceania. It originated during the Age of Exploration and was therefore one of the first global empires. At the time of Habsburgs, Spain reached the peak of its world power....
, and
Aztec
Aztec Triple Alliance
The Aztec Triple Alliance, or Aztec Empire began as an alliance of three Nahua city-states or "altepeme": Tenochtitlan, Texcoco, and Tlacopan...
.
Reports of collective tax refusal include
Zealot
Zealotry
Zealotry was originally a political movement in 1st century Second Temple Judaism which sought to incite the people of Iudaea Province to rebel against the Roman Empire and expel it from the Holy land by force of arms, most notably during the Great Jewish Revolt...
s resisting the Roman
poll tax
Poll tax
A poll tax is a tax of a portioned, fixed amount per individual in accordance with the census . When a corvée is commuted for cash payment, in effect it becomes a poll tax...
during the 1st century AD, culminating in the First Jewish–Roman War. Other historic events that originated as tax revolts include the
Magna Carta
Magna Carta
Magna Carta is an English charter, originally issued in the year 1215 and reissued later in the 13th century in modified versions, which included the most direct challenges to the monarch's authority to date. The charter first passed into law in 1225...
, the
American Revolution
American Revolution
The American Revolution was the political upheaval during the last half of the 18th century in which thirteen colonies in North America joined together to break free from the British Empire, combining to become the United States of America...
and the
French Revolution
French Revolution
The French Revolution , sometimes distinguished as the 'Great French Revolution' , was a period of radical social and political upheaval in France and Europe. The absolute monarchy that had ruled France for centuries collapsed in three years...
.
Views and aims