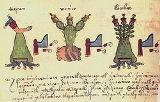 Aztec Triple Alliance
The
Aztec Triple Alliance
, or
Aztec Empire
began as an alliance of three Nahua city-states or "
altepeme
Altepetl
The altepetl, in Pre-Columbian and Spanish conquest-era Aztec society, was the local, ethnically based political entity. The word is a combination of the Nahuatl words ā-tl, meaning water, and tepē-tl, meaning mountain....
":
Tenochtitlan
, Texcoco, and
Tlacopan
Tlacopan
Tlacopan , also called Tacuba, was a Pre-Columbian Mesoamerican city-state situated on the western shore of Lake Texcoco.Founded by Tlacomatzin, Tlacopan was a Tepanec kingdom subordinate to nearby Azcapotzalco...
. These city-states ruled the area in and around the
Valley of Mexico
Valley of Mexico
The Valley of Mexico is a highlands plateau in central Mexico roughly coterminous with the present-day Distrito Federal and the eastern half of the State of Mexico. Surrounded by mountains and volcanoes, the Valley of Mexico was a centre for several pre-Columbian civilizations, including...
from 1428 until they were defeated by the Spanish
conquistador

Conquistador

Conquistadors were Spanish soldiers, explorers, and adventurers who brought much of the Americas under the control of Spain in the 15th to 16th centuries, following Europe's discovery of the New World by Christopher Columbus in 1492...


es
and their native allies under
Hernán Cortés
Hernán Cortés
Hernán Cortés de Monroy y Pizarro, 1st Marquis of the Valley of Oaxaca was a Spanish Conquistador who led an expedition that caused the fall of the Aztec Empire and brought large portions of mainland Mexico under the rule of the King of Castile in the early 16th century...
in 1521.
The Triple Alliance was formed from the victorious faction in a war between the city of
Azcapotzalco
Azcapotzalco (altepetl)
Azcapotzalco was a pre-Columbian Nahua altepetl , capital of the Tepanec empire, in the Valley of Mexico, on the western shore of Lake Texcoco.The name Azcapotzalco means "at the anthill" in Nahuatl...
and its former tributary provinces.