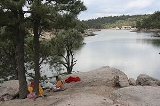 Tarahumara
The
Rarámuri
or
Tarahumara
are a
Native American
Indigenous peoples of the Americas
The indigenous peoples of the Americas are the pre-Columbian inhabitants of North and South America, their descendants and other ethnic groups who are identified with those peoples. Indigenous peoples are known in Canada as Aboriginal peoples, and in the United States as Native Americans...
people of northwestern
Mexico
Mexico
The United Mexican States , commonly known as Mexico , is a federal constitutional republic in North America. It is bordered on the north by the United States; on the south and west by the Pacific Ocean; on the southeast by Guatemala, Belize, and the Caribbean Sea; and on the east by the Gulf of...
who are renowned for their long-distance running ability. In their language, the term
rarámuri
refers specifically to the males, females are referred to as
mukí
(individually) and as
omugí
or
igómale
(collectively).
Originally inhabitants of much of the state of Chihuahua, the Rarámuri retreated to the high sierras and canyons such as the
Copper Canyon
Copper Canyon
Copper Canyon is a group of canyons consisting of six distinct canyons in the Sierra Tarahumara in the southwestern part of the state of Chihuahua in Mexico...
in the
Sierra Madre Occidental
Sierra Madre Occidental
The Sierra Madre Occidental is a mountain range in western Mexico.-Setting:The range runs north to south, from just south of the Sonora–Arizona border southeast through eastern Sonora, western Chihuahua, Sinaloa, Durango, Zacatecas, Nayarit, Jalisco, Aguascalientes to Guanajuato, where it joins...
on the arrival of Spanish explorers in the sixteenth century. The area of the Sierra Madre Occidental which they now inhabit is often called the Sierra Tarahumara because of their presence.
Current estimates put the population of the Rarámuri in 2006 at between 50,000 and 70,000 people. Most still practice a traditional lifestyle, inhabiting natural shelters such as caves or cliff overhangs, as well as small cabins of wood or stone. Staple crops are
corn
Maize
Maize known in many English-speaking countries as corn or mielie/mealie, is a grain domesticated by indigenous peoples in Mesoamerica in prehistoric times. The leafy stalk produces ears which contain seeds called kernels. Though technically a grain, maize kernels are used in cooking as a vegetable...
and
bean
Bean
Bean is a common name for large plant seeds of several genera of the family Fabaceae used for human food or animal feed....
s; however, many of the Rarámuri still practice
transhumance
Transhumance
Transhumance is the seasonal movement of people with their livestock between fixed summer and winter pastures. In montane regions it implies movement between higher pastures in summer and to lower valleys in winter. Herders have a permanent home, typically in valleys. Only the herds travel, with...
, raising cattle, sheep, and goats. Almost all Rarámuri migrate in some form or another in the course of the year.
The
Tarahumara language
Tarahumara language
The Tarahumara language is a Mexican indigenous language of the Uto-Aztecan language family spoken by around 70,000 Tarahumara people in the state of Chihuahua, according to an estimate by the government of Mexico.-Genetic affiliation:Tarahumara belongs to the Taracahitic group of the Uto-Aztecan...
belongs to the
Uto-Aztecan
Uto-Aztecan languages
Uto-Aztecan or Uto-Aztekan is a Native American language family consisting of over 30 languages. Uto-Aztecan languages are found from the Great Basin of the Western United States , through western, central and southern Mexico Uto-Aztecan or Uto-Aztekan is a Native American language family...
family. Although it is in decline under pressure from
Spanish
Spanish language
Spanish , also known as Castilian , is a Romance language in the Ibero-Romance group that evolved from several languages and dialects in central-northern Iberia around the 9th century and gradually spread with the expansion of the Kingdom of Castile into central and southern Iberia during the...
, it is still widely spoken.
Athletic prowess
The word for themselves,
Rarámuri
, means "runners on foot" or "those who run fast" in
their native tongue
Tarahumara language
The Tarahumara language is a Mexican indigenous language of the Uto-Aztecan language family spoken by around 70,000 Tarahumara people in the state of Chihuahua, according to an estimate by the government of Mexico.-Genetic affiliation:Tarahumara belongs to the Taracahitic group of the Uto-Aztecan...
according to some early ethnographers like Norwegian Carl Lumholtz, though this interpretation has not been fully agreed upon. With widely dispersed settlements, these people developed a tradition of
long-distance running
Ultramarathon
An ultramarathon is any sporting event involving running longer than the traditional marathon length of .There are two types of ultramarathon events: those that cover a specified distance, and events that take place during specified time...
up to 120 miles (193.1 km) in one session, over a period of two days through their homeland of rough canyon country, for intervillage communication and transportation as well as to hunt.
The Tarahumara also use the
toe strike method
Barefoot running
Barefoot running is running while barefoot—without wearing any shoes on the feet. Running in thin-soled, flexible shoes, often called minimalist running, such as moccasins is biomechanically related to running barefoot, but alters sensory feedback from the plantar mechanoreceptors...
of running, which is natural for bare-footed runners. The long-distance running tradition also has ceremonial and competitive aspects. Often, male runners kick wooden balls as they run in "foot throwing" competitions, and females use a stick and hoop. The foot throwing races are relays where the balls are kicked by the runners and relayed to the next runner while teammates run ahead to the next relay point. These races can last anywhere from a few hours for a short race to a couple of days without a break.
Pre-tool humans may have used
persistence hunting
Persistence hunting
Persistence hunting is a hunting technique in which hunters use a combination of running and tracking to pursue prey to the point of exhaustion. While humans can sweat to reduce body heat their quadruped prey would need to slow from a gallop to pant. Today, it is very rare and seen only in a few...
universally to hunt prey. Humans in excellent physical shape, given the time, can outrun quadrupeds, which slow down when fleeing over long distances and lose their ability to
pant
Breathing
Breathing is the process that moves air in and out of the lungs. Aerobic organisms require oxygen to release energy via respiration, in the form of the metabolism of energy-rich molecules such as glucose. Breathing is only one process that delivers oxygen to where it is needed in the body and...
while running.
Tarahumara religion
The Rarámuri religion is a
mélange
Syncretism
Syncretism is the combining of different beliefs, often while melding practices of various schools of thought. The term means "combining", but see below for the origin of the word...
of indigenous customs and Roman Catholicism, characterized by a belief that the afterlife is a mirror image of the mortal world, and that good deeds should be performed not for spiritual reward, but for the improvement of life on earth. In certain traditions (perhaps those more strongly based on pre-Columbian practice), the soul ascends a series of heavens, is reincarnated after each death, and after three lives becomes a moth on earth, which represents the final existence of the soul. When the moth dies, the soul dies completely. However, this end is not regarded as negative or a punishment, but merely as a continuation of the order of life. In Rarámuri cosmology, God has a wife who dwells with him in heaven, along with their sons, the so-called 'sukristo' (from Spanish 'Jesucristo') and their daughters, the 'santi'. These beings have a direct link with the physical world through Catholic iconography, respectively crucifixes and saint's medallions. The Devil's world is not necessarily evil, but is tainted through its ties with the 'Chabochi', or non-Rarámuri. The Devil is said to sometimes collaborate with God to arrange fitting punishments, and can be appeased through sacrifices. In some cases, the Devil can even be persuaded to act as a benevolent entity. The Devil and God are brothers (the Devil is the elder) who jointly created the human race. God, using pure clay, created the Rarámuri, whereas the Devil, mixing white ash with his clay, created the Chabochi. Thus, the Devil is as much protector and life-giver to the Chabochis as God is to the Rarámuri. The Rarámuri share with other Uto-Aztecan tribes a veneration for
peyote
Peyote
Lophophora williamsii , better known by its common name Peyote , is a small, spineless cactus with psychoactive alkaloids, particularly mescaline.It is native to southwestern Texas and Mexico...
.
Luis G. Verplancken, a Jesuit priest who lived among them for many years and is probably the greatest authority on their history and culture, describes them as loyal to God, to their own traditions and their own culture. Although the majority of them have converted to Christianity, there are still some "gentile" groups who have refused baptism. Those converted have introduced their own ancient concepts into their new religion.
The Rarámuri are also known for the brewing of
tesguino
Tesguino
Tesgüino is a corn beer made by the Tarahumara Indians of Sierra Madre in Mexico. The Tarahumara regard the beer as sacred, and it forms a significant part of their society...
, a
corn
Maize
Maize known in many English-speaking countries as corn or mielie/mealie, is a grain domesticated by indigenous peoples in Mesoamerica in prehistoric times. The leafy stalk produces ears which contain seeds called kernels. Though technically a grain, maize kernels are used in cooking as a vegetable...
-based
beer
Beer
Beer is the world's most widely consumed andprobably oldest alcoholic beverage; it is the third most popular drink overall, after water and tea. It is produced by the brewing and fermentation of sugars, mainly derived from malted cereal grains, most commonly malted barley and malted wheat...
brewed in ceramic jars, that features prominently in many Rarámuri religious rituals.
Famous Rarámuri
Samuel Gamboa Potter, TV producer and actor http://www.actionoutdoors.tv
Daniel Ponce de León

Daniel Ponce de León

Daniel Ponce de León is a Mexican professional Boxer in the Featherweight division and was a member of the 2000 Mexican Olympics team...


, former WBO world junior featherweight champion
Luis J. Rodriguez

Luis J. Rodriguez

Luis J. Rodriguez is an American poet, novelist, journalist, critic, and columnist. His work has won several awards, and he is recognized as a major figure of contemporary Chicano literature...


, author http://www.luisjrodriguez.com
Arnulfo Quimare, subject in book Born to Run
Erasmo Palma Fernández, musician, composer, philosopher, linguist, botanist, dancer. Mexico's National Prize of Science and Arts 2002.
See also
Literature
Carl Sofus Lumholtz

Carl Sofus Lumholtz

Carl Sofus Lumholtz was a Norwegian explorer and ethnographer, best known for his meticulous field research and ethnographic publications on indigenous cultures of Australia and Mesoamerican central Mexico.-Biography:...


: Unknown Mexico: A Record of Five Years' Exploration Among the Tribes of the Western Sierra Madre; In the Tierra Caliente of Tepic and Jalisco; and Among the Tarascos of Michoacan, (New York: Scribner's and Sons, 1902)

An early anthropological account from the 1890s of the peoples in the remote mountains of northwest Mexico, including the Tarahumara.

Wendell C. Bennett and Robert M. Zingg: The Tarahumara: an Indian tribe of northern Mexico, (Chicago: University of Chicago Press, 1935)

Provides the classic baseline ethnography of this group for the early twentieth century.

Jerome M. Levi: "Tarahumara (Rarámuri)", In: David Carrasco, editor-in-chief. The Oxford Encyclopedia of Mesoamerican Cultures, Vol. 3. New York: Oxford University Press, 2001: 183-185.

A brief overview of Tarahumara culture and history.

Jerome M. Levi: "The Embodiment of a Working Identity: Power and Process in Rarámuri Ritual Healing." American Indian Culture and Research Journal, 1999, 23: 13-46.

A detailed case study of Tarahumara ceremonial healing.

William L. Merrill: Rarámuri Souls: Knowledge and Social Process in Northern Mexico, (Washington, D.C.: Smithsonian Institution Scholarly Press, 1988)

A comprehensive account of Rarámuri world view.

Ivan Ratkaj

Ivan Ratkaj

Ivan Ratkaj , also Ivan Rattkay, was a Jesuit missionary and explorer. He wrote the first detailed description of the Tarahumara, a Mexican people....


: Izvješća iz Tarahumare (Reports from Tarahumara), (Zagreb: Artresor, 1998)

A modern edition of the first detailed report about the Tarahumara, written by a Croatia

Croatia

Croatia , officially the Republic of Croatia , is a unitary democratic parliamentary republic in Europe at the crossroads of the Mitteleuropa, the Balkans, and the Mediterranean. Its capital and largest city is Zagreb. The country is divided into 20 counties and the city of Zagreb. Croatia covers ...


n missionary in the 17th century. Published in Croatian

Croatian language

Croatian is the collective name for the standard language and dialects spoken by Croats, principally in Croatia, Bosnia and Herzegovina, the Serbian province of Vojvodina and other neighbouring countries...


, German

German language

German is a West Germanic language, related to and classified alongside English and Dutch. With an estimated 90 – 98 million native speakers, German is one of the world's major languages and is the most widely-spoken first language in the European Union....


and Latin.

Antonin Artaud

Antonin Artaud

Antoine Marie Joseph Artaud, more well-known as Antonin Artaud was a French playwright, poet, actor and theatre director...


: The Peyote Dance, (transl. Helen Weaver; Farrar, Straus and Giroux, Inc., 1976)

An account of Artaud's visit to the Tarahumara in the mid-1930s and of his peyote experience.

Joseph Wampler: Mexico's 'Grand Canyon': The Region and the Story of the Tarahumara Indians and the F.C. Chihuahua al Pacifico, (Berkeley: Self-Published, 1978. ISBN 0935080031)

An account of Wampler's travels on the Chihuahua al Pacifico railroad that winds along the Barranca Del Cobre through Tarahumara lands.

Jeff Biggers

Jeff Biggers

Jeff Biggers is an American writer, editor, journalist, playwright, critic, master storyteller and performance artist. He is the author of three books, and co-editor of a fourth....


: In the Sierra Madre, (University of Illinois Press, 2006)

An account of Biggers's sojourn among the Tarahumara in the late 1990s.

Cynthia Gorney: "A people apart", National Geographic Magazine

National Geographic Magazine

National Geographic, formerly the National Geographic Magazine, is the official journal of the National Geographic Society. It published its first issue in 1888, just nine months after the Society itself was founded...


November 2008
Fructuoso Irigoyen Rascón. Cerocahui, una Comunidad en la Tarahumara. 40 Años Después. Don Quixote Editions/AmazonKindle. 2011.
Fructuoso Irigoyen Rascón and Jesús Manuel Palma. Rarajípari, the Tarahumara Indian Kick-ball Race. Centro Librero La Prensa. Chihuahua 1995.
Christopher McDougall

Christopher McDougall

Christopher McDougall is an American author and journalist best known for his 2009 best-selling book Born to Run: A Hidden Tribe, Superathletes, and the Greatest Race the World Has Never Seen....


: "The Men Who Live Forever", Men's Health Magazine April 2008
Christopher McDougall

Christopher McDougall

Christopher McDougall is an American author and journalist best known for his 2009 best-selling book Born to Run: A Hidden Tribe, Superathletes, and the Greatest Race the World Has Never Seen....


: Born to Run: A Hidden Tribe, Superathletes, and the Greatest Race the World Has Never Seen, (Knopf, 2009. ISBN 0307266303)
Wyndham, Felice S.: 2010 Environments of Learning: Rarámuri Children's Plant Knowledge and Experience of Schooling, Family, and Landscapes in the Sierra Tarahumara, Mexico. Human Ecology 38(1):87-99.
Wyndham, Felice S.: 2009 Spheres of Relations, Lines of Interaction: Subtle Ecologies of the Rarámuri Landscape in Northern Mexico. (Special Issue: Traditional Resource and Environmental Management: Past, Present, and Future; Dana S. Lepofsky, ed.) Journal of Ethnobiology 29(2):271-295
External links