 Taieri Mouth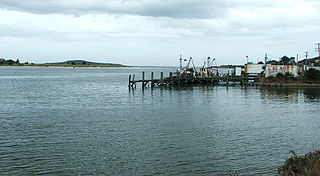 Taieri Mouth
is a small fishing village at the mouth of the
Taieri River
Taieri River
The Taieri River is the fourth-longest river in New Zealand and is located in Otago in the South Island. Rising in the Lammerlaw ranges, it initially flows north, then east around the Rock and Pillar range before turning southeast, reaching the sea 30 km south of Dunedin.The upper reaches meander...
,
New Zealand
New Zealand
New Zealand is an island country in the south-western Pacific Ocean comprising two main landmasses and numerous smaller islands. The country is situated some east of Australia across the Tasman Sea, and roughly south of the Pacific island nations of New Caledonia, Fiji, and Tonga...
. Taieri Island lies in the ocean several hundred metres off the river's mouth.
It has a white
sand
Sand
Sand is a naturally occurring granular material composed of finely divided rock and mineral particles.The composition of sand is highly variable, depending on the local rock sources and conditions, but the most common constituent of sand in inland continental settings and non-tropical coastal...
beach for swimming and several
picnic
Picnic
In contemporary usage, a picnic can be defined simply as a pleasure excursion at which a meal is eaten outdoors , ideally taking place in a beautiful landscape such as a park, beside a lake or with an interesting view and possibly at a public event such as before an open air theatre performance,...
areas. Another feature is the
walking
Walking
Walking is one of the main gaits of locomotion among legged animals, and is typically slower than running and other gaits. Walking is defined by an 'inverted pendulum' gait in which the body vaults over the stiff limb or limbs with each step...
track that follows the Taieri River from the mouth through the lower gorge to
Henley
Henley, New Zealand
Henley is a township on New Zealand's Taieri Plains, presumably named after the rowing centre Henley-on-Thames in England. It lies close to the confluence of the Taieri and Waipori Rivers at the eastern edge of the plain, at the foot of a low range of coastal hills.Henley is near the south-west...
.
Taieri Mouth
is located 40km southwest of central
Dunedin
Dunedin
Dunedin is the second-largest city in the South Island of New Zealand, and the principal city of the Otago Region. It is considered to be one of the four main urban centres of New Zealand for historic, cultural, and geographic reasons. Dunedin was the largest city by territorial land area until...
on the
Southern Scenic Route
Southern Scenic Route
The Southern Scenic Route is a tourist highway in New Zealand linking Queenstown, Fiordland, Te Anau and the iconic Milford Road to Dunedin via, Riverton, Invercargill and The Catlins...
. It is located in the
Clutha District
Clutha District
The Clutha District is an administrative district of southern New Zealand, with its headquarters in the Otago town of Balclutha. The Clutha District has a land area of 6,362.86 km² and a 2006 census population of 16,839 usual residents...
on the boundary of Dunedin City and 10km east of
Lake Waihola
Lake Waihola
Lake Waihola is a tidal freshwater lake located 15 km north of Milton in Otago, in New Zealand's South Island. Its area is some 9 square kilometres, with a maximum length of 6 kilometres....
.
It gained a little notoriety or sadness in the 1990s as the place where the father of murder suspect
David Bain
David Bain
David Cullen Bain is a New Zealander who featured in one of the country's most notable murder cases. He was convicted in May 1995 of the murders of his parents and siblings in Dunedin on 20 June 1994...
worked.
History
There was a Maori occupation site at Taieri Mouth, with moa bones, indicating it was from the Moa Hunter (Archaic) period of Maori culture.
According to oral tradition in the early 18th century Tuwiriroa moved from Tititea on the Kawarau River near modern Queenstown and built a pa, (fortified settlement), Motupara, near Taieri Mouth. A rival, Tukiauau, had already built a pa, Whakaraupuka, inland on the Taieri Plain by Lake Waihola. Tuwiriroa had a daughter Haki Te Kura, famous for swimming across Lake Wakatipu. Tukiauau had a handsome son Korokiwhiti. The daughter and son now fell in love but the woman's father, the chief of the Taieri Mouth pa, disapproved. The young man's father was a hunted man. Hearing his enemies had discovered his whereabouts he decided to abandon the upriver settlement and move his people further south. As they came down the river in their canoes the distraught young woman attempted to jump from a rock into her lover's craft but struck the prow and was killed. Adding insult to injury her head was severed and held up angrily to her people on the shore as the flotilla passed by to the sea. There were repercussions and Tukiauau and his son were pursued and eventually killed. (Anderson, A. 1998.)
Maori occupation continued and Edward Shortland recorded a small settlement here in 1843 and Maori were still living here in 1850.(Shortland, E. 1851.)
An early European settler was a former whaler, 'The Hermit of Taieri Mouth', also known as 'John Bull' whose real name was John Edward O'Neil. He is remembered for his boisterous ways and prodigious strength.
References
Anderson, A (1998)
The Welcome of Strangers
, Dunedin, NZ; University of Otago Press with Dunedin City Council, ISBN 1-877133-41-8 pb.
Shortland, Edward,
The Southern Districts of New Zealand; a Journal
, Longman, Brown, Green & Longmans, London, 1851.