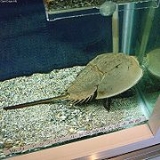 Tachypleus tridentatus
Tachypleus tridentatus
is a species of
horseshoe crab
Horseshoe crab
The Atlantic horseshoe crab, Limulus polyphemus, is a marine chelicerate arthropod. Despite its name, it is more closely related to spiders, ticks, and scorpions than to crabs. Horseshoe crabs are most commonly found in the Gulf of Mexico and along the northern Atlantic coast of North America...
found in
China
China
Chinese civilization may refer to:* China for more general discussion of the country.* Chinese culture* Greater China, the transnational community of ethnic Chinese.* History of China* Sinosphere, the area historically affected by Chinese culture...
,
Indonesia
Indonesia
Indonesia , officially the Republic of Indonesia , is a country in Southeast Asia and Oceania. Indonesia is an archipelago comprising approximately 13,000 islands. It has 33 provinces with over 238 million people, and is the world's fourth most populous country. Indonesia is a republic, with an...
,
Japan
Japan
Japan is an island nation in East Asia. Located in the Pacific Ocean, it lies to the east of the Sea of Japan, China, North Korea, South Korea and Russia, stretching from the Sea of Okhotsk in the north to the East China Sea and Taiwan in the south...
,
Malaysia
, the
Philippines
Philippines
The Philippines , officially known as the Republic of the Philippines , is a country in Southeast Asia in the western Pacific Ocean. To its north across the Luzon Strait lies Taiwan. West across the South China Sea sits Vietnam...
,
Taiwan
Taiwan
Taiwan , also known, especially in the past, as Formosa , is the largest island of the same-named island group of East Asia in the western Pacific Ocean and located off the southeastern coast of mainland China. The island forms over 99% of the current territory of the Republic of China following...
, and
Vietnam
Vietnam
Vietnam – sometimes spelled Viet Nam , officially the Socialist Republic of Vietnam – is the easternmost country on the Indochina Peninsula in Southeast Asia. It is bordered by China to the north, Laos to the northwest, Cambodia to the southwest, and the South China Sea –...
.