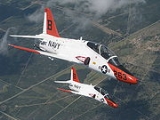 T-45 Goshawk
{|
Avionics
Data from naval-technology.com
http://www.naval-technology.com/projects/t45/
Communications Suite
Data from naval-technology.com
http://www.naval-technology.com/projects/t45/
Rockwell Collins

Rockwell Collins

Rockwell Collins, Inc. is a large United States-based international company headquartered in Cedar Rapids, Iowa, primarily providing aviation and information technology systems and services to governmental agencies and aircraft manufacturers.- History :...


AN/ARN-182 UHF/VHF radio.
Honeywell

Honeywell

Honeywell International, Inc. is a major conglomerate company that produces a variety of consumer products, engineering services, and aerospace systems for a wide variety of customers, from private consumers to major corporations and governments....


AN/APX-100 Identification Friend or Foe

Identification friend or foe

In telecommunications, identification, friend or foe is an identification system designed for command and control. It is a system that enables military and national interrogation systems to identify aircraft, vehicles, or forces as friendly and to determine their bearing and range from the...


(IFF) system.
See also
External links