 Synchronous rotation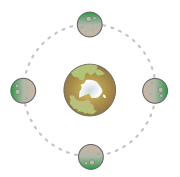 In
astronomy
Astronomy
Astronomy is a natural science that deals with the study of celestial objects and phenomena that originate outside the atmosphere of Earth...
,
synchronous rotation
is a planetological term describing a body
orbit
Orbit
In physics, an orbit is the gravitationally curved path of an object around a point in space, for example the orbit of a planet around the center of a star system, such as the Solar System...
ing another, where the orbiting body takes as long to rotate on its axis as it does to make one orbit; and therefore always keeps the same hemisphere pointed at the body it is orbiting. Another way of describing it is that from the surface of the satellite, the main planet appears to be locked in place in the sky as it slowly rotates.
The
Moon
Moon
The Moon is Earth's only known natural satellite,There are a number of near-Earth asteroids including 3753 Cruithne that are co-orbital with Earth: their orbits bring them close to Earth for periods of time but then alter in the long term . These are quasi-satellites and not true moons. For more...
is in synchronous rotation about the
Earth
Earth
Earth is the third planet from the Sun, and the densest and fifth-largest of the eight planets in the Solar System. It is also the largest of the Solar System's four terrestrial planets...
.
See also