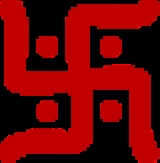 Swastika
The
swastika
is an
equilateral
Equilateral
In geometry, an equilateral polygon is a polygon which has all sides of the same length.For instance, an equilateral triangle is a triangle of equal edge lengths...
cross
Cross
A cross is a geometrical figure consisting of two lines or bars perpendicular to each other, dividing one or two of the lines in half. The lines usually run vertically and horizontally; if they run obliquely, the design is technically termed a saltire, although the arms of a saltire need not meet...
with its arms bent at right angles, in either right-facing form in counter clock motion or its mirrored left-facing form in clock motion. Earliest archaeological evidence of swastika-shaped ornaments dates back to the
Indus Valley Civilization
Indus Valley Civilization
The Indus Valley Civilization was a Bronze Age civilization that was located in the northwestern region of the Indian subcontinent, consisting of what is now mainly modern-day Pakistan and northwest India...
of
Ancient India
Ancient India
Ancient India may refer to:* The ancient history of India, which generally includes the ancient history of the Asian Subcontinent, including:*Science and technology in ancient India**Indian mathematics**Astronomy**List of Indian inventions...
as well as
Classical Antiquity
Classical antiquity
Classical antiquity is a broad term for a long period of cultural history centered on the Mediterranean Sea, comprising the interlocking civilizations of ancient Greece and ancient Rome, collectively known as the Greco-Roman world...
. Swastikas have also been used in other various ancient civilizations around the world. It remains widely used in Indian religions, specifically in
Hinduism
Hinduism
Hinduism is the predominant and indigenous religious tradition of the Indian Subcontinent. Hinduism is known to its followers as , amongst many other expressions...
,
Buddhism
Buddhism
Buddhism is a religion and philosophy encompassing a variety of traditions, beliefs and practices, largely based on teachings attributed to Siddhartha Gautama, commonly known as the Buddha . The Buddha lived and taught in the northeastern Indian subcontinent some time between the 6th and 4th...
and
Jainism
Jainism
Jainism is an Indian religion that prescribes a path of non-violence towards all living beings. Its philosophy and practice emphasize the necessity of self-effort to move the soul towards divine consciousness and liberation. Any soul that has conquered its own inner enemies and achieved the state...
, primarily as a tantric symbol to evoke 'shakti' or the sacred symbol of good luck.