 Sulfonamide (medicine)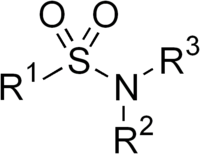 Sulfonamide
or
sulphonamide
is the basis of several groups of drugs. The original antibacterial sulfonamides (sometimes called
sulfa drugs
or
sulpha drugs
) are synthetic antimicrobial agents that contain the
sulfonamide
Sulfonamide (chemistry)
In chemistry, the sulfonamide functional group is -S2-NH2, a sulfonyl group connected to an amine group.A sulfonamide is a compound that contains this group. The general formula is RSO2NH2, where R is some organic group. For example, "methanesulfonamide" is CH3SO2NH2...
group. Some sulfonamides are also devoid of antibacterial activity, e.g., the
anticonvulsant
Anticonvulsant
The anticonvulsants are a diverse group of pharmaceuticals used in the treatment of epileptic seizures. Anticonvulsants are also increasingly being used in the treatment of bipolar disorder, since many seem to act as mood stabilizers, and in the treatment of neuropathic pain. The goal of an...
sultiame. The
sulfonylurea
Sulfonylurea
Sulfonylurea derivatives are a class of antidiabetic drugs that are used in the management of diabetes mellitus type 2. They act by increasing insulin release from the beta cells in the pancreas.-First generation:* Carbutamide...
s and thiazide diuretics are newer drug groups based on the antibacterial sulfonamides.
Sulfa allergies are common, hence medications containing sulfonamides are prescribed carefully. It is important to make a distinction between sulfa drugs and other sulfur-containing drugs and additives, such as sulfates and sulfites, which are chemically unrelated to the sulfonamide group, and do not cause the same hypersensitivity reactions seen in the sulfonamides.
Antimicrobial
In
bacteria
Bacteria
Bacteria are a large domain of prokaryotic microorganisms. Typically a few micrometres in length, bacteria have a wide range of shapes, ranging from spheres to rods and spirals...
, antibacterial sulfonamides act as competitive inhibitors of the enzyme
dihydropteroate synthetase (DHPS)
Dihydropteroate synthetase
Dihydropteroate synthetase is an enzyme classified under . It produces dihydropteroate in bacteria, but it is not expressed in most eukaryotes including humans...
, an enzyme involved in folate synthesis. As such, the microorganism will be "starved" of folate and die.
Other uses
The sulfonamide chemical moiety is also present in other medications that are not antimicrobials, including
thiazide
Thiazide
Thiazide is a term used to describe a type of molecule and a class of diuretics often used to treat hypertension and edema ....
diuretic
Diuretic
A diuretic provides a means of forced diuresis which elevates the rate of urination. There are several categories of diuretics. All diuretics increase the excretion of water from bodies, although each class does so in a distinct way.- Medical uses :...
s (including
hydrochlorothiazide
Hydrochlorothiazide
Hydrochlorothiazide, abbreviated HCTZ, HCT, or HZT, is a first-line diuretic drug of the thiazide class that acts by inhibiting the kidneys' ability to retain water. This reduces the volume of the blood, decreasing blood return to the heart and thus cardiac output and, by other mechanisms, is...
,
metolazone
Metolazone
Metolazone is a thiazide-like diuretic marketed under the brand names Zytanix from Zydus Cadila, Zaroxolyn, and Mykrox. It is primarily used to treat congestive heart failure and high blood pressure. Metolazone indirectly decreases the amount of water reabsorbed into the bloodstream by the kidney,...
, and
indapamide
Indapamide
Indapamide is a thiazide diuretic drug marketed by Servier, generally used in the treatment of hypertension, as well as decompensated cardiac failure. The US trade name for indapamide is Lozol. Indapamide is marketed as Natrilix outside of the US, as Insig in Australia...
, among others), loop diuretics (including
furosemide
Furosemide
Furosemide or frusemide is a loop diuretic used in the treatment of congestive heart failure and edema. It is most commonly marketed by Sanofi-Aventis under the brand name Lasix...
,
bumetanide
Bumetanide
Bumetanide is a loop diuretic of the sulfamyl category to treat heart failure. It is often used in people in whom high doses of furosemide are ineffective. It is marketed by Hoffmann-La Roche. The main difference between the two substances is in bioavailability and pharmacodynamic potency...
, and torsemide), sulfonylureas (including
glipizide
Glipizide
Glipizide is an oral medium-to-long acting anti-diabetic drug from the sulfonylurea class. It is classified as a second generation sulfonylurea, which means that it undergoes enterohepatic circulation. The structure on the R2 group is a much larger cyclo or aromatic group compared to the 1st...
, glyburide, among others), some
COX-2 inhibitor
COX-2 inhibitor
COX-2 selective inhibitor is a form of non-steroidal anti-inflammatory drug that directly targets COX-2, an enzyme responsible for inflammation and pain. Targeting selectivity for COX-2 reduces the risk of peptic ulceration, and is the main feature of celecoxib, rofecoxib and other members of this...
s (e.g.,
celecoxib
Celecoxib
Celecoxib INN is a sulfa non-steroidal anti-inflammatory drug and selective COX-2 inhibitor used in the treatment of osteoarthritis, rheumatoid arthritis, acute pain, painful menstruation and menstrual symptoms, and to reduce numbers of colon and rectum polyps in patients with familial...
), and
acetazolamide
Acetazolamide
Acetazolamide, sold under the trade name Diamox, is a carbonic anhydrase inhibitor that is used to treat glaucoma, epileptic seizures, Idiopathic intracranial hypertension , altitude sickness, cystinuria, and dural ectasia...
.
Sulfasalazine
, in addition to its use as an antibiotic, is also used in the treatment of
inflammatory bowel disease
Inflammatory bowel disease
In medicine, inflammatory bowel disease is a group of inflammatory conditions of the colon and small intestine. The major types of IBD are Crohn's disease and ulcerative colitis.-Classification:...
.
History
Sulfonamide drugs were the first antimicrobial drugs, and paved the way for the antibiotic revolution in medicine. The first sulfonamide, trade-named
Prontosil
Prontosil
Prontosil, the first commercially available antibacterial antibiotic , was developed by a research team at the Bayer Laboratories of the IG Farben conglomerate in Germany...
, was a
prodrug
Prodrug
A prodrug is a pharmacological substance administered in an inactive form. Once administered, the prodrug is metabolised in vivo into an active metabolite, a process termed bioactivation. The rationale behind the use of a prodrug is generally for absorption, distribution, metabolism, and...
. Experiments with Prontosil began in 1932 in the laboratories of
Bayer
Bayer
Bayer AG is a chemical and pharmaceutical company founded in Barmen , Germany in 1863. It is headquartered in Leverkusen, North Rhine-Westphalia, Germany and well known for its original brand of aspirin.-History:...
AG, at that time a component of the huge German chemical trust
IG Farben
IG Farben
I.G. Farbenindustrie AG was a German chemical industry conglomerate. Its name is taken from Interessen-Gemeinschaft Farbenindustrie AG . The company was formed in 1925 from a number of major companies that had been working together closely since World War I...
. The Bayer team believed that coal-tar dyes able to preferentially bind to bacteria and parasites might be used to target harmful organisms in the body. After years of fruitless trial-and-error work on hundreds of dyes, a team led by physician/researcher
Gerhard Domagk
Gerhard Domagk
Gerhard Johannes Paul Domagk was a German pathologist and bacteriologist credited with the discovery of Sulfonamidochrysoidine – the first commercially available antibiotic – for which he received the 1939 Nobel Prize in Physiology or Medicine.Domagk was born in Lagow, Brandenburg, the...
(working under the general direction of Farben executive Heinrich Hoerlein) finally found one that worked: a red dye synthesized by Bayer chemist Josef Klarer that had remarkable effects on stopping some bacterial infections in mice. The first official communication about the breakthrough discovery was not published until 1935, more than two years after the drug was patented by Klarer and his research partner Fritz Mietzsch. Prontosil, as Bayer named the new drug, was the first medicine ever discovered that could effectively treat a range of bacterial infections inside the body. It had a strong protective action against infections caused by
streptococci
Streptococcus
Streptococcus is a genus of spherical Gram-positive bacteria belonging to the phylum Firmicutes and the lactic acid bacteria group. Cellular division occurs along a single axis in these bacteria, and thus they grow in chains or pairs, hence the name — from Greek στρεπτος streptos, meaning...
, including blood infections, childbed fever, and
erysipelas
Erysipelas
Erysipelas is an acute streptococcus bacterial infection of the deep epidermis with lymphatic spread.-Risk factors:...
, and a lesser effect on infections caused by other cocci. However, it had no effect at all in the test tube, exerting its antibacterial action only in live animals. Later, it was accidentally discovered by a French research team, led by
Ernest Fourneau
Ernest Fourneau
Ernest Fourneau was a French medicinal chemist, who played a major role in the discovery of synthetic local anesthetics, as well as in the synthesis of suramin...
, at the
Pasteur Institute
Pasteur Institute
The Pasteur Institute is a French non-profit private foundation dedicated to the study of biology, micro-organisms, diseases, and vaccines. It is named after Louis Pasteur, who made some of the greatest breakthroughs in modern medicine at the time, including pasteurization and vaccines for anthrax...
, that the drug was metabolized into two pieces inside the body, releasing from the inactive dye portion a smaller, colorless, active compound called sulfanilamide. The discovery helped establish the concept of "bioactivation" and dashed the German corporation's dreams of enormous profit; the active molecule sulfanilamide (or sulfa) had first been synthesized in 1906 and was widely used in the dye-making industry; its patent had since expired and the drug was available to anyone.
The result was a sulfa craze. For several years in the late 1930s, hundreds of manufacturers produced tens of thousands of tons of myriad forms of sulfa. This and nonexistent testing requirements led to the elixir sulfanilamide disaster in the fall of 1937, during which at least 100 people were poisoned with
diethylene glycol
Diethylene glycol
Diethylene glycol is an organic compound with the formula 2O. It is a colorless, practically odorless, poisonous, and hygroscopic liquid with a sweetish taste. It is miscible in water, alcohol, ether, acetone, and ethylene glycol. DEG is a widely used solvent...
. This led to the passage of the
Federal Food, Drug, and Cosmetic Act
Federal Food, Drug, and Cosmetic Act
The United States Federal Food, Drug, and Cosmetic Act , is a set of laws passed by Congress in 1938 giving authority to the U.S. Food and Drug Administration to oversee the safety of food, drugs, and cosmetics. A principal author of this law was Royal S. Copeland, a three-term U.S. Senator from...
in 1938. As the first and only effective antibiotic available in the years before
penicillin
Penicillin
Penicillin is a group of antibiotics derived from Penicillium fungi. They include penicillin G, procaine penicillin, benzathine penicillin, and penicillin V....
, sulfa drugs continued to thrive through the early years of
World War II
World War II
World War II, or the Second World War , was a global conflict lasting from 1939 to 1945, involving most of the world's nations—including all of the great powers—eventually forming two opposing military alliances: the Allies and the Axis...
. They are credited with saving the lives of tens of thousands of patients, including
Franklin Delano Roosevelt, Jr.
Franklin Delano Roosevelt, Jr.
Franklin Delano Roosevelt, Jr. was an American politician. He was the fifth child of U.S. President Franklin D. Roosevelt, Sr. and his wife Eleanor.-Personal life:...
(son of President Franklin Delano Roosevelt) (in 1936) and
Winston Churchill
Winston Churchill
Sir Winston Leonard Spencer-Churchill, was a predominantly Conservative British politician and statesman known for his leadership of the United Kingdom during the Second World War. He is widely regarded as one of the greatest wartime leaders of the century and served as Prime Minister twice...
. Sulfa had a central role in preventing wound infections during the war. American soldiers were issued a first-aid kit containing sulfa pills and powder, and were told to sprinkle it on any open wound.
During the years 1942 to 1943, Nazi doctors conducted sulfanilamide experiments on prisoners in concentration camps.
The sulfanilamide compound is more active in the protonated form, which in case of the acid works better in a basic environment. The solubility of the drug is very low and sometimes can crystallize in the kidneys, due to its first pK
a
of around 10. This is a very painful experience, so patients are told to take the medication with copious amounts of water. Newer compounds have a pK
a
of around 5–6, so the problem is avoided.
Many thousands of molecules containing the sulfanilamide structure have been created since its discovery (by one account, over 5,400 permutations by 1945), yielding improved formulations with greater effectiveness and less toxicity. Sulfa drugs are still widely used for conditions such as acne and urinary tract infections, and are receiving renewed interest for the treatment of infections caused by bacteria resistant to other antibiotics.
Preparation
Sulfonamides are prepared by the reaction of a sulfonyl chloride with ammonia or an amine.
Certain sulfonamides (sulfadiazine or
sulfamethoxazole
Sulfamethoxazole
Sulfamethoxazole is a sulfonamide bacteriostatic antibiotic.It is most often used as part of a synergistic combination with trimethoprim in a 5:1 ratio in co-trimoxazole , also known under trade names such as Bactrim, Septrin, or Septra; in Eastern Europe it is marketed as Biseptol...
) are sometimes mixed with the drug
trimethoprim
Trimethoprim
Trimethoprim is a bacteriostatic antibiotic mainly used in the prophylaxis and treatment of urinary tract infections.It belongs to the class of chemotherapeutic agents known as dihydrofolate reductase inhibitors...
, which acts against
dihydrofolate reductase
Dihydrofolate reductase
- Function :Dihydrofolate reductase converts dihydrofolate into tetrahydrofolate, a methyl group shuttle required for the de novo synthesis of purines, thymidylic acid, and certain amino acids...
.
Antibiotics
Short-acting
Intermediate-acting
Ophthalmologicals
Diuretics
Other
Side effects
Sulfonamides have the potential to cause a variety of untoward reactions, including urinary tract disorders, haemopoietic disorders,
porphyria
Porphyria
Porphyrias are a group of inherited or acquired disorders of certain enzymes in the heme bio-synthetic pathway . They are broadly classified as acute porphyrias and cutaneous porphyrias, based on the site of the overproduction and accumulation of the porphyrins...
, and hypersensitivity reactions. When used in large doses, they may cause a strong allergic reaction. Two of the most serious are Stevens–Johnson syndrome and
toxic epidermal necrolysis
Toxic epidermal necrolysis
Toxic epidermal necrolysis is a rare, life-threatening dermatological condition that is usually induced by a reaction to medications...
(also known as Lyell syndrome).
Approximately 3% of the general population have adverse reactions when treated with sulfonamide antimicrobials. Of note is the observation that patients with
HIV
HIV
Human immunodeficiency virus is a lentivirus that causes acquired immunodeficiency syndrome , a condition in humans in which progressive failure of the immune system allows life-threatening opportunistic infections and cancers to thrive...
have a much higher prevalence, at about 60%. People with a hypersensitivity reaction to one member of the sulfonamide class are likely to have a similar reaction to others.
Hypersensitivity reactions are less common in nonantibiotic sulfonamides, and, though controversial, the available evidence suggests those with hypersensitivity to sulfonamide antibiotics do not have an increased risk of hypersensitivity reaction to the nonantibiotic agents.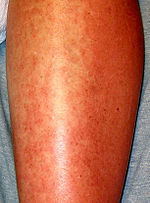 Two regions of the sulfonamide antibiotic chemical structure are implicated in the hypersensitivity reactions associated with the class.
The nonantibiotic sulfonamides lack both of these structures.
The most common manifestations of a
hypersensitivity
Hypersensitivity
Hypersensitivity refers to undesirable reactions produced by the normal immune system, including allergies and autoimmunity. These reactions may be damaging, uncomfortable, or occasionally fatal. Hypersensitivity reactions require a pre-sensitized state of the host. The four-group classification...
reaction to sulfa drugs are rash and hives. However, there are several life-threatening manifestations of hypersensitivity to sulfa drugs, including Stevens–Johnson syndrome,
toxic epidermal necrolysis
Toxic epidermal necrolysis
Toxic epidermal necrolysis is a rare, life-threatening dermatological condition that is usually induced by a reaction to medications...
,
agranulocytosis
Agranulocytosis
Granulopenia, also known as Agranulosis or Agranulocytosis, is an acute condition involving a severe and dangerous leukopenia , most commonly of neutrophils causing a neutropenia in the circulating blood. It represents a severe lack of one major class of infection-fighting white blood cells...
,
hemolytic anemia
Hemolytic anemia
Hemolytic anemia is a form of anemia due to hemolysis, the abnormal breakdown of red blood cells , either in the blood vessels or elsewhere in the human body . It has numerous possible causes, ranging from relatively harmless to life-threatening...
,
thrombocytopenia
Thrombocytopenia
Thrombocytopenia is a relative decrease of platelets in blood.A normal human platelet count ranges from 150,000 to 450,000 platelets per microliter of blood. These limits are determined by the 2.5th lower and upper percentile, so values outside this range do not necessarily indicate disease...
, and fulminant hepatic necrosis, among others.
External links