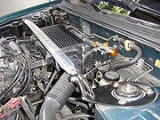 Strut bar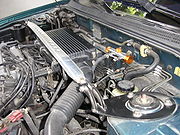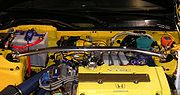 A
strut bar
,
strut brace
, or
strut tower brace (STB)
is a mostly aftermarket car
suspension
Suspension (vehicle)
Suspension is the term given to the system of springs, shock absorbers and linkages that connects a vehicle to its wheels. Suspension systems serve a dual purpose — contributing to the car's roadholding/handling and braking for good active safety and driving pleasure, and keeping vehicle occupants...
accessory usually used in conjunction with
MacPherson strut
MacPherson strut
The MacPherson strut is a type of car suspension system which uses the axis of a telescopic damper as the upper steering pivot. It is widely used in modern vehicles and named after Earle S. MacPherson, who developed the design.-History:...
s on
monocoque or unibody
Monocoque
Monocoque is a construction technique that supports structural load by using an object's external skin, as opposed to using an internal frame or truss that is then covered with a non-load-bearing skin or coachwork...
chassis
Chassis
A chassis consists of an internal framework that supports a man-made object. It is analogous to an animal's skeleton. An example of a chassis is the underpart of a motor vehicle, consisting of the frame with the wheels and machinery.- Vehicles :In the case of vehicles, the term chassis means the...
to provide extra stiffness between the strut towers.
With a MacPherson strut suspension system where the
spring
Spring (device)
A spring is an elastic object used to store mechanical energy. Springs are usually made out of spring steel. Small springs can be wound from pre-hardened stock, while larger ones are made from annealed steel and hardened after fabrication...
and
shock absorber
Shock absorber
A shock absorber is a mechanical device designed to smooth out or damp shock impulse, and dissipate kinetic energy. It is a type of dashpot.-Nomenclature:...
are combined in the one suspension unit, the entire vertical suspension load is transmitted to the top of the vehicle's strut tower, unlike a
double wishbone suspension
Double wishbone suspension
In automobiles, a double wishbone suspension is an independent suspension design using two wishbone-shaped arms to locate the wheel. Each wishbone or arm has two mounting points to the chassis and one joint at the knuckle. The shock absorber and coil spring mount to the wishbones to control...
where the spring and shock absorber may share the load separately. In general terms, a strut tower in a monocoque chassis is a reinforced portion of the inner wheel well and is not necessarily directly connected to the main chassis rails. For this reason there is inherent flex within the strut towers relative to the chassis rails.
A strut bar is designed to reduce this strut tower flex by tying two parallel strut towers together. This transmits the load of each strut tower during cornering which ties the two towers together and reduces chassis flex. To accomplish this effectively (especially on MacPherson strut suspensions), the bar must be rigid throughout its length, and also attached to the firewall.
On versions of the
Saab Sonett
Saab Sonett
The Saab Sonett is an automobile manufactured between 1955 and 1957 and again between 1966 and 1974 by Saab Automobile AB of Sweden. Sonetts shared engines and other components with Saab 96s and 95s of the same era....
, the overflow container for the cooling system doubles as a strut bar.
Many manufacturers have fitted strut braces to performance models as standard or optional equipment, including the Honda Crosstour, Pontiac GTO,
Pontiac Bonneville GXP
Pontiac Bonneville
The Pontiac Bonneville was an automobile built by the Pontiac division of General Motors from 1957 to 2005. It was introduced as a limited production performance convertible during the 1957 model year...
,
Nissan Skyline
Nissan Skyline
The first Skyline was introduced in April 1957, by the Prince Motor Company, and was marketed as a luxury car. It featured a 1.5 L GA-30 engine producing 44 kW @ 4400 rpm. It used a de Dion tube rear suspension and was capable of 140 km/h . The car weighed around 1300 kg...
,
Nissan 350Z
Nissan 350Z
The Nissan 350Z is a two seat sports car that was manufactured by Nissan from 2002 to 2009 and marks the fifth generation of Nissan's Z-car line. The 350Z entered production in late 2002 and was sold and marketed as a 2003 model. The first year there was only a coupe, as the roadster did not debut...
,
Mazda RX-8
Mazda RX-8
The Mazda RX-8 is a sports car manufactured by Mazda Motor Corporation. It first appeared in 2001 at the North American International Auto Show. It is the successor to the RX-7 and, like its predecessors in the RX range, it is powered by a Wankel engine. The RX-8 began North American sales in the...
,
Acura CL Type-S
Acura CL
The Acura CL is a model of automobile manufactured by Honda's Acura brand from 1996–1999, and from 2001–2003. The CL is often thought to have been a replacement for the Acura Legend coupe, but with the advent of the TL in 1996, which directly replaced the Vigor, the CL is more precisely a TL coupe...
,
Acura TSX
Acura TSX
-Overview:Named as Touring Sportscar eXperimental. The 2004 model year TSX's powertrain consisted of a 2.4-litre inline four-cylinder engine, a six-speed manual transmission , and a front wheel drive layout. A five-speed automatic transmission was a no-cost option in the U.S...
,
Daihatsu Charade GTti
Daihatsu Charade
The Daihatsu Charade is a supermini which was first introduced in 1977. Daihatsu considers the Charade a "large compact" car to differentiate it from smaller compacts in its lineup, such as the Daihatsu Mira/Cuore...
,
BMW M3
BMW M3
The BMW M3 is a high-performance version of the BMW 3 Series, developed by BMW's in-house motorsport division, BMW M. M3 models have been derived from the E30, E36, E46 and E90/E92/E93 3-series, and sold with coupé, sedan and convertible body styles...
,
Mitsubishi Lancer Evolution
Mitsubishi Lancer Evolution
The Mitsubishi Lancer Evolution, colloquially known as the Lancer Evo or Evo, is a high-performance sedan manufactured by Mitsubishi Motors. There have been ten official versions to date, and the designation of each model is most commonly a roman numeral...
,
Mitsubishi Outlander
Mitsubishi Outlander
The Airtrek was first introduced to the Japanese market on June 20, 2001, priced from ¥1.7–2.3 million. It offered a choice of either a 4G63 2.0 L or a 4G64 2.4 L GDI, mated to a standard INVECS-II 4-speed semi-automatic transmission. Both front- and four-wheel drive were available...
, Mitsubishi Colt Ralliart, Saab 900 NG,
Toyota MR2
Toyota MR2
The Toyota MR2 is a two-seat, mid-engined, rear wheel drive sports car produced by Central Motors, a part of Toyota, from 1984 until July 2007 when production stopped in Japan...
, Toyota Solara,
Toyota Camry SE
Toyota Camry
The Toyota Camry is a series of mid-size automobiles manufactured by Toyota since 1982, and sold in the majority of automotive markets throughout the world...
, Ford Mustang Bullitt,
Volvo S60
Volvo S60
The Volvo S60 is a compact executive sedan produced by the Swedish automaker Volvo from 2000. Two generations of the sedan have been produced to date.-First generation :...
, Mazda Protege 5 and the
Holden VY II Commodore
Holden Commodore
The Holden Commodore is an automobile manufactured since 1978 by the Holden subsidiary of General Motors in Australia, and, formerly, in New Zealand. In the mid-1970s, Holden established proposals to replace the long-serving Kingswood nameplate with a smaller, Opel-based model...
.
External links