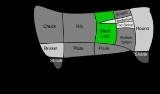 Strip steak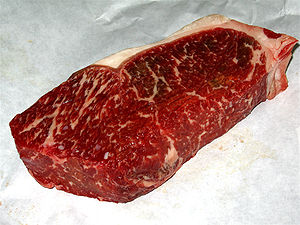 The
strip steak
is a type of cut of beef
steak
Steak
A steak is a cut of meat . Most are cut perpendicular to the muscle fibers, improving the perceived tenderness of the meat. In North America, steaks are typically served grilled, pan-fried, or broiled. The more tender cuts from the loin and rib are cooked quickly, using dry heat, and served whole...
s. Internationally it is called a
club steak
. In the
United States
United States
The United States of America is a federal constitutional republic comprising fifty states and a federal district...
and
Canada
Canada
Canada is a North American country consisting of ten provinces and three territories. Located in the northern part of the continent, it extends from the Atlantic Ocean in the east to the Pacific Ocean in the west, and northward into the Arctic Ocean...
it is also known as
New York strip
,
strip loin
,
shell steak
, or
Kansas City strip
steak, In
Australia
Australia
Australia , officially the Commonwealth of Australia, is a country in the Southern Hemisphere comprising the mainland of the Australian continent, the island of Tasmania, and numerous smaller islands in the Indian and Pacific Oceans. It is the world's sixth-largest country by total area...
it is known as a porterhouse steak. Cut from the short loin, the strip steak consists of a muscle that does little work, and so it is particularly tender, though not as tender as the nearby rib eye or
tenderloin
Beef tenderloin
A beef tenderloin, known as an eye fillet in New Zealand and Australia, filet in France and Germany and fillet in the United Kingdom, is cut from the loin of beef. As with all quadrupeds, the tenderloin refers to the psoas major muscle ventral to the transverse processes of the lumbar vertebrae,...
(fat content of the strip is somewhere between these two cuts). Unlike the nearby tenderloin, the short loin is a sizable muscle, allowing it to be cut into the larger portions.
When still attached to the bone, and with a piece of the tenderloin also included, the strip steak becomes a
T-bone steak
T-bone steak
The T-bone and Porterhouse are steaks of beef cut from the short loin and including a T-shaped bone with meat on each side: the larger is a strip steak and the smaller a tenderloin steak...
or a Porterhouse steak, the difference being that the Porterhouse has a larger portion of tenderloin included. The strip steak can be sold with or without the bone. Strip steaks can be substituted for most recipes calling for T-bone and porterhouse steaks, and sometimes for fillet and rib eye steaks.