Junk food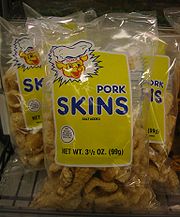 Junk food
is an informal term applied to some foods that are perceived to have little or no
nutrition
Nutrition
Nutrition is the provision, to cells and organisms, of the materials necessary to support life. Many common health problems can be prevented or alleviated with a healthy diet....
al value (i.e. containing "empty
calories
Calorie
The calorie is a pre-SI metric unit of energy. It was first defined by Nicolas Clément in 1824 as a unit of heat, entering French and English dictionaries between 1841 and 1867. In most fields its use is archaic, having been replaced by the SI unit of energy, the joule...
"); to products with nutritional value, but which also have ingredients considered unhealthy when regularly eaten; or to those considered unhealthy to consume at all. The term was coined by Michael Jacobson, director of the
Center for Science in the Public Interest
Center for Science in the Public Interest
Center for Science in the Public Interest is a Washington, D.C.-based non-profit watchdog and consumer advocacy group focusing on nutritional education and awareness.-History and funding:...
, in 1972.
Junk foods are typically ready-to-eat
convenience food
Convenience food
Convenience food, or tertiary processed food, is commercially prepared food designed for ease of consumption. Products designated as convenience foods are often prepared food stuffs that can be sold as hot, ready-to-eat dishes; as room-temperature, shelf-stable products; or as refrigerated or...
s containing high levels of
saturated fat
Saturated fat
Saturated fat is fat that consists of triglycerides containing only saturated fatty acids. Saturated fatty acids have no double bonds between the individual carbon atoms of the fatty acid chain. That is, the chain of carbon atoms is fully "saturated" with hydrogen atoms...
s,
salt
Salt
In chemistry, salts are ionic compounds that result from the neutralization reaction of an acid and a base. They are composed of cations and anions so that the product is electrically neutral...
, or
sugar
Sugar
Sugar is a class of edible crystalline carbohydrates, mainly sucrose, lactose, and fructose, characterized by a sweet flavor.Sucrose in its refined form primarily comes from sugar cane and sugar beet...
, and little or no
fruit
Fruit
In broad terms, a fruit is a structure of a plant that contains its seeds.The term has different meanings dependent on context. In non-technical usage, such as food preparation, fruit normally means the fleshy seed-associated structures of certain plants that are sweet and edible in the raw state,...
,
vegetable
Vegetable
The noun vegetable usually means an edible plant or part of a plant other than a sweet fruit or seed. This typically means the leaf, stem, or root of a plant....
s, or
dietary fiber
Dietary fiber
Dietary fiber, dietary fibre, or sometimes roughage is the indigestible portion of plant foods having two main components:* soluble fiber that is readily fermented in the colon into gases and physiologically active byproducts, and* insoluble fiber that is metabolically inert, absorbing water as it...
; and are considered to have little or no health benefits. Common junk foods include salted snack foods like chips (crisps), candy, gum, most sweet desserts, fried fast food and carbonated beverages (sodas) as well as alcoholic beverages. High-sugar cereals, particularly those targeted at children, such as
Froot Loops
Froot Loops
Froot Loops is a brand of breakfast cereal produced by Kellogg's and sold in Hungary, Mexico, Canada, New Zealand, Australia, the United States, South Korea, Philippines, Thailand, Germany, The Middle East, The Caribbean, South Africa, Latin America, Sweden and Finland...
, are also classified as junk food. -
Health effects
A study by Paul Johnson and Paul Kenny at The Scripps Research Institute(2008) suggested that junk food consumption alters brain activity in a manner similar to addictive drugs like
cocaine
Cocaine
Cocaine is a crystalline tropane alkaloid that is obtained from the leaves of the coca plant. The name comes from "coca" in addition to the alkaloid suffix -ine, forming cocaine. It is a stimulant of the central nervous system, an appetite suppressant, and a topical anesthetic...
or
heroin
. After many weeks with unlimited access to junk food, the pleasure centers of rat brains became desensitized, requiring more food for pleasure. After the junk food was taken away and replaced with a
healthy diet
Healthy diet
A healthy diet is one that helps maintain or improve general health. It is important for lowering many chronic health risks, such as obesity, heart disease, diabetes, hypertension and cancer. A healthy diet involves consuming appropriate amounts of all essential nutrients and an adequate amount of...
, the rats starved for two weeks instead of eating nutritious fare. A 2007
British Journal of Nutrition
study found that mothers who eat junk food during pregnancy increased the likelihood of unhealthy eating habits in their children.
A report published in the Journal of the Federation of America suggests that babies of mothers with a high-sugar and high-fat diet while pregnant are more prone to junk food themselves. The study was conducted on rats and suggests that "infants whose mothers eat excessive amounts of high-fat, high-sugar junk foods when pregnant or breastfeeding are likely to have a greater preference for these foods later in life."
A 2008 report suggests that mothers who eat junk food while pregnant or breast-feeding have children who are more prone to obesity. The children are also more prone to diabetes, raised cholesterol, and high blood fat.
External links