 Stout Scarab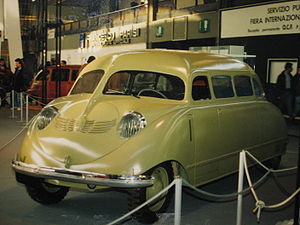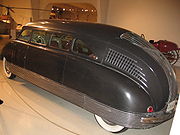 The
Stout Scarab
is a unique 1930s
U.S
United States
The United States of America is a federal constitutional republic comprising fifty states and a federal district...
automobile produced in small numbers by Stout Engineering Laboratories and later by Stout Motor Car Company of
Detroit, Michigan
Detroit, Michigan
Detroit is the major city among the primary cultural, financial, and transportation centers in the Metro Detroit area, a region of 5.2 million people. As the seat of Wayne County, the city of Detroit is the largest city in the U.S. state of Michigan and serves as a major port on the Detroit River...
.
Among a host of novelties and innovations, the Stout Scarab is credited by many as the
world's first production
minivan
Minivan
Minivan is a type of van designed for personal use. Minivans are typically either two-box or one box designs for maximum interior volume – and are taller than a sedan, hatchback, or a station wagon....
, and an experimental prototype of the Scarab became the world's first car with a fibreglass bodyshell.
Description
The Scarab was unlike other cars of the era. Virtually all production cars at the time used a separate chassis and body, with a long compartment in the front, housing the engine, longitudinally placed behind the front axle, and a rearward passenger compartment. The front-mounted engine would typically drive the rear axle through a connecting drive shaft running underneath the floor of the vehicle. This layout worked very well, but had severe limitations where space utilization was concerned.
Instead, the Scarab did away with the chassis and drive-shaft, to create a low, flat floor for the interior, by using a unitized body structure, and by placing the
Ford
Ford Motor Company
Ford Motor Company is an American multinational automaker based in Dearborn, Michigan, a suburb of Detroit. The automaker was founded by Henry Ford and incorporated on June 16, 1903. In addition to the Ford and Lincoln brands, Ford also owns a small stake in Mazda in Japan and Aston Martin in the UK...
-built
V8 engine
Ford Flathead engine
The Ford flathead V8 was a V8 engine of the flathead type, designed by the Ford Motor Company and built by Ford and various licensees...
in the rear of the vehicle. The car's creator - motorcar and aviation engineer and journalist William B. Stout, envisioned his travelling machine to be an office on wheels. To that end, the Scarab's body, styled by John Tjaarda, a well known Dutch automobile engineer, closely followed the construction of an aluminium aircraft fuselage.
Featuring a very short, streamlined nose and tapering upper body at the rear, it foreshadowed the contemporary monospace (or one-box) MPV or
Minivan
Minivan
Minivan is a type of van designed for personal use. Minivans are typically either two-box or one box designs for maximum interior volume – and are taller than a sedan, hatchback, or a station wagon....
) design — featuring
a removable table and second row seats that turn 180 degrees to face the rear
— a feature that Chrysler currently markets as
Swivel 'n Go.
Although reminiscent of the
Chrysler Airflow
Chrysler Airflow
The Chrysler Airflow is an automobile produced by the Chrysler Corporation from 1934-1937. The Airflow was the first full-size American production car to use streamlining as a basis for building a sleeker automobile, one less susceptible to air resistance...
streamliner
Streamliner
A streamliner is a vehicle incorporating streamlining in a shape providing reduced air resistance. The term is applied to high-speed railway trainsets of the 1930s to 1950s, and to their successor "bullet trains". Less commonly, the term is applied to fully faired recumbent bicycles...
, and aerodynamically efficient, it was generally considered ugly at the time. Today its futuristic design and curvaceous, finely detailed nose earn it respect as an
Art Deco
Art Deco
Art deco , or deco, is an eclectic artistic and design style that began in Paris in the 1920s and flourished internationally throughout the 1930s, into the World War II era. The style influenced all areas of design, including architecture and interior design, industrial design, fashion and...
icon.
Innovative features
Regardless of how the exterior is perceived, the main focus of the car was its interior. By discarding the usual running-boards and expanding the cabin to the full width of the car, as well as using a long, 135 inches (3,429 mm)
wheelbase
Wheelbase
In both road and rail vehicles, the wheelbase is the distance between the centers of the front and rear wheels.- Road :In automobiles, the wheelbase is the horizontal distance between the center of the front wheel and the center of the rear wheel...
, the Scarab offered a more spacious interior than any American car of its time. Space was further maximized by placing the engine directly over the rear axle, and moving the driver far forward, so that the steering wheel was almost directly above the front wheels. Passengers entered through a single, large common door, and encountered a flexible seating system, that could be configured in almost any arrangement imaginable, except for the driver, whose seat was fixed. Rivalling the seating in modern MPVs, such as the
Chrysler Voyager
Chrysler Voyager
The Chrysler Voyager or Chrysler Grand Voyager is a minivan sold by the Chrysler division of American automobile manufacturer Chrysler Group LLC...
or
Renault Espace
Renault Espace
The Renault Espace is a large MPV from French car-maker Renault. Generations 1-3 were sold under the Renault brand but manufactured by Matra. The current fourth generation model, which seats seven passengers, is an all-Renault product; the Renault Grand Espace is a long-wheelbase version with...
, there was even a small card table which could be fitted anywhere among the passenger seats if so required. Interiors were appointed in
leather
Leather
Leather is a durable and flexible material created via the tanning of putrescible animal rawhide and skin, primarily cattlehide. It can be produced through different manufacturing processes, ranging from cottage industry to heavy industry.-Forms:...
,
chrome
Chrome plating
Chrome plating, often referred to simply as chrome, is a technique of electroplating a thin layer of chromium onto a metal object. The chromed layer can be decorative, provide corrosion resistance, ease cleaning procedures, or increase surface hardness.-Process:A component to be chrome plated will...
and wood. Design elements also worked in a stylized ancient Egyptian "
scarab
Scarab
Scarab may refer to:Vehicles* Stout Scarab, limited production automobile* Scammell Scarab - A small, 3-wheeled articulated lorry tractor unit produced 1948-1967* Scarab Other* Scarab of Ancient Egypt...
" motif, including the car's emblem. Visibility to the front and sides was similar to that of an
observation car
Observation car
An observation car/carriage/coach is a type of railroad passenger car, generally operated in a passenger train as the last carriage, with windows on the rear of the car for passengers' viewing pleasure...
, although rearward vision was almost nil and there were no rear-view mirrors.
The innovations did not end with the car's layout and body design. In an era where almost everything on the road had
rigid axles
Beam axle
A beam axle is a suspension system, also called a solid axle, in which one set of wheels is connected laterally by a single beam or shaft...
with leaf springs, the Scarab featured
independent suspension
Independent suspension
Independent suspension is a broad term for any automobile suspension system that allows each wheel on the same axle to move vertically independently of each other. This is contrasted with a beam axle, live axle or deDion axle system in which the wheels are linked – movement on one side affects...
using
coil spring
Coil spring
A Coil spring, also known as a helical spring, is a mechanical device, which is typically used to store energy and subsequently release it, to absorb shock, or to maintain a force between contacting surfaces...
s on all four corners, providing a smoother, quieter ride. The
rear-engine
Rear-engine design
In automobile design, a rear-engine design layout places the engine at the rear of the vehicle. The center of gravity of the engine itself is past the rear axle...
-induced weight bias coupled to the coil spring suspension endowed the Scarab with very good handling and traction. The rear
swing axle
Swing axle
A swing axle is a simple type of independent suspension first used in early aircraft , such as the Sopwith and Fokker, usually with rubber bungee and no damping....
suspension with long coil spring struts was inspired by aircraft landing gear. The Scarab suspension would itself inspire the later
Chapman strut
Chapman strut
The Chapman strut is a design of independent rear suspension used for light cars, particularly sports and racing cars. It takes its name from, and is best known for its use by, Colin Chapman of Lotus....
used by
Lotus
Lotus Cars
Lotus Cars is a British manufacturer of sports and racing cars based at the former site of RAF Hethel, a World War II airfield in Norfolk. The company designs and builds race and production automobiles of light weight and fine handling characteristics...
from their Lotus Twelve model of 1957.
The famous Ford flathead V8 drove the rear wheels via a custom Stout-built three-speed manual,
transaxle
Transaxle
In the automotive field, a transaxle is a major mechanical component that combines the functionality of the transmission, the differential, and associated components of the driven axle into one integrated assembly....
transmission. The engine was reversed from its normal position, mounted directly over the rear axle and with the flywheel and clutch facing forwards. The transmission was mounted ahead of this, reversing and lowering the driveline back to the axle. This unusual layout would later be repeated by the
Lamborghini Countach
Lamborghini Countach
The Lamborghini Countach is a mid-engined supercar that was produced by Italian automaker Lamborghini from 1974 to 1990. Its design both pioneered and popularized the wedge-shaped, sharply angled look popular in many high performance sports cars...
.
Production
The first running prototype of the Scarab was completed in 1932, probably the first car ever with an
aluminium
Aluminium
Aluminium or aluminum is a silvery white member of the boron group of chemical elements. It has the symbol Al, and its atomic number is 13. It is not soluble in water under normal circumstances....
spaceframe unit-construction body, although the frame parts were steel. The second Scarab, completed in 1935, was an evolution of the first, incorporating some styling and mechanical changes. The headlamps were set behind a fine, vertical-bar grille, and at the rear, narrow chrome bars curved from the back window down to the bumper, giving the car its Art Deco appearance. For economy reasons the body was now steel.
Stout issued a statement that the car would be manufactured in limited quantities and sold to those who were invited to buy. Up to a hundred a year were to be made in a small factory at the corner of Scott Street and Telegraph Road (U.S. 24),
Dearborn, Michigan
Dearborn, Michigan
-Economy:Ford Motor Company has its world headquarters in Dearborn. In addition its Dearborn campus contains many research, testing, finance and some production facilities. Ford Land controls the numerous properties owned by Ford including sales and leasing to unrelated businesses such as the...
. Although the Scarab garnered acres of press coverage, at $5,000 (equivalent to $80,000 in 2010, when a luxurious and ultra-modern
Chrysler Imperial
Chrysler Imperial
The Chrysler Imperial, introduced in 1926, was the company's top of the range vehicle for much of its history. Models were produced with the Chrysler name until 1954, and again from 1990 to 1993. The company tried to position the cars as a prestige marque that would rival Cadillac and Lincoln...
Airflow cost just $1,345), very few would pay this hefty premium for innovation, and total production of the Scarab amounted to no more than nine units. The vehicles were completely hand-built and no two Scarabs were identical.
Apart from the nine metal specimens, Stout built one other Scarab, featuring the world's first glass-fibre reinforced plastic body shell. Like its metal counterparts, it too was a
monocoque
Monocoque
Monocoque is a construction technique that supports structural load by using an object's external skin, as opposed to using an internal frame or truss that is then covered with a non-load-bearing skin or coachwork...
, built up out of only eight separate pieces and featuring
air suspension
Air suspension
Air suspension is a type of vehicle suspension powered by an engine driven or electric air pump or compressor. This pump pressurizes the air, using compressed air as a spring. Air suspension replaces conventional steel springs. If the engine is left off for an extended period, the car will settle...
for good measure.
Immediately following
World War II
World War II
World War II, or the Second World War , was a global conflict lasting from 1939 to 1945, involving most of the world's nations—including all of the great powers—eventually forming two opposing military alliances: the Allies and the Axis...
, Stout built one more prototype Scarab. It was shown in 1946 and was more conventional in appearance, although still equipped with a rear engine. It never went into production.
Stout owned and drove his own Scarab, accumlating over 250,000 miles in travel around the United States.
Up to five Scarabs are reported to survive today. A 1935 Scarab in running condition is on display at the Owls Head Transportation Museum in
Owls Head, Maine
Owls Head, Maine
Owls Head is a town in Knox County, Maine, United States. The population was 1,601 at the 2000 census. A resort and fishing area, the community is home to the Knox County Regional Airport...
.
Literature/Media
Kimes, Beverly R., Clark, Henry A., Standard Catalog of American Cars 1805–1942. Kraus Publications, 1996, ISBN 0-87341-428-4
The Stout Scarab is one of 15 hidden vehicles that can be driven in the 2011 video game L.A. Noire

L.A. Noire

L.A. Noire is a 2011 crime video game developed by Team Bondi and published by Rockstar Games. It was released for PlayStation 3, Xbox 360, Microsoft Windows. It was released as a 3-disc game for the Xbox 360 console, which prompts the player to switch to another disc at certain points in the...


.
External links