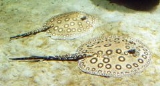 Potamotrygonidae
River stingrays
are Neotropical freshwater fishes of the
Potamotrygonidae
family
Family (biology)
In biological classification, family is* a taxonomic rank. Other well-known ranks are life, domain, kingdom, phylum, class, order, genus, and species, with family fitting between order and genus. As for the other well-known ranks, there is the option of an immediately lower rank, indicated by the...
(order
Myliobatiformes
Myliobatiformes
Myliobatiformes is one of the four orders of batoids, cartilaginous fishes related to sharks. They were formerly included in the order Rajiformes, but more recent phylogenetic studies have shown that the myliobatiforms are a monophyletic group, and that its more derived members evolved their...
).
They are native to northern, central and eastern
South America
South America
South America is a continent situated in the Western Hemisphere, mostly in the Southern Hemisphere, with a relatively small portion in the Northern Hemisphere. The continent is also considered a subcontinent of the Americas. It is bordered on the west by the Pacific Ocean and on the north and east...
, living in rivers that drain into the
Caribbean
Caribbean
The Caribbean is a crescent-shaped group of islands more than 2,000 miles long separating the Gulf of Mexico and the Caribbean Sea, to the west and south, from the Atlantic Ocean, to the east and north...
, and into the Atlantic as far south as the
Río de la Plata
Río de la Plata
The Río de la Plata —sometimes rendered River Plate in British English and the Commonwealth, and occasionally rendered [La] Plata River in other English-speaking countries—is the river and estuary formed by the confluence of the Uruguay River and the Paraná River on the border between Argentina and...
in
Argentina
Argentina
Argentina , officially the Argentine Republic , is the second largest country in South America by land area, after Brazil. It is constituted as a federation of 23 provinces and an autonomous city, Buenos Aires...
. Generally, each species is native to a single river basin, and the greatest
species diversity
Species diversity
Species diversity is an index that incorporates the number of species in an area and also their relative abundance. It is a more comprehensive value than species richness....
can be found in the
Amazon
Amazon Basin
The Amazon Basin is the part of South America drained by the Amazon River and its tributaries that drains an area of about , or roughly 40 percent of South America. The basin is located in the countries of Bolivia, Brazil, Colombia, Ecuador, Guyana, Peru, and Venezuela...
.
River stingrays are almost circular in shape, and range in size from
Potamotrygon schuhmacheri
, which reaches 25 centimetres (9.8 in) in diameter, to the
Short-tailed river stingray
Short-tailed river stingray
The Short-tailed river stingray is a species of river stingray native to South America; they are known to inhabit Paraguay, Uruguay and Argentina basins...
,
P. brachyura
, which grows up to 1.5 metres (4.9 ft) in diameter. The upper surface is covered with denticles (sharp tooth-like scales). Most species are brownish or greyish and often have distinctive spotted or mottled patterns, but a few species are largely blackish with contrasting white spots.
They have a venomous caudal sting, and are one of the most feared freshwater fishes in the Neotropical region, sometimes more feared than
piranha
Piranha
A piranha or piraña is a member of family Characidae in order Characiformes, an omnivorous freshwater fish that inhabits South American rivers. In Venezuela, they are called caribes...
s and
electric eel
Electric eel
The electric eel , is an electric fish, and the only species of the genus Electrophorus. It is capable of generating powerful electric shocks, of up to six hundred volts, which it uses for both hunting and self-defense. It is an apex predator in its South American range...
s. However, they are not dangerous unless stepped on or otherwise threatened.
River stingrays are the only family of batoids completely restricted to
fresh water
Fresh Water
Fresh Water is the debut album by Australian rock and blues singer Alison McCallum, released in 1972. Rare for an Australian artist at the time, it came in a gatefold sleeve...
habitats; while there are true freshwater species in the family Dasyatidae, for example
Himantura chaophraya
, the majority of species in this family are saltwater fish.
Species
The
taxonomy
Taxonomy
Taxonomy is the science of identifying and naming species, and arranging them into a classification. The field of taxonomy, sometimes referred to as "biological taxonomy", revolves around the description and use of taxonomic units, known as taxa...
of the river stingrays is complex and
undescribed
Binomial nomenclature
Binomial nomenclature is a formal system of naming species of living things by giving each a name composed of two parts, both of which use Latin grammatical forms, although they can be based on words from other languages...
species remain.