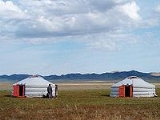 Steppe
In
physical geography
Physical geography
Physical geography is one of the two major subfields of geography. Physical geography is that branch of natural science which deals with the study of processes and patterns in the natural environment like the atmosphere, biosphere and geosphere, as opposed to the cultural or built environment, the...
, steppe (from
Russian
Russian language
Russian is a Slavic language used primarily in Russia, Belarus, Uzbekistan, Kazakhstan, Tajikistan and Kyrgyzstan. It is an unofficial but widely spoken language in Ukraine, Moldova, Latvia, Turkmenistan and Estonia and, to a lesser extent, the other countries that were once constituent republics...
степь, "steppe," further derivation unknown) is an
ecoregion
Ecoregion
An ecoregion , sometimes called a bioregion, is an ecologically and geographically defined area that is smaller than an ecozone and larger than an ecosystem. Ecoregions cover relatively large areas of land or water, and contain characteristic, geographically distinct assemblages of natural...
, in the
montane grasslands and shrublands
Montane grasslands and shrublands
Montane grasslands and shrublands is a biome defined by the World Wildlife Fund. The biome includes high altitude grasslands and shrublands around the world....
and
temperate grasslands, savannas, and shrublands
Temperate grasslands, savannas, and shrublands
Temperate grasslands, savannas, and shrublands is a terrestrial biome whose predominant vegetation consists of grasses and/or shrubs. The climate is temperate and semi-arid to semi-humid....
biome
Biome
Biomes are climatically and geographically defined as similar climatic conditions on the Earth, such as communities of plants, animals, and soil organisms, and are often referred to as ecosystems. Some parts of the earth have more or less the same kind of abiotic and biotic factors spread over a...
s, characterized by
grassland
Grassland
Grasslands are areas where the vegetation is dominated by grasses and other herbaceous plants . However, sedge and rush families can also be found. Grasslands occur naturally on all continents except Antarctica...
plain
Plain
In geography, a plain is land with relatively low relief, that is flat or gently rolling. Prairies and steppes are types of plains, and the archetype for a plain is often thought of as a grassland, but plains in their natural state may also be covered in shrublands, woodland and forest, or...
s without
tree
Tree
A tree is a perennial woody plant. It is most often defined as a woody plant that has many secondary branches supported clear of the ground on a single main stem or trunk with clear apical dominance. A minimum height specification at maturity is cited by some authors, varying from 3 m to...
s apart from those near rivers and lakes. The
prairie
Prairie
Prairies are considered part of the temperate grasslands, savannas, and shrublands biome by ecologists, based on similar temperate climates, moderate rainfall, and grasses, herbs, and shrubs, rather than trees, as the dominant vegetation type...
(especially the
shortgrass
Shortgrass prairie
The shortgrass prairie ecosystem of the North American Great Plains is a prairie that includes lands from the eastern foothills of the Rocky Mountains east to Nebraska and Saskatchewan, including rangelands in Alberta, Wyoming, Montana, North, South Dakota, and Kansas, and extending to the south...
and mixed prairie) is an example of a steppe, though it is not usually called such. It may be semi-
desert
Desert
A desert is a landscape or region that receives an extremely low amount of precipitation, less than enough to support growth of most plants. Most deserts have an average annual precipitation of less than...
, or covered with
grass
Poaceae
The Poaceae is a large and nearly ubiquitous family of flowering plants. Members of this family are commonly called grasses, although the term "grass" is also applied to plants that are not in the Poaceae lineage, including the rushes and sedges...
or
shrub
Shrub
A shrub or bush is distinguished from a tree by its multiple stems and shorter height, usually under 5–6 m tall. A large number of plants may become either shrubs or trees, depending on the growing conditions they experience...
s or both, depending on the
season
Season
A season is a division of the year, marked by changes in weather, ecology, and hours of daylight.Seasons result from the yearly revolution of the Earth around the Sun and the tilt of the Earth's axis relative to the plane of revolution...
and
latitude
Latitude
In geography, the latitude of a location on the Earth is the angular distance of that location south or north of the Equator. The latitude is an angle, and is usually measured in degrees . The equator has a latitude of 0°, the North pole has a latitude of 90° north , and the South pole has a...
. The term is also used to denote the
climate
Climate
Climate encompasses the statistics of temperature, humidity, atmospheric pressure, wind, rainfall, atmospheric particle count and other meteorological elemental measurements in a given region over long periods...
encountered in regions too dry to support a
forest
Forest
A forest, also referred to as a wood or the woods, is an area with a high density of trees. As with cities, depending where you are in the world, what is considered a forest may vary significantly in size and have various classification according to how and what of the forest is composed...
, but not dry enough to be a desert.