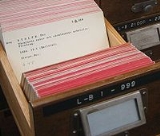 Index card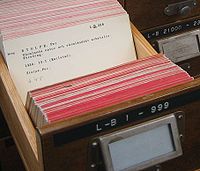 An
index card
consists of heavy
paper
Paper
Paper is a thin material mainly used for writing upon, printing upon, drawing or for packaging. It is produced by pressing together moist fibers, typically cellulose pulp derived from wood, rags or grasses, and drying them into flexible sheets....
stock cut to a standard size, used for recording and storing small amounts of discrete data. It was invented by Carl Linnaeus, around 1760.
The most common
size
Paper size
Many paper size standards conventions have existed at different times and in different countries. Today there is one widespread international ISO standard and a localised standard used in North America . The paper sizes affect writing paper, stationery, cards, and some printed documents...
for index cards in
North America
North America
North America is a continent wholly within the Northern Hemisphere and almost wholly within the Western Hemisphere. It is also considered a northern subcontinent of the Americas...
and
Russia
Russia
Russia or , officially known as both Russia and the Russian Federation , is a country in northern Eurasia. It is a federal semi-presidential republic, comprising 83 federal subjects...
is 3 by, hence the common name
3-by-5 card
. Other sizes widely available include 4 by, 5 by and ISO-size A7 (74 by). Cards are available in blank, ruled and grid styles in a variety of colors. Special divider cards with protruding tabs and a variety of cases and trays to hold the cards are also sold by stationers and office product companies. They are part of standard stationary and office supplies in the United States, but in other countries, such as China, are not.
Index cards are used for a wide range of applications and environments: in the home to record and store recipes, shopping lists, contact information and other organizational data; in business to record presentation notes, project research and notes and contact information; in schools as flash cards or other visual aids; and in academic research to hold data such as bibliographical citations or notes. An often-suggested organization method is to use the smaller 3-inch by 5-inch cards to record the title and citation information of works cited, while using larger cards for recording quotes or other data. Index cards are used for many events and are very helpful for planning.
Until the conversion of library catalogs beginning in the 1980s, the primary tool used to locate books was the card catalog in which every book was filed with three cards, filed alphabetically under its title, author and subject (if non-fiction.) Similar catalogs were used by law firms and other organizations to organize large quantities of stored documents. However, the adoption of standard cataloging protocols throughout nations with international agreements, along with the rise of the Internet and the conversion of cataloging systems to digital storage and retrieval, have made widespread use of index cards for cataloging purposes obsolete.
History
Using cards to create an index was the brainchild of 18th century naturalist Carl Linnaeus, who is known as "the father of modern taxonomy" for his work on categorizing species. He needed a system for organizing data that was expandable and able to be rearranged easily, so he kept each datum on individual sheets and could add new sheets and reorganize simply.
Card catalogs as we know them arose in the 19th century, and Melvil Dewey standardized the index cards used in library card catalogs in the 1870s.
In the late 1890s, edge-notched cards were invented, which allowed for easy sorting of data by means of a needle-like tool. These edge-notched cards were phased out in the 1980s in favor of computer databases, and they are no longer sold.
See also
External links