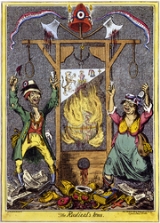 State terrorism
State terrorism
may refer to acts of
terrorism
Terrorism
Terrorism is the systematic use of terror, especially as a means of coercion. In the international community, however, terrorism has no universally agreed, legally binding, criminal law definition...
conducted by a state against a foreign state or people. It can also refer to acts of violence by a state against its own people.
Definition
There is neither an academic nor an international legal consensus regarding the proper definition of the word "terrorism". Many scholars believe that the actions of governments can be labeled "terrorism"; however others, including governments, international organizations, private institutions and scholars, believe that the term is only applicable to the actions of non-state actors. Historically, the term terrorism was used to refer to actions taken by governments against their citizens whereas now it is more often perceived as targeting of civilians as part of a strategy directed
against
governments. Historian Henry Commager wrote that "Even when definitions of terrorism allow for
state terrorism
, state actions in this area tend to be seen through the prism of war or national self-defense, not terror." While states may accuse other states of
state-sponsored terrorism
State-sponsored terrorism
State-sponsored terrorism is a term used to describe terrorism sponsored by nation-states. As with terrorism, the precise definition, and the identification of particular examples, are subjects of heated political dispute...
when they support insurgencies, individuals who accuse their governments of terrorism are seen as radicals, because actions by legitimate governments are not generally seen as illegitimate. Academic writing tends to follow the definitions accepted by states. Most states use the term "terrorism" for non state actors only.
The Encyclopædia Britannica Online defines terrorism generally as "the systematic use of violence to create a general climate of fear in a population and thereby to bring about a particular political objective", and states that "terrorism is not legally defined in all jurisdictions." The encyclopedia adds that "[e]stablishment terrorism, often called state or state-sponsored terrorism, is employed by governments -- or more often by factions within governments -- against that government's citizens, against factions within the government, or against foreign governments or groups."
While the most common modern usage of the word terrorism refers to civilian-victimizing political violence by
insurgent
Insurgency
An insurgency is an armed rebellion against a constituted authority when those taking part in the rebellion are not recognized as belligerents...
s or conspirators, several scholars make a broader interpretation of the nature of terrorism that encompasses the concepts of state terrorism and
state-sponsored terrorism
State-sponsored terrorism
State-sponsored terrorism is a term used to describe terrorism sponsored by nation-states. As with terrorism, the precise definition, and the identification of particular examples, are subjects of heated political dispute...
.
Michael Stohl
Michael Stohl
Michael Stohl is Professor and Chair of the Department of Communication at the University of California, Santa Barbara. He researches organizational and political communication with special focus on terrorism, human rights and global relations. He has been a guest commentator on National Public...
argues, "The use of terror tactics is common in
international relations
International relations
International relations is the study of relationships between countries, including the roles of states, inter-governmental organizations , international nongovernmental organizations , non-governmental organizations and multinational corporations...
and the state has been and remains a more likely employer of terrorism within the international system than insurgents. Stohl clarifies, however, that "[n]ot all acts of state
violence
Violence
Violence is the use of physical force to apply a state to others contrary to their wishes. violence, while often a stand-alone issue, is often the culmination of other kinds of conflict, e.g...
are terrorism. It is important to understand that in terrorism the violence threatened or perpetrated, has purposes broader than simple physical harm to a victim. The audience of the act or
threat
Threat
Threat of force in public international law is a situation between states described by British lawyer Ian Brownlie as:The 1969 Vienna convention on the Law of Treaties notes in its preamble that both the threat and the use of force are prohibited...
of violence is more important than the immediate victim."
Scholar Gus Martin describes state terrorism as terrorism "committed by governments and quasi-governmental agencies and personnel against perceived threats", which can be directed against both domestic and foreign targets.
Noam Chomsky
Noam Chomsky
Avram Noam Chomsky is an American linguist, philosopher, cognitive scientist, and activist. He is an Institute Professor and Professor in the Department of Linguistics & Philosophy at MIT, where he has worked for over 50 years. Chomsky has been described as the "father of modern linguistics" and...
defines state terrorism as "terrorism practised by states (or governments) and their agents and allies". Jeffrey A. Sluka has described Noam Chomsky and
Edward S. Herman
Edward S. Herman
Edward S. Herman is an American economist and media analyst with a specialty in corporate and regulatory issues as well as political economy and the media. He is Professor Emeritus of Finance at the Wharton School of the University of Pennsylvania. He also teaches at Annenberg School for...
as pioneers in academic studies about state terrorism.
Michael Stohl
Michael Stohl
Michael Stohl is Professor and Chair of the Department of Communication at the University of California, Santa Barbara. He researches organizational and political communication with special focus on terrorism, human rights and global relations. He has been a guest commentator on National Public...
and
George A. Lopez
George A. Lopez
George A. Lopez is a founding faculty of the Kroc Institute for International Peace Studies at the University of Notre Dame where he holds the Rev. Theodore M. Hesburgh, C.S.C. Chair in Peace Studies...
have designated three categories of state terrorism, based on the openness/secrecy with which the alleged terrorist acts are performed, and whether states directly perform the acts, support them, or acquiesce to them.
History
Aristotle
Aristotle
Aristotle was a Greek philosopher and polymath, a student of Plato and teacher of Alexander the Great. His writings cover many subjects, including physics, metaphysics, poetry, theater, music, logic, rhetoric, linguistics, politics, government, ethics, biology, and zoology...
wrote critically of terror employed by
tyrant
Tyrant
A tyrant was originally one who illegally seized and controlled a governmental power in a polis. Tyrants were a group of individuals who took over many Greek poleis during the uprising of the middle classes in the sixth and seventh centuries BC, ousting the aristocratic governments.Plato and...
s against their subjects. The earliest use of the word
terrorism
identified by the
Oxford English Dictionary
Oxford English Dictionary
The Oxford English Dictionary , published by the Oxford University Press, is the self-styled premier dictionary of the English language. Two fully bound print editions of the OED have been published under its current name, in 1928 and 1989. The first edition was published in twelve volumes , and...
is a 1795 reference to tyrannical state behavior, the "reign of terrorism" in France. In that same year,
Edmund Burke
Edmund Burke
Edmund Burke PC was an Irish statesman, author, orator, political theorist and philosopher who, after moving to England, served for many years in the House of Commons of Great Britain as a member of the Whig party....
famously decried the "thousands of those hell-hounds called terrorists" who he believed threatened Europe. During the
Reign of Terror
Reign of Terror
The Reign of Terror , also known simply as The Terror , was a period of violence that occurred after the onset of the French Revolution, incited by conflict between rival political factions, the Girondins and the Jacobins, and marked by mass executions of "enemies of...
, the
Jacobin
Jacobin Club
The Jacobin Club was the most famous and influential political club in the development of the French Revolution, so-named because of the Dominican convent where they met, located in the Rue St. Jacques , Paris. The club originated as the Club Benthorn, formed at Versailles from a group of Breton...
government and other factions of the
French Revolution
French Revolution
The French Revolution , sometimes distinguished as the 'Great French Revolution' , was a period of radical social and political upheaval in France and Europe. The absolute monarchy that had ruled France for centuries collapsed in three years...
used the apparatus of the state to execute and intimidate political opponents, and the Oxford English Dictionary includes as one definition of terrorism "Government by intimidation carried out by the party in power in France between 1789-1794". The original general meaning of terrorism was of terrorism by the state, as reflected in the 1798 supplement of the Dictionnaire of the
Académie française
Académie française
L'Académie française , also called the French Academy, is the pre-eminent French learned body on matters pertaining to the French language. The Académie was officially established in 1635 by Cardinal Richelieu, the chief minister to King Louis XIII. Suppressed in 1793 during the French Revolution,...
, which described terrorism as
systeme
,
regime de la terreur
. Dr Myra Williamson wrote: "The meaning of "terrorism" has undergone a transformation. During the reign of terror a regime or system of terrorism was used as an instrument of governance, wielded by a recently established revolutionary state against the enemies of the people. Now the term "terrorism" is commonly used to describe terrorist acts committed by
non-state or subnational entities
against a state. (italics in original)
Later exemplars of state terrorism were the police state measures employed by the Soviet Union beginning in the 1920s, and by Germany's
Nazi regime
Nazi Germany
Nazi Germany , also known as the Third Reich , but officially called German Reich from 1933 to 1943 and Greater German Reich from 26 June 1943 onward, is the name commonly used to refer to the state of Germany from 1933 to 1945, when it was a totalitarian dictatorship ruled by...
in the 1930s and 1940s. According to Igor Primoratz, "Both [the Nazis and Soviets] sought to impose total political control on society. Such a radical aim could only be pursued by a similarly radical method: by terrorism directed by an extremely powerful political police at an atomized and defenseless population. Its success was due largely to its arbitrary character — to the unpredictability of its choice of victims. In both countries, the regime first suppressed all opposition; when it no longer had any opposition to speak of, political police took to persecuting "potential" and "objective opponents". In the Soviet Union, it was eventually unleashed on victims chosen at random." The
bombing of Guernica
Bombing of Guernica
The bombing of Guernica was an aerial attack on the Basque town of Guernica, Spain, causing widespread destruction and civilian deaths, during the Spanish Civil War...
has been called an act of terrorism, as well as the 2006 Lebanon War , and other examples of state terrorism may include the World War II bombings of
London
The Blitz
The Blitz was the sustained strategic bombing of Britain by Nazi Germany between 7 September 1940 and 10 May 1941, during the Second World War. The city of London was bombed by the Luftwaffe for 76 consecutive nights and many towns and cities across the country followed...
, Dresden and Hiroshima.
Arguments that terrorism is not committed by states
Discussions of terrorism in social sciences and philosophy tend to apply to violent non-state actors, and some scholars dispute whether the concept of terrorism is properly applied to states.
The Chairman of the United Nations Counter-Terrorism Committee has stated that the twelve previous international conventions on terrorism had never referred to state terrorism, which was not an international legal concept, and that when states abuse their powers they should be judged against international conventions dealing with war crimes, international
human rights
Human rights
Human rights are "commonly understood as inalienable fundamental rights to which a person is inherently entitled simply because she or he is a human being." Human rights are thus conceived as universal and egalitarian . These rights may exist as natural rights or as legal rights, in both national...
and
international humanitarian law
International humanitarian law
International humanitarian law , often referred to as the laws of war, the laws and customs of war or the law of armed conflict, is the legal corpus that comprises "the Geneva Conventions and the Hague Conventions, as well as subsequent treaties, case law, and customary international law." It...
, rather than against international anti-terrorism statutes. In a similar vein,
Kofi Annan
Kofi Annan
Kofi Atta Annan is a Ghanaian diplomat who served as the seventh Secretary-General of the UN from 1 January 1997 to 31 December 2006...
, at the time
United Nations Secretary-General
United Nations Secretary-General
The Secretary-General of the United Nations is the head of the Secretariat of the United Nations, one of the principal organs of the United Nations. The Secretary-General also acts as the de facto spokesperson and leader of the United Nations....
, stated that it is "time to set aside debates on so-called 'state terrorism'. The
use of force by states
Use of force by states
The use of force by states is controlled by both customary international law and by treaty law. The UN Charter reads in article 2:All members shall refrain in their international relations from the threat or use of force against the territorial integrity or political independence of any state, or...
is already regulated under international law" Annan added, "...regardless of the differences between governments on the question of definition of terrorism, what is clear and what we can all agree on is any deliberate attack on innocent civilians, regardless of one's cause, is unacceptable and fits into the definition of terrorism."
Dr.
Bruce Hoffman
Bruce Hoffman
Bruce Hoffman is the Director of the Center for Peace and Security Studies at Georgetown University's Walsh School of Foreign Service and a specialist in the study of terrorism and counter-insurgency...
has argued that failing to differentiate between state and non-state violence ignores the fact that there is a "fundamental qualitative difference between the two types of violence." Hoffman argues that even in war there are rules and accepted norms of behavior that prohibit certain types of weapons and tactics and outlaw attacks on specific categories of targets. For instance, rules codified in the
Geneva
Geneva Conventions
The Geneva Conventions comprise four treaties, and three additional protocols, that establish the standards of international law for the humanitarian treatment of the victims of war...
and Hague conventions on warfare prohibit taking civilians as hostages, outlaw reprisals against either civilians or POW's, recognize neutral territory, etc. Hoffman states that "even the most cursory review of terrorist tactics and targets over the past quarter century reveals that terrorists have violated all these rules." Hoffman also states that when states transgress these rules of war "the term "war crime" is used to describe such acts.
Walter Laqueur
Walter Laqueur
Walter Zeev Laqueur is an American historian and political commentator. He was born in Breslau, Germany , to a Jewish family. In 1938, Laqueur left Germany for the British Mandate of Palestine. His parents, who were unable to leave, became victims of the Holocaust...
has stated that those who argue that state terrorism should be included in studies of terrorism ignore the fact that "The very existence of a
state
Sovereign state
A sovereign state, or simply, state, is a state with a defined territory on which it exercises internal and external sovereignty, a permanent population, a government, and the capacity to enter into relations with other sovereign states. It is also normally understood to be a state which is neither...
is based on its monopoly on violence. If it were different, states would not have the right, nor be in a position, to maintain that minimum of order on which all civilized life rests." Calling the concept a "
red herring
Red herring
A red herring is a deliberate attempt to divert attention.Red herring may refer to:* Red herring , the informal fallacy of presenting an argument that may in itself be valid, but does not address the issue in question....
" he stated: "This argument has been used by the terrorists themselves, arguing that there is no difference between their activities and those by governments and states. It has also been employed by some sympathizers, and rests on the deliberate obfuscation between all kinds of violence..."
Moral analysis
Philosopher Igor Primoratz provides four reasons why he believes that state terrorism is typically morally worse than non-state terrorism. First, because of the nature of the modern state and "the amount and variety of resources" available even for small states, the state mode of terrorism claims vastly more victims than does terrorism by non-state actors. Secondly, because "state terrorism is bound to be compounded by secrecy, deception and hypocrisy", terrorist states typically act with clandestine brutality while publicly professing adherence to "values and principles which rule it out." Thirdly, because unlike non-state actors, states are signatories in
international law
International law
Public international law concerns the structure and conduct of sovereign states; analogous entities, such as the Holy See; and intergovernmental organizations. To a lesser degree, international law also may affect multinational corporations and individuals, an impact increasingly evolving beyond...
s and conventions prohibiting terrorism, so when a state commits acts of terrorism it is "in breach of its own solemn international commitments." Finally, while there may be circumstances where non-state actors are in such an oppressed situation that there may be no alternative but terrorism, Primoratz argues that "it seems virtually impossible that a state should find itself in such circumstances where it has no alternative to resorting to terrorism."
See also
Political repression

Political repression

Political repression is the persecution of an individual or group for political reasons, particularly for the purpose of restricting or preventing their ability to take political life of society....



State-sponsored terrorism

State-sponsored terrorism

State-sponsored terrorism is a term used to describe terrorism sponsored by nation-states. As with terrorism, the precise definition, and the identification of particular examples, are subjects of heated political dispute...



War crimes
External links
Prevention of terrorism