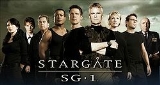 Stargate SG-1
Stargate SG-1
is a
Canadian
Canadian science fiction television
-History of science fiction television in Canada:Science fiction in Canada was produced by the CBC in its early years, notably the series Space Command . Actors such as James Doohan and William Shatner first appeared on Canadian television, before finding success in the United States. In the 1970s,...
-
American
U.S. television science fiction
U.S. television science fiction is a popular genre of television in the United States that has produced many of the best-known and most popular science fiction shows in the world. Most famous of all, and one of the most influential science-fiction series in history, is the iconic Star Trek and its...
adventure
Adventure film
Adventure films are a genre of film.Unlike pure, low-budget action films they often use their action scenes preferably to display and explore exotic locations in an energetic way....
and
military science fiction
Military science fiction
Military science fiction is a subgenre of science fiction in which the principal characters are members of a military service and an armed conflict is taking place, normally in space, or on a planet other than Earth...
television series and part of
Metro-Goldwyn-Mayer
Metro-Goldwyn-Mayer
Metro-Goldwyn-Mayer Inc. is an American media company, involved primarily in the production and distribution of films and television programs. MGM was founded in 1924 when the entertainment entrepreneur Marcus Loew gained control of Metro Pictures, Goldwyn Pictures Corporation and Louis B. Mayer...
's
Stargate franchise
Stargate
Stargate is a adventure military science fiction franchise, initially conceived by Roland Emmerich and Dean Devlin. The first film in the franchise was simply titled Stargate. It was originally released on October 28, 1994, by Metro-Goldwyn-Mayer and Carolco, and became a hit, grossing nearly...
. The show, created by
Brad Wright
Brad Wright
Brad Wright is a Canadian television producer, screenwriter and actor. He is best known as the creator or co-creator of the television series Stargate SG-1 , Stargate Atlantis and Stargate Universe...
and
Jonathan Glassner
Jonathan Glassner
Jonathan Glassner is a television writer, director, and producer. He is known for his involvement with Stargate SG-1 and The Outer Limits. Glassner was initially noticed as a writer for his work on Alfred Hitchcock Presents...
, is based on the 1994 feature film
Stargate
Stargate (film)
Stargate is a 1994 American adventure-military science fiction film released through Metro-Goldwyn-Mayer and Carolco Pictures. Created by Dean Devlin and Roland Emmerich, the film is the first release in the Stargate franchise...
by
Dean Devlin
Dean Devlin
Dean Devlin is an American screenwriter, producer, television director and former actor. He is the founder of the production company Electric Entertainment.-Personal life:...
and
Roland Emmerich
Roland Emmerich
Roland Emmerich is a German film director, screenwriter, and producer.His films, most of which are Hollywood productions filmed in English, have grossed more than $3 billion worldwide, more than those of any other European director...
. The television series was filmed in and around the city of
Vancouver
Vancouver
Vancouver is a coastal seaport city on the mainland of British Columbia, Canada. It is the hub of Greater Vancouver, which, with over 2.3 million residents, is the third most populous metropolitan area in the country,...
,
Canada
Canada
Canada is a North American country consisting of ten provinces and three territories. Located in the northern part of the continent, it extends from the Atlantic Ocean in the east to the Pacific Ocean in the west, and northward into the Arctic Ocean...
. In the United States, Showtime broadcast the first five seasons, from 1997 to 2002, and then the series moved to the
Sci Fi Channel
Syfy
Syfy , formerly known as the Sci-Fi Channel and SCI FI, is an American cable television channel featuring science fiction, supernatural, fantasy, reality, paranormal, wrestling, and horror programming. Launched on September 24, 1992, it is part of the entertainment conglomerate NBCUniversal, a...
for its last five seasons, from 2002 to 2007.
Unlock The Universe

At the edge of the universe lies a gateway to adventure

Saving the Universe. One Planet at a Time.

With a Little Stargate, Anything is Possible

Once you open the Gate, there is no going back.