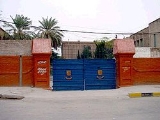 St Mary's Cambridge School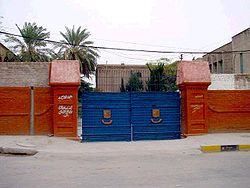 St Mary's Cambridge School
is a high school situated on
Murree Road
Murree Road
Murree Road , is a major road that runs from Rawalpindi to Murree in Pakistan. It has been a hot spot for various political and social events. Nala Lai, famous for its floods, is located along the road in Rawalpindi...
in
Rawalpindi
Rawalpindi
Rawalpindi , locally known as Pindi, is a city in the Pothohar region of Pakistan near Pakistan's capital city of Islamabad, in the province of Punjab. Rawalpindi is the fourth largest city in Pakistan after Karachi, Lahore and Faisalabad...
,
Pakistan
Pakistan
Pakistan , officially the Islamic Republic of Pakistan is a sovereign state in South Asia. It has a coastline along the Arabian Sea and the Gulf of Oman in the south and is bordered by Afghanistan and Iran in the west, India in the east and China in the far northeast. In the north, Tajikistan...
.
History
Saint Mary's Cambridge High School is one of the oldest
independent school
Independent school
An independent school is a school that is independent in its finances and governance; it is not dependent upon national or local government for financing its operations, nor reliant on taxpayer contributions, and is instead funded by a combination of tuition charges, gifts, and in some cases the...
s of Rawalpindi. The first owner of the school was Mr. Faiq Ayubi. It is housed in an old building which was previously used as hospital, named Holy Family Hospital. The hospital moved to its present building in Satellite Town during the early 1960s and the building was handed over to the school. The school is owned and managed by the
Roman Catholic Diocese of Islamabad-Rawalpindi
Roman Catholic Diocese of Islamabad-Rawalpindi
The Roman Catholic Diocese of Islamabad-Rawalpindi is a diocese of the Latin Rite of the Roman Catholic Church in Pakistan....
. It provides religious education in
Islam
Islam
Islam . The most common are and . : Arabic pronunciation varies regionally. The first vowel ranges from ~~. The second vowel ranges from ~~~...
as per the curriculum decided by the local education board.
Location
St. Mary's is located on Murree Road between Liaqat Bagh and Committee Chowk. It was once easily accessible from anywhere in the city and from Islamabad, but with increasing traffic in the city, pupils from areas further afield do not join the school anymore.
Facilities
This school caters only to
boy
Boy
A boy is a young male human , as contrasted to its female counterpart, girl, or an adult male, a man.The term "boy" is primarily used to indicate biological sex distinctions, cultural gender role distinctions or both...
s. The classes are from
Playgroup
Playgroup
Playgroup may refer to:* Pre-school playgroup, a kind of pre-school care*Playgroup , a British dance act*Playgroup , arts and entertainment events in England...
to year 10 (known as Matric). After 8th grade, A and B section are for those students who opt for Biology as their major subject and C is for those who opt for Computer Science. But since 2010, classification of biology and computer was closed, there have been a Board Examination of 8th Grade. All students study science and computer science. There is one book of science, divided into three portions: Biology, Chemistry and Physics.
The school has three main blocks, with a separate block for
primary education
Primary education
A primary school is an institution in which children receive the first stage of compulsory education known as primary or elementary education. Primary school is the preferred term in the United Kingdom and many Commonwealth Nations, and in most publications of the United Nations Educational,...
. It has a playfield used for football and
cricket
Cricket
Cricket is a bat-and-ball game played between two teams of 11 players on an oval-shaped field, at the centre of which is a rectangular 22-yard long pitch. One team bats, trying to score as many runs as possible while the other team bowls and fields, trying to dismiss the batsmen and thus limit the...
; and a
basketball court
Basketball court
In basketball, the basketball court is the playing surface, consisting of a rectangular floor with tiles at either end. In professional or organized basketball, especially when played indoors, it is usually made out of a wood, often maple, and highly polished...
,
volleyball
Volleyball
Volleyball is a team sport in which two teams of six players are separated by a net. Each team tries to score points by grounding a ball on the other team's court under organized rules.The complete rules are extensive...
court and outdoor
badminton
Badminton
Badminton is a racquet sport played by either two opposing players or two opposing pairs , who take positions on opposite halves of a rectangular court that is divided by a net. Players score points by striking a shuttlecock with their racquet so that it passes over the net and lands in their...
court.
Houses
The names of the houses (with their colors and captains) are:
Thysen (yellow), Mr. Flavion Amir
Iqbal (green), Mr. Tanveer Chaudhry
Jinnah (blue), Mr. Abid Mehmood
Liaquat (red), Mr. Nawab Asif
Events
On May 10, 2008, the school was the venue for a
Run for Unity
program. It involved students aged 11–15 in drawing, essay-writing, poetry, song, PowerPoint and video-making competitions. Archbishop
Adolfo Tito Yllana
Adolfo Tito Yllana
Adolfo Tito Yllana was born on 6 February 1948 in Naga City, Philippines. He is a Roman Catholic archbishop, and is presently the Apostolic Nuncio to the Democratic Republic of the Congo. He undertook religious studies from the Holy Rosary Seminary also in the same city. On 19 March 1972 he was...
, the apostolic nuncio to Pakistan, and Bishop
Anthony Lobo
Anthony Theodore Lobo
Anthony Theodore Lobo is a Pakistani Roman Catholic bishop. He was born in Karachi, Pakistan on July 4, 1937 to parents of Goan origin. He received his early education at Saint Patrick's High School and religious training at the Christ the King seminary in Karachi, and was ordained a priest in...
attended.
Notable alumni
Hazrat Sahibzada Sain Shaban Fareed Kalyami, Sajada Nasheen, Darbar-e-Aliya Kalyam Shareef
Rashid Minhas

Rashid Minhas

Pilot Officer Rashid Minhas or Rashid Minhas Shaheed, NH, was a Pilot Officer in the Pakistan Air Force during the 1971 Pakistan-India War. Rashid Minhas, a newly commissioned officer at that time, is the only PAF officer who received the highest valor for his actions...


Shaheed, Nishan-e-Haider

Nishan-e-Haider

Nishan-e-Haider or Nishan-e-Hyder is the highest military decoration given by Pakistan . It was established in 1957 after Pakistan became a Republic, however, it was instituted retrospectively from Independence in 1947...


Pakistan Air Force

Pakistan Air Force

The Pakistan Air Force is the leading air arm of the Pakistan Armed Forces and is primarily tasked with the aerial defence of Pakistan with a secondary role of providing air support to the Pakistan Army and the Pakistan Navy. The PAF also has a tertiary role of providing strategic air transport...



General Asif Nawaz Janjua, Chief of Army Staff Pakistan Army
Wing Commander Mansur Muzaffar, Senior Anaesthetist/Anaesthesiologist,TI(M), MBA (Health and Hospital Administration), UN Award Holder, Pakistan Air Force
Dr. Syed Ghalib Imam Zaidi,FCPS, Neurosurgeon, Riyadh, Saudi Arabia.
Lt. Col. Syed Saeb Imam Zaidi, Telecom Engineer, Pakistan Army.
Syed Saqib Imam Zaidi, Vice President/Regional Manager Commercial, Faysal Bank Limited, Pakistan.
Syed Talib Imam Zaidi, Manager Corporate Finance, Samba Bank, Riyadh, Saudi Arabia.
Fahad Asad PHD

PHD

PHD may refer to:*Ph.D., a doctorate of philosophy*Ph.D. , a 1980s British group*PHD finger, a protein sequence*PHD Mountain Software, an outdoor clothing and equipment company*PhD Docbook renderer, an XML renderer...


in Strategic Leadership

Strategic Leadership

Strategic leadership provides the vision and direction for the growth and success of an organization. To successfully deal with change, all executives need the skills and tools for both strategy formulation and implementation....


USA, Owner of www.asiacouriers.com, and www.howtostudyabroad.org
Commander Haroon ur Rashid Kiani Pak Navy (matric class 1979) Member Pakistan(First Islamic country)
Maj Raja Abdul Rehman,class of 1991,Pak Army
Major Shabbir sharif Shaheed Nishan-e-Haider
External links