 Städel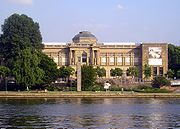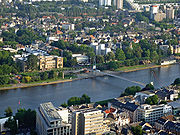 The
Städel
, officially the Städelsches Kunstinstitut und Städtische Galerie, is an art museum in Frankfurt am Main, with one of the most important collections in
Germany
Germany
Germany , officially the Federal Republic of Germany , is a federal parliamentary republic in Europe. The country consists of 16 states while the capital and largest city is Berlin. Germany covers an area of 357,021 km2 and has a largely temperate seasonal climate...
.
The Städel owns 2,700 paintings (of which 600 are displayed) and a collection of 100,000 drawings and prints as well as 600 sculptures. It has around 4,000 m² of display and a library of 100,000 books and 400 periodicals.
History
The Städel was founded in 1815 by the Frankfurt banker and merchant Johann Friedrich Städel. In 1878, a new building, designed according to the
Gründerzeit
Gründerzeit
' refers to the economic phase in 19th century Germany and Austria before the great stock market crash of 1873. At this time in Central Europe the age of industrialisation was taking place, whose beginnings were found in the 1840s...
style, was erected on
Schaumainkai
Schaumainkai
Schaumainkai is a street in central Frankfurt, Germany, running along the south side of the River Main. It includes a number of museums including the Städel, a leading art gallery...
street, presently the major museum district. By the start of the 20th century, the gallery was among the most prominent German collections of classic Pan-European art; the other such collections open to the public were the Dresden Gallery, the
Alte Pinakothek
Alte Pinakothek
The Alte Pinakothek is an art museum situated in the Kunstareal in Munich, Germany. It is one of the oldest galleries in the world and houses one of the most famous collections of Old Master paintings...
in Munich, and the
Altes Museum
Altes Museum
The Altes Museum , is one of several internationally renowned museums on Museum Island in Berlin, Germany. Since restoration work in 1966, it houses the Antikensammlung of the Berlin State Museums...
in Berlin. In 1937, 77 paintings and 700 prints were confiscated from the museum when the
National Socialists
Nazism
Nazism, the common short form name of National Socialism was the ideology and practice of the Nazi Party and of Nazi Germany...
declared them "
degenerate art
Degenerate art
Degenerate art is the English translation of the German entartete Kunst, a term adopted by the Nazi regime in Germany to describe virtually all modern art. Such art was banned on the grounds that it was un-German or Jewish Bolshevist in nature, and those identified as degenerate artists were...
". In 1939, the collection was moved out of Frankfurt to protect it from damage in
World War II
World War II
World War II, or the Second World War , was a global conflict lasting from 1939 to 1945, involving most of the world's nations—including all of the great powers—eventually forming two opposing military alliances: the Allies and the Axis...
. The gallery was substantially damaged by air raids in World War II and it was rebuilt by 1966 following a design by the Frankfurt architect
Johannes Krahn
Johannes Krahn
Johannes Krahn was a German architect and academic.- Professional career :Johannes Krahn studied architecture from 1923 to 1927 at the Technische Lehranstalten Offenbach. He continued his studies 1927 to 1928 at the Kölner Werkschulen as Meisterschüler of Dominikus Böhm, who interested him in...
. An expansion building for the display of 20th-century work and special exhibits was erected in 1990, designed by
Gustav Peichl
Gustav Peichl
Gustav Peichl is an Austrian architect. Gustav built the EFA Radio Satellite Station in Aflenz Austria. And - is Ironimus - caricaturist.-External links:*...
. Small structural changes and renovations took place from 1997 to 1999.
Collection
The Städel has European paintings from seven centuries, beginning with the early 14th century, moving into Late Gothic, the
Renaissance
Renaissance
The Renaissance was a cultural movement that spanned roughly the 14th to the 17th century, beginning in Italy in the Late Middle Ages and later spreading to the rest of Europe. The term is also used more loosely to refer to the historical era, but since the changes of the Renaissance were not...
,
Baroque
Baroque
The Baroque is a period and the style that used exaggerated motion and clear, easily interpreted detail to produce drama, tension, exuberance, and grandeur in sculpture, painting, literature, dance, and music...
, and into the 19th and 20th centuries. The large collection of prints and drawings is not on permanent display and occupies the first floor of the museum. Works on paper not on display can be viewed by appointment.
The gallery has a conservation department that performs conservation and restoration work on the collection.
Selected works
Jan van Eyck

Jan van Eyck

Jan van Eyck was a Flemish painter active in Bruges and considered one of the best Northern European painters of the 15th century....


, Lucca Madonna, 1390–1441, mixed technique, 66 x 50 cm
Fra Angelico

Fra Angelico

Fra Angelico , born Guido di Pietro, was an Early Italian Renaissance painter described by Vasari in his Lives of the Artists as having "a rare and perfect talent"...


, Madonna with Child and Twelve Angels, 1430-1433, tempera on panel, 37 x 27 cm
Rogier van der Weyden, Medici Madonna, c. 1460-1464, oil on panel, 61.7 x 46.1 cm
Master of the Frankfurt Paradiesgärtlein, Paradiesgärtlein

Paradiesgärtlein

The Paradiesgärtlein is a panel painting created around 1410. The painter is unknown, referred to as the Meister des Frankfurter Paradiesgärtleins . The painting is executed in mixed techniques on wood; it measures about 26 by 33 centimetres...


, between 1400 und 1420, mixed technique on oak, 26 x 33 cm
Hieronymus Bosch, Ecce Homo, c. 1476, oil on panel, 75 x 61 cm
Sandro Botticelli

Sandro Botticelli

Alessandro di Mariano di Vanni Filipepi, better known as Sandro Botticelli was an Italian painter of the Early Renaissance...


, Portrait of a Young Woman

Portrait of a Young Woman of Frankfurt (Botticelli)

Portrait of a Young Woman is a painting which is commonly believed to be by the Italian Renaissance painter Sandro Botticelli, executed between 1480 and 1485. Others attribute authorship to Jacopo del Sellaio....


, 1480–85, mixed technique on poplar wood, 82 x 54 cm
Bartolomeo Veneto

Bartolomeo Veneto

Bartolomeo Veneto was an Italian painter who worked in Venice, the Veneto , and Lombardy. During his time in Venice, he studied under Gentile Bellini. The little information available about Bartolomeo's life has been derived from his signatures, dates, and inscriptions. His best known works are...


, Portrait of a Young Woman, between 1500–1530, mixed technique on poplar wood, 44 x 34 cm
Rembrandt van Rijn, The Binding of Samson, 1636, oil on canvas, 205 x 272 cm
Johannes Vermeer

Johannes Vermeer

Johannes, Jan or Johan Vermeer was a Dutch painter who specialized in exquisite, domestic interior scenes of middle class life. Vermeer was a moderately successful provincial genre painter in his lifetime...


, The Geographer

The Geographer

The Geographer is a painting created by Dutch artist Johannes Vermeer in 1668–1669, and is now in the collection of the Städelsches Kunstinstitut museum in Frankfurt, Germany.-Description:...


, 1668-1669, oil on canvas, 52 x 45.5 cm
Johann Heinrich Wilhelm Tischbein

Johann Heinrich Wilhelm Tischbein

Johann Heinrich Wilhelm Tischbein, also known as Goethe-Tischbein was a German painter. He was a descendant of the Tischbein family of painters, and a pupil of his uncle Johann Jacob Tischbein....


, Goethe in the Roman Campagna, 1787, oil on canvas, 164 x 206 cm
Edgar Degas

Edgar Degas

Edgar Degas[p] , born Hilaire-Germain-Edgar De Gas, was a French artist famous for his work in painting, sculpture, printmaking and drawing. He is regarded as one of the founders of Impressionism although he rejected the term, and preferred to be called a realist...


, Musicians in the Orchestra, 1872, oil on canvas, 69 x 49 cm
The museum also features works by the 20th-century German artist
Max Beckmann
Max Beckmann
Max Beckmann was a German painter, draftsman, printmaker, sculptor, and writer. Although he is classified as an Expressionist artist, he rejected both the term and the movement...
.
Literature
Eva Mongi-Vollmer: Meisterwerke im Städel Museum. Städel Museum, Frankfurt am Main 2007. ISBN 3-9809-7013-2
Bodo Brinkmann: Das Städel, Frankfurt am Main. Prestel Verlag (Prestel-Museumsführer), München 1999, ISBN 3-7913-2204-4
Bodo Brinkmann und Stephan Kemperdick: Deutsche Gemälde im Städel 1500-1550 (Kataloge der Gemälde im Städelschen Kunstinstitut Frankfurt am Main, hrsg. von Herbert Beck und Jochen Sander). Verlag Philipp von Zabern, Mainz 2005, ISBN 978-3-8053-3350-4
External links