 Spokeshave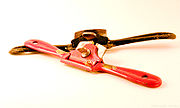 A
spokeshave
is a
tool
Tool
A tool is a device that can be used to produce an item or achieve a task, but that is not consumed in the process. Informally the word is also used to describe a procedure or process with a specific purpose. Tools that are used in particular fields or activities may have different designations such...
used to shape and smooth wooden rods and shafts - often for use as
wheel
Wheel
A wheel is a device that allows heavy objects to be moved easily through rotating on an axle through its center, facilitating movement or transportation while supporting a load, or performing labor in machines. Common examples found in transport applications. A wheel, together with an axle,...
spokes,
chair
Chair
A chair is a stable, raised surface used to sit on, commonly for use by one person. Chairs are most often supported by four legs and have a back; however, a chair can have three legs or could have a different shape depending on the criteria of the chair specifications. A chair without a back or...
legs (particularly complex shapes such as the
cabriole leg
Cabriole leg
A cabriole leg is one of four vertical supports of a piece of furniture shaped in two curves; the upper arc is convex, while lower is concave; the upper curve always bows outward, while the lower curve bows inward. The axes of the two curves must lie within the same plane...
),,
self bow
Self bow
A self bow is a bow made from a single piece of wood. Extra material such as horn nocks on the ends, or built-up handles, would normally be accepted as part of a self bow...
s,
and
arrow
Arrow
An arrow is a shafted projectile that is shot with a bow. It predates recorded history and is common to most cultures.An arrow usually consists of a shaft with an arrowhead attached to the front end, with fletchings and a nock at the other.- History:...
s. It can also be used to carve
canoe
Canoe
A canoe or Canadian canoe is a small narrow boat, typically human-powered, though it may also be powered by sails or small electric or gas motors. Canoes are usually pointed at both bow and stern and are normally open on top, but can be decked over A canoe (North American English) or Canadian...
paddle
Paddle
A paddle is a tool used for pushing against liquids, either as a form of propulsion in a boat or as an implement for mixing.-Materials and designs:...
s.
Modern
Spokeshaves can be made from flat-bottom, concave, or convex soles, depending on the type of job to be performed. Spokeshaves can include one or more sharpened notches along which the wooden shaft is pulled in order to shave it down to the proper diameter. Historically, spokeshave blades were made of metal, whilst the body and handles were wood. An early design consisted of a metal blade with a pair of
tang
Tang (weaponry)
A tang or shank is the back portion of a tool where it extends into stock material or is connected to a handle as on a knife, sword, spear, arrowhead, chisel, screwdriver, etc...
s to which the wooden handles were attached. By the twentieth century metal handles and detachable blades had become the most common.
Prehistoric
Prehistoric spokeshaves were made of
stone
Stone tool
A stone tool is, in the most general sense, any tool made either partially or entirely out of stone. Although stone tool-dependent societies and cultures still exist today, most stone tools are associated with prehistoric, particularly Stone Age cultures that have become extinct...
. In
archaeology
Archaeology
Archaeology, or archeology , is the study of human society, primarily through the recovery and analysis of the material culture and environmental data that they have left behind, which includes artifacts, architecture, biofacts and cultural landscapes...
, the term
spokeshave
is used to describe a tool, usually a
uniface
Uniface
In archeology, a uniface is a specific type of stone tool that has been flaked on one surface only. There are two general classes of uniface tools: modified flakes—and formalized tools, which display deliberate, systematic modification of the marginal edges, evidently formed for a specific...
, that has at least one retouched
lunate
Lunate
Lunate is a term meaning crescent or moon-shaped. In the specialized terminology of lithic reduction, a lunate flake is a small, crescent-shaped flake removed from a stone tool during the process of pressure flaking....
notch in one edge. In a sense, the term is a descriptive "catch-all" category, since it is difficult to determine if this was actually the way in which such a tool was used; the categorization is based entirely on the appearance of the tool.