 Special Forces of India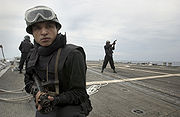 The
Special Forces of India
are
Indian Military
Indian Armed Forces
The Indian Armed Forces are the military forces of the Republic of India. They consist of the Army, Navy and Air Force, supported by three paramilitary forces and various inter-service institutions such as the Strategic Forces Command.The President of India is...
units that have a training specializing in
special operations
Special operations
Special operations are military operations that are considered "special" .Special operations are typically performed independently or in conjunction with conventional military operations. The primary goal is to achieve a political or military objective where a conventional force requirement does...
.
Mumbai Police Force One
the Special Commando force created after 26/11 Mumbai attacks
Rajasthan Police SOG
The Special Operations Group (SOG) is an elite formation of the Rajasthan police dedicated to take-on organised crime syndicates, underworld mafias and crossborder operatives. SOG was formed by a special act of the Rajasthan government. SOG operates from a highly secluded complex in Jhalana Mahal, Jaipur. Jhalana Mahal is an old hunting palace of the erstwhile royal family of Jaipur, now serving as the hightech command center for SOG operations. SOG works under the direct control of an ADGP rank( three star general ) IPS officer.
What makes SOG unique is the fact that it has wide ranging operational powers with investigation jurisdiction for the entire state of Rajasthan.
SOG has following wings in its internal organisation :
1. Technical Intelligence Group - Depends on vast array of hightech intelligence gathering methods to monitor organised crime syndicates.
2. HumInt Group - Depends on traditional sources and informants for intelligence. It regularly undertakes deepcover missions and dangerous infiltration missions.
3. Open Channel Monitoring Group - Monitors all media, newspapers, internet and other open channels for intelligence. It also receives grievances from petitioners and aggrieved persons.
4. Operation Teams - There are several teams. Each team is headed by a DySP rank officer with one Inspector, three Sub Inspectors and nine other ranks to assist. Each team is given one specific operation at a time. A technical team may also be attached with it sometimes.
5. Investigation Teams - Investigation teams conduct prior investigation and followup after operational teams conclude their operations. They are responsible for thorough investigation and following up the cases in court. A special court has been designated for SOG to ensure speedy justice.
6. Emergency Response Teams - There are undisclosed numbers of ERT's at various locations in Rajasthan. They are heavily armed and specially trained force for armed intervention. Each team is of platoon strength.
7. Admin Group - Based in the SOG headquarters at Jhalana Mahal. It facilitates all administrative requirements of SOG.
8. SOG Cells - There are several cells in SOG dedicated to specific tasks like NDPS, Large Economic Frauds, FINC, Human trafficking,
Wildlife protection, Zipnet, Cyber Threats, Land Mafia's, High Value Wanted Criminals, money circulation schemes, counter-intelligence, Illicit Liquor, Nigerian Letter Frauds etc.. These cells collect information, create databases and analyse trends in their specialized fields.
9. SOG Observer Outposts - SOG has several covert observation outposts located in Delhi, Kota, Jodhpur, Ajmer, Udaipur and other cities.
10. Panel Of Consultants - SOG works with a multidisciplinary approach. There is a panel of eminent technocrats, senior banking officers, chartered accountants, legal experts,extradition specialists, engineers, biotechnologists etc... to assist SOG officers in view of increasingly advanced and specialised nature of crime.
SOG has been highly successful in cracking several big time organised crime syndicates. SOG has acquired a niche in covert undercover operations and extensive use of technology. SOG recently recovered huge consignments of heroin and arms in Barmer-Jaisalmer and arrested several operatives of the crossborder syndicate. SOG unearthed a cross border fake currency circulation operation based in Nepal. Operatives were secretly picked up near the Nepal border and arrested. A huge cache of fake currency was also recovered.
SOG cracked a largescale landmafia operating in Jaipur. The director of Narayani group was arrested for involvement in a land fraud of several of crores. SOG has successfully tackled FINC networks and other serious threats to national security.
STRACO
This force formed as an internal force to deal with the Maoist insurgency in the states of West Bengal, Orissa and Bihar.The unit works in civilian clothes to blend with civilians.The unit has the lowest causality rate among other departments.
Creek Crocodile Commandos
Creek Crocodile Commando are the elite commando force of BSF,It is Rann of Kutch (An extensive salt marsh of western India and southeast Pakistan between the Gulf of Kutch and the Indus River delta. It was the scene of major border disputes in 1965 and 1971.) Creek (Gujarat): In order to thwart landing of terrorists through the sea route, BSF has formed its first commando unit -- Creek Crocodiles -- to man the hostile creek area where India shares border with Pakistan.
Creeks are a very hostile terrain constituting of numerous raised grounds having mangroves and a network of water channels which are quite shallow where all movements are tide dependent.
Creek Crocodiles are trained to thwart any evil designs from across the border, BSF Commandant Pushpendrasinh Rathore, who is training the commando unit at Koteshwar outpost of BSF said.
"We have kept three things in mind while selecting cadets for the commando including swimming and marine diving performance, firing abilities and endurance to work in the rough creek," Rathore said, adding IG BSF Gujarat range A K Sinha had given the idea of raising the commando force so that we can dominate the creek area.
The Crocodile units have 42 commandos at present and they are undergoing vigorous training, he said.
Quick Reaction Team of Indian Railway(QRT)
Equipment
Browning Hi-Power

Browning Hi-Power

The Browning Hi-Power is a single-action, 9 mm semi-automatic handgun. It is based on a design by American firearms inventor John Browning, and completed by Dieudonné Saive at Fabrique Nationale of Herstal, Belgium. Browning died in 1926, several years before the design was finalized...


9mm Semi-automatic pistol
Glock 17 9mm Semi-automatic Pistol
Glock 19 9mm Semi-automatic Pistol
SIG P226

SIG P226

The SIG P226 is a full-sized, service-type pistol made by SIG Sauer. It is chambered for the 9×19mm Parabellum, .40 S&W, .357 SIG, and .22 Long Rifle. It is essentially the same basic design of the SIG P220, but developed to use higher capacity, staggered-column magazines in place of the...


9mm Semi-automatic Pistol
1A SMG 9mm Sub-machine gun
Heckler & Koch M-512 12 Gauge Shotgun
UZI 9mm Sub-machine gun
Heckler & Koch MP5

Heckler & Koch MP5

The Heckler & Koch MP5 is a 9mm submachine gun of German design, developed in the 1960s by a team of engineers from the German small arms manufacturer Heckler & Koch GmbH of Oberndorf am Neckar....


A3,A5 and SD3 SD4 SD6 and K-Navy 9mm Submachine Gun
AKM

AKM

The AKM is a 7.62mm assault rifle designed by Mikhail Kalashnikov. It is an upgraded version of the AK-47 rifle and was developed in the 1950s....


7.62x39mm Assault Rifle
INSAS 5.56mm NATO Assault Rifle
1A SLR

FN FAL

The Fusil Automatique Léger or FAL is a self-loading, selective fire battle rifle produced by the Belgian armaments manufacturer Fabrique Nationale de Herstal . During the Cold War it was adopted by many North Atlantic Treaty Organization countries, with the notable exception of the United States...


7.62mm NATO Battle rifle
Colt M16A4 5.56mm NATO Assault rifle
Colt M4A1 5.56 mm NATO Carbine
AK-47

AK-47

The AK-47 is a selective-fire, gas-operated 7.62×39mm assault rifle, first developed in the Soviet Union by Mikhail Kalashnikov. It is officially known as Avtomat Kalashnikova . It is also known as a Kalashnikov, an "AK", or in Russian slang, Kalash.Design work on the AK-47 began in the last year...


7.62x39mm Assault Rifle
AK-101

AK-101

The AK-101 is an assault rifle of the Kalashnikov series. The AK-101 is designed for the world export market, using 5.56×45mm NATO cartridges, which is the standard of all NATO armies. The AK-101 is marketed at those looking for a weapon that combines the logistical compatibility and familiarity of...


5.56mm NATO Assault Rifle
AK-103

AK-103

The AK-103 is a modern, Russian-designed version of the famous AKM assault rifle, chambered for the 7.62×39mm M43 round. It combines the AKM design with developments from the AK-74 and AK-74M, with the use of plastics to replace metal or wooden components wherever possible to reduce overall weight...


7.62x39mm Assault Rifle
AKS-74U 5.45x39mm Assault Rifle
MINSAS Modern Sub Machine Carbine Commando Version
Smith & Wesson M&P

Smith & Wesson M&P

The Smith & Wesson Model 10, previously known as the Smith & Wesson Military & Police or the Smith & Wesson Victory Model, is a .38-caliber revolver developed from the Smith & Wesson .38 Hand Ejector Model of 1889. In production since 1899, it is a fixed-sight, six-shot handgun with a fluted...



Brügger & Thomet MP9

Brügger & Thomet MP9

The Brügger & Thomet MP9 is a machine pistol designed and manufactured by Brügger & Thomet of Switzerland. The MP9 is a selective-fire 9x19mm Parabellum caliber machine pistol. It uses 15, 20, 25, 30 round transparent polymer detachable box magazines...



Barrett M107
Modern Sub Machine Carbine

Modern Sub Machine Carbine

The Modern Sub Machine Carbine is the latest combined venture of Armament Research and Development Establishment & Ordnance Factories Organisation, developed for the Indian Army on a platform of experiences from the INSAS rifle. The gun is very lightweight and compact in comparison with other...



Bushmaster M4A3
SIG SG 551 5.56mm NATO Assault Rifle
SIG SG 553 5.56mm NATO Assault Rifle
T91 assault rifle

T91 assault rifle

The T91 assault rifle is produced by the 205th Armory, Ministry of Defense, Republic of China . It is based on the proven T86 assault rifle incorporating features from the M16 and AR-18 rifles with more modern features...


Assault Rifle
IMI Tavor TAR-21

IMI Tavor TAR-21

The TAR-21 is an Israeli bullpup assault rifle chambered for 5.56×45mm NATO ammunition with a selective fire system, selecting between semi-automatic mode, burst mode, and full automatic fire mode. It is named after Mount Tavor, while "TAR-21" stands for "Tavor Assault Rifle - 21st Century". It is...


5.56mm NATO Assault Rifle
IMI Galil 7.62mm NATO Semi-Automatic Sniper Rifle
Dragunov SVD 7.62mm NATO Semi-Automatic Sniper Rifle
Mauser SP66

Mauser

Mauser was a German arms manufacturer of a line of bolt-action rifles and pistols from the 1870s to 1995. Mauser designs were built for the German armed forces...


7.62mm NATO Bolt-Action Sniper Rifle
SIG SSG-3000 7.62mm NATO Bolt-Action Sniper Rifle
Heckler & Koch MSG-90 7.62mm NATO Semi-Automatic Sniper Rifle
Heckler & Koch PSG1

Heckler & Koch PSG1

The PSG1 is a semi-automatic rifle designed by the German company Heckler & Koch of Oberndorf am Neckar.-Development:...


7.62mm NATO Semi-Automatic Sniper Rifle
OSV-96

OSV-96

OSV-96 is a Russian large calibre semi-automatic sniper rifle chambered for the 12.7 x 108 mm round.* Barrel length: 1000 mm.* Magazine: 5 rounds.* Effective Range: 2,000 m....


12.7x108mm Anti-Material Rifle
Vidhwansak

Vidhwansak

Vidhwansak is an Indian multi-caliber anti-material rifle or large-caliber sniper rifle manufactured by Ordnance Factory, Tiruchirapalli. It can be used in the anti-materiel role for destroying enemy bunkers, lightly armoured vehicles, radar systems, communication equipment, parked aircraft, fuel...


anti-materiel rifle
Denel NTW-20

Denel NTW-20

The NTW-20 is a South African anti-materiel rifle or large-calibre sniper rifle, developed by Denel's Mechem division in the 1990s. The weapon was designed by Tony Neophytou and intended for deployment against a wide variety of targets, including parked aircraft, telecommunication masts, power...


anti-materiel rifle
Gepard GM6 Lynx

Gepard anti-materiel rifle

The Gepárd anti-materiel rifles are a family of Hungarian weapons designed to destroy unarmored and lightly armored targets. These long range, large caliber rifles have high accuracy as well as high muzzle velocity. The Gepárds originate from World War I anti-tank rifles developed by the Germans to...


Anti-Material Rifle
FN Five-Seven 5.7x28mm Semi-automatic pistol
FN P90

FN P90

The FN P90 is a selective fire personal defense weapon designed and manufactured by FN Herstal in Belgium. The P90's name is taken from 1990, the year it was introduced...


5.7x28mm Personal defence weapon
FN F2000

FN F2000

The FN F2000 is a 5.56×45mm NATO bullpup assault rifle, designed by FN Herstal in Belgium. The F2000 made its debut in March 2001 at the IDEX defense exhibition held in Abu Dhabi, in the United Arab Emirates.-Design details:...


5.56mm NATO Assault Rifle
GP-25 40mm Grenade Launcher
Colt M203 40mm Grenade Launcher
AGS-17

AGS-17

The AGS-17 Plamya is a Soviet-designed automatic grenade launcher currently in production in the Russian Federation and in service worldwide.-Description:...


30mm automatic grenade launcher
GM-94 Pump-Action Grenade Launcher
CornerShot

CornerShot

CornerShot is a weapon accessory invented by Lt. Col. Amos Golan of the Israeli Defense Forces in cooperation with American investors. It was designed in the early 2000s for SWAT teams and special forces in hostile situations usually involving terrorists and hostages...


Gun
RPG-7

RPG-7

The RPG-7 is a widely-produced, portable, unguided, shoulder-launched, anti-tank rocket-propelled grenade launcher. Originally the RPG-7 and its predecessor, the RPG-2, were designed by the Soviet Union, and now manufactured by the Bazalt company...


Rocket Launcher
M72 LAW

M72 LAW

The M72 LAW is a portable one-shot 66 mm unguided anti-tank weapon, designed in the United States by Paul V. Choate, Charles B. Weeks, and Frank A. Spinale et al...


Anti Tank Weapons
Franchi Spas-12

Franchi SPAS-12

The SPAS-12 is a combat shotgun that was manufactured by the Italian firearms company Franchi S.p.A. from 1979 to 2000. The SPAS-12 is a dual-mode shotgun, meaning it can be calibrated to cycle either semi-automatically or through pump-action. The SPAS-12 has sold well to military and police users...


12 Gauge Shotgun
APS underwater assault rifle

APS Underwater Assault Rifle

The APS Underwater Assault Rifle is an AK-47 derivative designed by the Soviet Union in the early 1970s as an underwater firearm. It was adopted in 1975. It is made by the Tula Arms Plant in Russia...



Cross Bow With Cyanide

Cyanide

A cyanide is a chemical compound that contains the cyano group, -C≡N, which consists of a carbon atom triple-bonded to a nitrogen atom. Cyanides most commonly refer to salts of the anion CN−. Most cyanides are highly toxic....


Tipped Arrow

Arrow

An arrow is a shafted projectile that is shot with a bow. It predates recorded history and is common to most cultures.An arrow usually consists of a shaft with an arrowhead attached to the front end, with fletchings and a nock at the other.- History:...



Support Weapons
IMI Negev

IMI Negev

The Negev is an Israeli 5.56 mm light machine gun, developed by Israel Military Industries Ltd. of Ramat HaSharon , as a replacement for the 5.56 mm Galil ARM light machine gun, whose barrel would overheat easily during sustained fire...


Light machine gun
PK General purpose machine gun
FN MAG

FN MAG

The FN MAG is a Belgian 7.62 mm general-purpose machine gun, designed in the early 1950s at Fabrique Nationale by Ernest Vervier. It has been used by more than 80 countries, and it has been made under licence in countries such as Argentina, Egypt, India, Singapore, the United Kingdom and the...


7.62 mm General purpose machine gun
GP-25 40mm Grenade Launcher
M203 40mm Grenade launcher
AGS-17

AGS-17

The AGS-17 Plamya is a Soviet-designed automatic grenade launcher currently in production in the Russian Federation and in service worldwide.-Description:...


Automatic grenade launchers
RCL Mk III 84mm Recoilless rifle
Shipon Anti-tank weapon
9K38 Igla MANPADS
Upgrades after 26/11
CornerShot Guns, [12]
Laser Target Designator ,
Advance Audio Communication Set,
Spy Cameras,
GPS & GPRS Technological Systems,
Wall Surveillance Radars,
Night Vision Devices,
Protective Goggles,
Special Tactical Gears,
Thermal Imaging Equipments & Infrared Cameras, [13]
Mini Remotely Operated Vehicles & Drones Mini UAV,
Non skid shoes,
Ghillie suits ,
Helmet with in built hands free communication,
Level 3 bullet-proof vest ,
Knee pad and elbow pads ,
SIG SG 553,
Taser ,
Advanced Radars & Jammers ,
Electro Magnetic Equipments,
Audio & Video Recording Equipments,
Chartered helicopters and ability to use civilian aircraft for emergencies.,
Anti-Materiel Rifles like the OFB produced Vidhwansak and possibly the Russian made OSV-96.,
They wear standard issue camouflage and body Armour and also procuring lighter body Armour with personal communication sets, and also the Commando patch on their shoulder once they have finished their training. Depending on the mission, they may carry other items like Ropes,Climbing gear, Grenades, Rocket Launchers,Radio Frequency Locator,Electro Optical Equipments,Laser Range Finders, Advanced Spectrum or Spectroscopic Equipments and Advanced Equipments and Various types of mission specific equipments with Special Weapons and Tactics.
Transport
HAL Dhruv in-service with the Indian Army at ILA 2008.H-3 Sea King transport helicopter
Chetak Utility helicopter
HAL Dhruv Utility helicopter
Cosmos CE-2F X100 two-man submarines
Advanced All Terrain Vehicles & Hovercrafts
External links