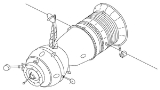 Soyuz 7K-T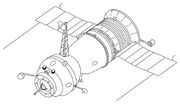 The second generation of the
Soyuz spacecraft
Soyuz spacecraft
Soyuz , Union) is a series of spacecraft initially designed for the Soviet space programme by the Korolyov Design Bureau in the 1960s, and still in service today...
, the
Soyuz Ferry
or
Soyuz 7K-T
, comprised
Soyuz 12
Soyuz 12
Soyuz 12 was a 1973 manned test flight by the Soviet Union of the newly-redesigned Soyuz 7K-T spacecraft that was intended to provide greater crew safety in the wake of the Soyuz 11 tragedy. The flight marked the return of the Soviets to manned space operations after the 1971 accident...
through
Soyuz 40
Soyuz 40
-Backup crew:-Mission parameters:*Mass: 6800 kg*Perigee: 198.1 km*Apogee: 287 km*Inclination: 51.6°*Period: 89.06 minutes-Mission highlights:...
(1973-1981). Although still using the
Igla
system, these had no solar panels, employing batteries. The replacement of solar panels with batteries limited it to about two days of undocked flight.
A modified version of this spacecraft flew on
Soyuz 13
Soyuz 13
Soyuz 13 was a 1973 Soviet manned space flight, the second test flight of the redesigned Soyuz 7K-T spacecraft that first flew as Soyuz 12. The spacecraft was specially modified to carry the Orion 2 Space Observatory...
, where instead of the docking system a large
Orion 2
Orion 1 and Orion 2 Space Observatories
The Orion 1 Space Observatory and Orion 2 Space Observatory were space observatories installed in spacecraft launched by the space program of the Soviet Union during the 1970s.- Orion 1 :...
astrophysical camera for imaging the sky and Earth was used.
Another modification was the
Soyuz 7K-T/A9
used for the flights to the military
Almaz
Almaz
The Almaz program was a series of military space stations launched by the Soviet Union under cover of the civilian Salyut DOS-17K program after 1971....
space station. This featured the ability to remote control the space station and a new parachute system and other still classified and unknown changes.
Missions
External links