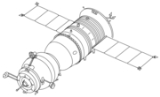 Soyuz-TM
The
Soyuz-TM
crew transports (T - транспортный -
Transportnyi
- meaning transport, M - модифицированный -
Modifitsirovannyi
- meaning modified) were fourth generation (1986–2002)
Soyuz spacecraft
Soyuz spacecraft
Soyuz , Union) is a series of spacecraft initially designed for the Soviet space programme by the Korolyov Design Bureau in the 1960s, and still in service today...
used for ferry flights to the
Mir
Mir
Mir was a space station operated in low Earth orbit from 1986 to 2001, at first by the Soviet Union and then by Russia. Assembled in orbit from 1986 to 1996, Mir was the first modular space station and had a greater mass than that of any previous spacecraft, holding the record for the...
and
ISS
International Space Station
The International Space Station is a habitable, artificial satellite in low Earth orbit. The ISS follows the Salyut, Almaz, Cosmos, Skylab, and Mir space stations, as the 11th space station launched, not including the Genesis I and II prototypes...
space stations. It added to the
Soyuz-T
Soyuz-T
The Soyuz-T spacecraft was the third generation Soyuz spacecraft, in service for seven years from 1979 to 1986. The T stood for transport...
new docking and rendezvous, radio communications, emergency and integrated parachute/landing engine systems. The new
Kurs
Kurs (docking system)
Kurs is a radio telemetry system used by the Soviet and later Russian space program.Kurs was developed by the Research Institute of Precision Instruments before 1985 and manufactured by the Kiev Radio Factory .- History :...
rendezvous and docking system permitted the Soyuz-TM to maneuver independently of the station, without the station making "mirror image" maneuvers to match unwanted translations introduced by earlier models' aft-mounted attitude control.
The final Soyuz-TM flight was
Soyuz TM-34
Soyuz TM-34
Soyuz TM-34 was the fourth Soyuz mission to the International Space Station . Soyuz TM-34 was launched by a Soyuz-U launch vehicle.-Crew:-Docking with ISS:*Docked to ISS: April 27, 2002, 07:55 UTC...
, which launched April 25, 2002 and landed November 10, 2002.
External links