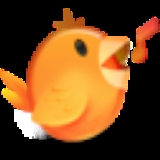 Songbird
A
songbird
is a
bird
Bird
Birds are feathered, winged, bipedal, endothermic , egg-laying, vertebrate animals. Around 10,000 living species and 188 families makes them the most speciose class of tetrapod vertebrates. They inhabit ecosystems across the globe, from the Arctic to the Antarctic. Extant birds range in size from...
belonging to the suborder
Passeri
of the
perching birds
Passerine
A passerine is a bird of the order Passeriformes, which includes more than half of all bird species. Sometimes known as perching birds or, less accurately, as songbirds, the passerines form one of the most diverse terrestrial vertebrate orders: with over 5,000 identified species, it has roughly...
(
order
Order (biology)
In scientific classification used in biology, the order is# a taxonomic rank used in the classification of organisms. Other well-known ranks are life, domain, kingdom, phylum, class, family, genus, and species, with order fitting in between class and family...
Passeriformes). Another name that is sometimes seen as scientific or vernacular name is
Oscines
, from Latin
oscen
, "a songbird". This group contains some 4000 species found all over the world, in which the vocal organ typically is developed in such a way as to produce a diverse and elaborate
bird song
Bird song
Bird vocalization includes both bird calls and bird songs. In non-technical use, bird songs are the bird sounds that are melodious to the human ear. In ornithology and birding, songs are distinguished by function from calls.-Definition:The distinction between songs and calls is based upon...
.
Songbirds form one of the two major lineages of extant perching birds, the other being the
Tyranni
Tyranni
The suborder of passerine birds Tyranni includes about 1,000 species, the large majority of which are South American. It is named after the type genus Tyrannus....
which are most diverse in the Neotropics and absent from many parts of the world. These have a simpler syrinx musculature, and while their vocalizations are often just as complex and striking as those of songbirds, they are altogether more mechanical-sounding. There is a third perching bird lineage, the Acanthisitti, "
living fossil
Living fossil
Living fossil is an informal term for any living species which appears similar to a species otherwise only known from fossils and which has no close living relatives, or a group of organisms which have long fossil records...
s" from
New Zealand
New Zealand
New Zealand is an island country in the south-western Pacific Ocean comprising two main landmasses and numerous smaller islands. The country is situated some east of Australia across the Tasman Sea, and roughly south of the Pacific island nations of New Caledonia, Fiji, and Tonga...
, of which only two species remain alive today.
There is evidence to suggest that songbirds evolved 50 million years ago in the part of
Gondwana
Gondwana
In paleogeography, Gondwana , originally Gondwanaland, was the southernmost of two supercontinents that later became parts of the Pangaea supercontinent. It existed from approximately 510 to 180 million years ago . Gondwana is believed to have sutured between ca. 570 and 510 Mya,...
that later became Australia, New Zealand,
New Guinea
New Guinea
New Guinea is the world's second largest island, after Greenland, covering a land area of 786,000 km2. Located in the southwest Pacific Ocean, it lies geographically to the east of the Malay Archipelago, with which it is sometimes included as part of a greater Indo-Australian Archipelago...
and Antarctica, before spreading around the world.
This 'bird song' is essentially territorial in that it communicates the identity and whereabouts of an individual to other birds and also signals sexual intentions. It is not to be confused with bird calls, which are used for alarms and contact, and are especially important in birds that feed or migrate in flocks. While almost all living birds give calls of some sort, well-developed songs are only given by a few lineages outside the songbirds. (See Bird vocalization)
Other birds – especially non-passeriforms – sometimes have songs to attract mates or hold territory, but these are usually simple and repetitive, lacking the variety of many oscine songs. The monotonous repetition of the
Common Cuckoo
Common Cuckoo
The Common Cuckoo is a member of the cuckoo order of birds, Cuculiformes, which includes the roadrunners, the anis and the coucals....
or
Little Crake
Little Crake
The Little Crake is a very small waterbird of the family Rallidae.Their breeding habitat is reed beds in Europe, mainly in the east, and just into western Asia. They nest in a dry location in reed vegetation, laying 4-7 eggs...
can be contrasted with the variety of a
Nightingale
Nightingale
The Nightingale , also known as Rufous and Common Nightingale, is a small passerine bird that was formerly classed as a member of the thrush family Turdidae, but is now more generally considered to be an Old World flycatcher, Muscicapidae...
or
Marsh Warbler
Marsh Warbler
The Marsh Warbler, Acrocephalus palustris, is an Old World warbler currently classified in the family Acrocephalidae. It breeds in temperate Europe and western Asia and winters mainly in south east Africa...
. On the other hand, although many songbirds have songs which are pleasant to the human ear, this is not invariably the case. Many members of the crow family (
Corvidae
Corvidae
Corvidae is a cosmopolitan family of oscine passerine birds that contains the crows, ravens, rooks, jackdaws, jays, magpies, treepies, choughs and nutcrackers. The common English names used are corvids or the crow family , and there are over 120 species...
) communicate with croaks or screeches which sound harsh to humans. Even these, however, have s song of sorts, a softer twitter which is given between courting partners. Finally, even though some
parrot
Parrot
Parrots, also known as psittacines , are birds of the roughly 372 species in 86 genera that make up the order Psittaciformes, found in most tropical and subtropical regions. The order is subdivided into three families: the Psittacidae , the Cacatuidae and the Strigopidae...
s (which are not songbirds) can be taught to repeat human speech, vocal mimicry among birds is almost completely restricted to songbirds, some of which – e.g. the
lyrebird
Lyrebird
A Lyrebird is either of two species of ground-dwelling Australian birds, that form the genus, Menura, and the family Menuridae. They are most notable for their superb ability to mimic natural and artificial sounds from their environment. Lyrebirds have unique plumes of neutral coloured...
s or the aptly-named
mockingbird
Mockingbird
Mockingbirds are a group of New World passerine birds from the Mimidae family. They are best known for the habit of some species mimicking the songs of other birds and the sounds of insects and amphibians, often loudly and in rapid succession. There are about 17 species in three genera...
s – excel in imitating the sounds of other birds or even environmental noises.
Taxonomy
Under the
Sibley-Ahlquist taxonomy
Sibley-Ahlquist taxonomy
The Sibley-Ahlquist taxonomy is a bird taxonomy proposed by Charles Sibley and Jon Edward Ahlquist. It is based on DNA-DNA hybridization studies conducted in the late 1970s and throughout the 1980s....
this suborder is divided into two "parvorders",
Corvida
Corvida
The "Corvida" were one of two "parvorders" contained within the suborder Passeri, as proposed in the Sibley-Ahlquist taxonomy. Standard taxonomic practice would place them at the rank of infraorder....
and
Passerida
Passerida
Passerida is under the Sibley-Ahlquist taxonomy, one of two "parvorders" contained within the suborder Passeri...
(standard taxonomic practice would rank these as infraorders). However, more recent research is casting doubt on the existence of Corvida as a single
clade
Clade
A clade is a group consisting of a species and all its descendants. In the terms of biological systematics, a clade is a single "branch" on the "tree of life". The idea that such a "natural group" of organisms should be grouped together and given a taxonomic name is central to biological...
, but given the present lack of any generally accepted redivision of Corvida into two or more groupings at the parvorderial level, the families of suborder Passeri are listed below as being in either Corvida or Passerida.
Corvida
Menuridae

Lyrebird

A Lyrebird is either of two species of ground-dwelling Australian birds, that form the genus, Menura, and the family Menuridae. They are most notable for their superb ability to mimic natural and artificial sounds from their environment. Lyrebirds have unique plumes of neutral coloured...


: lyrebird

Lyrebird

A Lyrebird is either of two species of ground-dwelling Australian birds, that form the genus, Menura, and the family Menuridae. They are most notable for their superb ability to mimic natural and artificial sounds from their environment. Lyrebirds have unique plumes of neutral coloured...


s
Atrichornithidae: scrub birds
Climacteridae: Australian treecreeper

Treecreeper

The treecreepers are a family, Certhiidae, of small passerine birds, widespread in wooded regions of the Northern Hemisphere and sub-Saharan Africa. The family contains ten species in two genera, Certhia and Salpornis...


s
Maluridae

Maluridae

The Maluridae are a family of small, insectivorous passerine birds endemic to Australia and New Guinea. Commonly known as wrens, they are unrelated to the true wrens of the Northern Hemisphere...


: fairy-wrens, emu-wren

Emu-wren

The emu-wrens are a genus of bird in the fairy-wren family Maluridae. They are found only in Australia where they inhabit scrub, heathland and grassland. They are small birds, 12–19 cm long with the tail accounting for over half of their length. The tail has only six feathers which are loose...


s and grasswrens
Meliphagidae: honeyeater

Honeyeater

The honeyeaters are a large and diverse family of small to medium sized birds most common in Australia and New Guinea, but also found in New Zealand, the Pacific islands as far east as Samoa and Tonga, and the islands to the north and west of New Guinea known as Wallacea...


s and chats
Pardalotidae: pardalote

Pardalote

Pardalotes or peep-wrens are a family, Pardalotidae, of very small, brightly coloured birds native to Australia, with short tails, strong legs, and stubby blunt beaks. This family is composed of four species in one genus, Pardalotus, and several subspecies. The name derives from a Greek word...


s, scrubwrens, thornbills, and gerygone

Gerygone

Gerygone, the gerygones or peep-warblers, is a genus of bird in the Acanthizidae family. The genus ranges from South East Asia through New Guinea and Australia to New Zealand and the Chatham Islands...


s
Petroicidae

Petroicidae

The bird family Petroicidae includes roughly 45 species in about 15 genera. All are endemic to Australasia: New Guinea, Australia, New Zealand and numerous Pacific Islands as far east as Samoa. For want of an accurate common name, the family is often called the Australasian robins. Within the...


: Australian robins
Orthonychidae

Orthonychidae

The Orthonychidae is a family of birds with a single genus, Orthonyx, which comprises three species of passerine birds endemic to Australia and New Guinea, the Logrunners and the Chowchilla. Some authorities consider the Australian family Cinclosomatidae to be part of the Orthonychidae...


: logrunners
Pomatostomidae: Australasian babbler

Australo-Papuan babbler

The Pomatostomidae are small to medium-sized birds endemic to Australia-New Guinea. For many years, the Australo-Papuan babblers were classified, rather uncertainly, with the Old World babblers , on the grounds of similar appearance and habits...


s
Cinclosomatidae

Cinclosomatidae

Cinclosomatidae is a family of passerine birds native to Australia and nearby areas. It has a complicated taxonomic history and different authors vary in which birds they include in the family. It includes at least the quail-thrushes , 5 species of ground-dwelling birds found in Australia and New...


: whipbirds and allies
Neosittidae: sittellas
Pachycephalidae

Pachycephalidae

The family Pachycephalidae, collectively the whistlers, includes the whistlers, shrike-thrushes, shrike-tits, pitohuis and Crested Bellbird, and is part of the ancient Australo-Papuan radiation of songbirds. Its members range from small to medium in size, and occupy most of Australasia...


: whistlers, shrike-thrush

Shrike-thrush

Colluricincla is a bird genus in the family Colluricinclidae, which was formerly included in the Pachycephalidae. Its members are known as the shrikethrushes.It contains the following species:* Bower's Shrikethrush, Colluricincla boweri...


es, pitohui

Pitohui

The pitohuis are a genus of birds endemic to New Guinea, belonging to the family Pachycephalidae.Currently six species are classified in the genus, though current molecular genetics research suggests that significant reclassification of the Pachycephalidae may be needed.-Species:* Variable...


s and allies
Dicruridae: monarch flycatchers and allies
Campephagidae: cuckoo shrikes and trillers
Oriolidae: orioles and figbird

Figbird

The figbirds are a genus of orioles found in wooded habitats in Australia, Papua New Guinea and the Lesser Sundas. The three species have been considered conspecific, but today all major authorities consider them as separate species. The split is primarily based on differences in measurements and...


s
Artamidae

Artamidae

The family Artamidae gathers together 20 species of mostly crow-like birds native to Australasia and nearby areas.There are two subfamilies: Artaminae, the woodswallows, are sombre-coloured, soft-plumaged birds that have a brush-tipped tongue but seldom use it for gathering nectar. Instead, they...


: woodswallow

Woodswallow

Woodswallows are soft-plumaged, somber-coloured passerine birds. There is a single genus, Artamus, The woodswallows are either treated as a subfamily, Artaminae in an expanded family Artamidae, which includes the butcherbirds and Australian Magpie, or as the only genus in that family...


s, butcherbird

Butcherbird

Butcherbirds are magpie-like birds in the genus Cracticus. They are native to Australasia. Their closest relatives are the three species of currawong...


s, currawong

Currawong

Currawongs are three species of medium-sized passerine birds belonging to the genus Strepera in the family Artamidae native to Australasia. These are the Grey Currawong , Pied Currawong , and Black Currawong . The common name comes from the call of the familiar Pied Currawong of eastern Australia...


s and Australian Magpie

Australian Magpie

The Australian Magpie is a medium-sized black and white passerine bird native to Australia and southern New Guinea. A member of the Artamidae, it is closely related to the butcherbirds...



Paradisaeidae: birds of paradise
Corvidae

Corvidae

Corvidae is a cosmopolitan family of oscine passerine birds that contains the crows, ravens, rooks, jackdaws, jays, magpies, treepies, choughs and nutcrackers. The common English names used are corvids or the crow family , and there are over 120 species...


: crow

Crow

Crows form the genus Corvus in the family Corvidae. Ranging in size from the relatively small pigeon-size jackdaws to the Common Raven of the Holarctic region and Thick-billed Raven of the highlands of Ethiopia, the 40 or so members of this genus occur on all temperate continents and several...


s, magpie

Magpie

Magpies are passerine birds of the crow family, Corvidae.In Europe, "magpie" is often used by English speakers as a synonym for the European Magpie, as there are no other magpies in Europe outside Iberia...


s, and jay

Jay

The jays are several species of medium-sized, usually colorful and noisy, passerine birds in the crow family Corvidae. The names jay and magpie are somewhat interchangeable, and the evolutionary relationships are rather complex...


s
Corcoracidae

Corcoracidae

The Australian mudnesters are passerine family Struthideidae. The family is often commonly called Corcoracidae, however this is the junior synonym. It contains just two species in two genera, the White-winged Chough, Corcorax melanorhamphos, and the Apostlebird Struthidea cinerea...


: White-winged Chough

White-winged Chough

The White-winged Chough is one of only two surviving members of the Australian mud-nest builders family, Corcoracidae, and is the only member of the genus Corcorax...


and Apostlebird

Apostlebird

The Apostlebird , also known as the Grey Jumper, is a quick-moving, gray or black bird about 13 inches long. It is a native to Australia where it roams woodlands, eating insects and seeds at, or near, ground level...



Irenidae: fairy-bluebird

Fairy-bluebird

The two fairy-bluebirds are small passerine bird species found in forests and plantations in tropical southern Asia and the Philippines. They are the sole members of the genus Irena and family Irenidae, and are related to the ioras and leafbirds.These are bulbul-like birds of open forest or thorn...


s
Laniidae: shrike

Shrike

Shrikes are passerine birds of the family Laniidae. The family is composed of thirty-one species in three genera. The family name, and that of the largest genus, Lanius, is derived from the Latin word for "butcher", and some shrikes were also known as "butcher birds" because of their feeding habits...


s
Vireonidae: vireo

Vireo

The vireos are a group of small to medium-sized passerine birds restricted to the New World. They are typically dull-plumaged and greenish in color, the smaller species resembling wood warblers apart from their heavier bills...


s
Ptilonorhynchidae: bowerbird

Bowerbird

Bowerbirds make up the bird family Ptilonorhynchidae. The family has 20 species in eight genera. These are medium-sized passerines, ranging from the Golden Bowerbird to the Great Bowerbird...


s
Turnagridae

Turnagridae

The Turnagridae or piopio are a pair of passerine birds endemic to New Zealand, both of which are now considered extinct. Sometimes described as New Zealand Thrushes, the Piopio had only a coincidental, passing resemblance to the Thrush family. Piopio have been a longstanding taxonomic mystery...


: Piopio
Passerida
Alaudidae: lark

Lark

Larks are passerine birds of the family Alaudidae. All species occur in the Old World, and in northern and eastern Australia; only one, the Shore Lark, has spread to North America, where it is called the Horned Lark...


s
Chloropseidae: leafbird

Leafbird

The leafbirds are a family of small passerine bird species found in India, Sri Lanka and Southeast Asia. They are one of only three bird families that are entirely endemic to the Indomalayan ecozone. They were formerly grouped with the ioras and fairy-bluebirds in the family Irenidae...


s
Aegithinidae: iora

Iora

The ioras are a family, Aegithinidae, of small passerine bird species found in India and southeast Asia. The family has only four species in a single genus, Aegithina. They are one of only three bird families that are entirely endemic to the Indomalayan ecozone...


s
Picathartidae: rockfowl
Eupetidae: rail-babbler
Mohoidae

Mohoidae

Mohoidae is a family of Hawaiian species of recently extinct, nectarivorous songbirds in the genera Moho and Chaetoptila . These now extinct birds form their own family, representing the only complete extinction of an entire avian family in modern times, when the disputed family Turnagridae is...



Bombycillidae: waxwing

Waxwing

The waxwings form the genus Bombycilla of passerine birds. According to most authorities, this is the only genus placed in the family Bombycillidae.-Description:Waxwings are characterised by soft silky plumage...


s and allies
Ptilogonatidae: silky flycatchers
Cinclidae: dipper

Dipper

Dippers are members of the genus Cinclus in the bird family Cinclidae, named for their bobbing or dipping movements. They are unique among passerines for their ability to dive and swim underwater.-Description:...


s
Motacillidae

Motacillidae

The Motacillidae are a family of small passerine birds with medium to long tails. There are around 65 species in 6 genera and they include the wagtails, longclaws and pipits. The longclaws are entirely restricted to the Afrotropics, and the wagtails are predominately found in Europe, Africa and...


: wagtail

Wagtail

The wagtails form the passerine bird genus Motacilla. They are small birds with long tails which they wag frequently. Motacilla, the root of the family and genus name, means moving tail...


s and pipit

Pipit

The pipits are a cosmopolitan genus, Anthus, of small passerine birds with medium to long tails. Along with the wagtails and longclaws, the pipits make up the family Motacillidae...


s
Prunellidae: accentor

Accentor

The accentors are in the only bird family, the Prunellidae, which is completely endemic to the Palearctic. This small group of closely related passerines are all in a single genus Prunella...



Melanocharitidae

Melanocharitidae

The Melanocharitidae, the berrypeckers and longbills, is a small bird family restricted to the forests of New Guinea. The family contains ten species in four genera...


: berrypeckers and longbills

Melanocharitidae

The Melanocharitidae, the berrypeckers and longbills, is a small bird family restricted to the forests of New Guinea. The family contains ten species in four genera...



Paramythiidae

Paramythiidae

The painted berrypeckers, Paramythiidae, are a very small bird family restricted to the mountain forests of New Guinea. The family comprises two species in two genera: the Tit Berrypecker and the Crested Berrypecker . These are colourful medium-sized birds which feed on fruit and some insects...


: tit berrypecker

Tit Berrypecker

The Tit Berrypecker is a species of bird in the Paramythiidae family. It is monotypic within the genus Oreocharis.It is found in West Papua, Indonesia and Papua New Guinea....


and crested berrypecker

Crested Berrypecker

The Crested Berrypecker is a species of bird in the Paramythiidae family.It is found in West Papua, Indonesia and Papua New Guinea.Its natural habitat is subtropical or tropical moist montane forests.-References:...


s
Passeridae

Sparrow

The sparrows are a family of small passerine birds, Passeridae. They are also known as true sparrows, or Old World sparrows, names also used for a genus of the family, Passer...


: true sparrow

Sparrow

The sparrows are a family of small passerine birds, Passeridae. They are also known as true sparrows, or Old World sparrows, names also used for a genus of the family, Passer...


s
Estrildidae

Estrildid finch

The estrildid finches are small passerine birds of the Old World tropics and Australasia. They can be classified as the family Estrildidae , or as a sub-group within the family Passeridae, which also includes the true sparrows....


: estrildid finches (waxbills, munias, etc.)
Parulidae: New World warbler

Warbler

There are a number of Passeriformes called "warblers". They are not particularly closely related, but share some characteristics, such as being fairly small, vocal and insectivorous....


s
Thraupidae: tanager

Tanager

The tanagers comprise the bird family Thraupidae, in the order Passeriformes. The family has an American distribution.There were traditionally about 240 species of tanagers, but the taxonomic treatment of this family's members is currently in a state of flux...


s and allies
Peucedramidae: Olive Warbler

Olive Warbler

The Olive Warbler is a small passerine bird. It is the only member of the genus Peucedramus and the family Peucedramidae....



Fringillidae: true finch

Finch

The true finches are passerine birds in the family Fringillidae. They are predominantly seed-eating songbirds. Most are native to the Northern Hemisphere, but one subfamily is endemic to the Neotropics, one to the Hawaiian Islands, and one subfamily – monotypic at genus level – is found...


es
Cardinalidae: cardinals
Drepanididae: Hawaiian honeycreeper

Honeycreeper

The typical honeycreepers are small birds in the tanager family. They are found in the tropical New World from Mexico south to Brazil.They occur in the forest canopy, and, as the name implies, they are specialist nectar feeders with long curved bills....


s
Emberizidae

Emberizidae

The Emberizidae are a large family of passerine birds. They are seed-eating birds with a distinctively shaped bill.In Europe, most species are called buntings. In North America, most of the species in this family are known as sparrows, but these birds are not closely related to the sparrows, the...


: buntings and American sparrow

Sparrow

The sparrows are a family of small passerine birds, Passeridae. They are also known as true sparrows, or Old World sparrows, names also used for a genus of the family, Passer...


s
Nectariniidae: sunbird

Sunbird

The sunbirds and spiderhunters are a family, Nectariniidae, of very small passerine birds. There are 132 species in 15 genera. The family is distributed throughout Africa, southern Asia and just reaches northern Australia. Most sunbirds feed largely on nectar, but also take insects and spiders,...


s
Dicaeidae: flowerpecker

Flowerpecker

The flowerpeckers are a family, Dicaeidae , of passerine birds. The family comprises two genera, Prionochilus and Dicaeum, with 44 species in total. The family has sometimes been included in an enlarged sunbird family Nectariniidae. The berrypeckers of the family Melanocharitidae and the painted...


s
Mimidae: mockingbird

Mockingbird

Mockingbirds are a group of New World passerine birds from the Mimidae family. They are best known for the habit of some species mimicking the songs of other birds and the sounds of insects and amphibians, often loudly and in rapid succession. There are about 17 species in three genera...


s and thrasher

Thrasher

Thrashers are a New World group of passerine birds related to mockingbirds and New World catbirds. Like these, they are in the Mimidae family. There are 15 species in one large and 4 monotypic genera.These do not form a clade but are a phenetic assemblage...


s
Sittidae

Sittidae

Sittidae is a family of small passerine birds which contains the single genus Sitta containing about 24 species of nuthatches, which are found across Eurasia and North America....


: nuthatch

Nuthatch

The nuthatches are a genus, Sitta, of small passerine birds belonging to the family Sittidae. Characterised by large heads, short tails, and powerful bills and feet, nuthatches advertise their territory using loud, simple songs...


es
Certhiidae: treecreeper

Treecreeper

The treecreepers are a family, Certhiidae, of small passerine birds, widespread in wooded regions of the Northern Hemisphere and sub-Saharan Africa. The family contains ten species in two genera, Certhia and Salpornis...


s
Troglodytidae: wren

Wren

The wrens are passerine birds in the mainly New World family Troglodytidae. There are approximately 80 species of true wrens in approximately 20 genera....


s
Polioptilidae: gnatcatcher

Gnatcatcher

The 15-20 species of small passerine birds in the gnatcatcher family occur in North and South America . Most species of this mainly tropical and subtropical group are resident, but the Blue-gray Gnatcatcher of the USA and southern Canada migrates south in winter...


s
Paridae: tits, chickadees and titmice

Titmouse

The tits, chickadees, and titmice constitute Paridae, a large family of small passerine birds which occur in the northern hemisphere and Africa...



Aegithalidae: long-tailed tit

Long-tailed Tit

The Long-tailed Tit or Long-tailed Bushtit is a common bird found throughout Europe and Asia. There are several extensive accounts of this species, most notably Cramp and Perrins, 1993; Gaston, 1973; and Harrap and Quinn, 1996...


s
Hirundinidae: swallow

Swallow

The swallows and martins are a group of passerine birds in the family Hirundinidae which are characterised by their adaptation to aerial feeding...


s and martins
Regulidae: kinglet

Kinglet

The kinglets or crests are a small group of birds sometimes included in the Old World warblers, but are frequently given family status because they also resemble the titmice. The scientific name Regulidae is derived from the Latin word regulus for "petty king" or prince, and comes from the...


s
Pycnonotidae

Bulbul

Bulbuls are a family, Pycnonotidae, of medium-sized passerine songbirds. Many forest species are known as greenbuls. The family is distributed across most of Africa and into the Middle East, tropical Asia to Indonesia, and north as far as Japan. A few insular species occur on the tropical islands...


: bulbul

Bulbul

Bulbuls are a family, Pycnonotidae, of medium-sized passerine songbirds. Many forest species are known as greenbuls. The family is distributed across most of Africa and into the Middle East, tropical Asia to Indonesia, and north as far as Japan. A few insular species occur on the tropical islands...


s
Phylloscopidae

Phylloscopidae

Phylloscopidae is a newly described family of small insectivorous birds formerly placed in the Old World warbler family. Its members occur in Eurasia, ranging into Wallacea and Africa...


: leaf-warblers and allies. Recently split from Sylviidae.
Sylviidae

Sylviidae

Sylviidae is a family of passerine birds that was part of an assemblage known as the Old World warblers. The family was formerly a wastebin taxon with over 400 species of bird in over 70 genera. The family was poorly defined with many characteristics shared with other families...


: Old World warbler

Warbler

There are a number of Passeriformes called "warblers". They are not particularly closely related, but share some characteristics, such as being fairly small, vocal and insectivorous....


s
Hypocoliidae: Hypocolius

Hypocolius

The Grey Hypocolius or simply Hypocolius is a small passerine bird species. It is the sole member of the genus Hypocolius and it is placed in a family of its own, the Hypocoliidae. This slender and long tailed bird is found in the dry semi-desert region of northern Africa, Arabia, Afghanistan,...



Cisticolidae

Cisticolidae

The Cisticolidae family of small passerine birds is a group of about 110 warblers found mainly in warmer southern regions of the Old World. They are often included within the Old World warbler family Sylviidae....


: cisticola

Cisticola

Cisticolas are a genus of very small insectivorous birds formerly classified in the Old World warbler family Sylviidae, but now usually considered to be in the separate family Cisticolidae, along with other southern warbler genera. They are believed to be quite closely related to the swallows and...


s and allies
Icteridae: American blackbirds

Icterid

The Icterids are a group of small to medium-sized, often colorful passerine birds restricted to the New World. Most species have black as a predominant plumage color, often enlivened by yellow, orange or red. The family is extremely varied in size, shape, behavior and coloration...


, New World oriole

New World oriole

New World orioles, comprising the genus Icterus, are a group of birds in the blackbird family. They are not related to Old World orioles which are in the family Oriolidae, but are strikingly similar in size, diet, behaviour and in their strongly contrasting plumage, and are a good example of...


s, grackle

Grackle

Grackle can refer to any of eleven black passerine birds native to North and South America. All are members of the Icterid family but belong to multiple genera.* Genus Quiscalus** Boat-tailed Grackle, Quiscalus major...


s and cowbird

Cowbird

Cowbirds are birds belonging to the genus Molothrus in the family Icteridae. They are brood parasitic New World birds which are unrelated to the Old World cuckoos, one of which, the Common Cuckoo, is the best-known brood parasitic bird....


s.
Zosteropidae

White-eye

White-eye can refer to:*White-eye , a large family of birds.*White-eye , a species of fish.*White-eye mutation, a mutation in Drosophila melanogaster linked to the X chromosome, found by reciprocal cross breeding experiments in 1906.*A lioness member of the Marsh Pride of lions that have featured...


: White-eye

White-eye

White-eye can refer to:*White-eye , a large family of birds.*White-eye , a species of fish.*White-eye mutation, a mutation in Drosophila melanogaster linked to the X chromosome, found by reciprocal cross breeding experiments in 1906.*A lioness member of the Marsh Pride of lions that have featured...


s
Timaliidae: babbler

Australo-Papuan babbler

The Pomatostomidae are small to medium-sized birds endemic to Australia-New Guinea. For many years, the Australo-Papuan babblers were classified, rather uncertainly, with the Old World babblers , on the grounds of similar appearance and habits...


s
Muscicapidae: Old World flycatcher

Old World flycatcher

The Old World flycatcher family Muscicapidae is a large family of small passerine birds mostly restricted to the Old World. These are mainly small arboreal insectivores, many of which, as the name implies, take their prey on the wing.-Characteristics:...


s and chats

Chat (bird)

Chats are a group of small Old World insectivorous birds formerly classed as members of the thrush family Turdidae, but now considered Old World flycatchers....



Turdidae: thrush

Thrush (bird)

The thrushes, family Turdidae, are a group of passerine birds that occur worldwide.-Characteristics:Thrushes are plump, soft-plumaged, small to medium-sized birds, inhabiting wooded areas, and often feed on the ground or eat small fruit. The smallest thrush may be the Forest Rock-thrush, at and...


es and allies
Sturnidae: starling

Starling

Starlings are small to medium-sized passerine birds in the family Sturnidae. The name "Sturnidae" comes from the Latin word for starling, sturnus. Many Asian species, particularly the larger ones, are called mynas, and many African species are known as glossy starlings because of their iridescent...


s
External links
Oscines Tree of Life web project article July 31, 2006