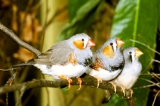 Estrildid finch
The
estrildid finches
are small
passerine
Passerine
A passerine is a bird of the order Passeriformes, which includes more than half of all bird species. Sometimes known as perching birds or, less accurately, as songbirds, the passerines form one of the most diverse terrestrial vertebrate orders: with over 5,000 identified species, it has roughly...
bird
Bird
Birds are feathered, winged, bipedal, endothermic , egg-laying, vertebrate animals. Around 10,000 living species and 188 families makes them the most speciose class of tetrapod vertebrates. They inhabit ecosystems across the globe, from the Arctic to the Antarctic. Extant birds range in size from...
s of the
Old World
Old World
The Old World consists of those parts of the world known to classical antiquity and the European Middle Ages. It is used in the context of, and contrast with, the "New World" ....
tropics and
Australasia
Australasia
Australasia is a region of Oceania comprising Australia, New Zealand, the island of New Guinea, and neighbouring islands in the Pacific Ocean. The term was coined by Charles de Brosses in Histoire des navigations aux terres australes...
. They can be classified as the
family
Family (biology)
In biological classification, family is* a taxonomic rank. Other well-known ranks are life, domain, kingdom, phylum, class, order, genus, and species, with family fitting between order and genus. As for the other well-known ranks, there is the option of an immediately lower rank, indicated by the...
Estrildidae
(weaver-finch), or as a sub-group within the family Passeridae, which also includes the true sparrows.
They are gregarious and often colonial seed-eaters with short, thick, but pointed bills. They are all similar in structure and habits, but vary widely in plumage colours and pattern.
All the estrildids build large domed nests and lay 5–10 white eggs.