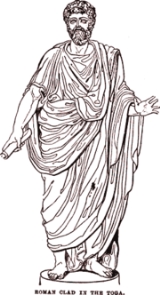 Social class in ancient Rome
Social class

Social class

Social classes are economic or cultural arrangements of groups in society. Class is an essential object of analysis for sociologists, political scientists, economists, anthropologists and social historians. In the social sciences, social class is often discussed in terms of 'social stratification'...


in ancient Rome

Ancient Rome

Ancient Rome was a thriving civilization that grew on the Italian Peninsula as early as the 8th century BC. Located along the Mediterranean Sea and centered on the city of Rome, it expanded to one of the largest empires in the ancient world....



was hierarchical, but there were multiple and overlapping social hierarchies. The status of free-born Romans was established by: