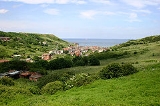 Skinningrove
Skinningrove
is a village in the borough of
Redcar and Cleveland
Redcar and Cleveland
The borough of Redcar & Cleveland is a unitary authority in the ceremonial county of North Yorkshire, England consisting of Redcar, Saltburn-by-the-Sea, Guisborough, and small towns such as Brotton, Eston, Skelton and Loftus. It had a resident population of 139,132 in 2001, and is part of the Tees...
and the ceremonial county of
North Yorkshire
North Yorkshire
North Yorkshire is a non-metropolitan or shire county located in the Yorkshire and the Humber region of England, and a ceremonial county primarily in that region but partly in North East England. Created in 1974 by the Local Government Act 1972 it covers an area of , making it the largest...
,
England
England
England is a country that is part of the United Kingdom. It shares land borders with Scotland to the north and Wales to the west; the Irish Sea is to the north west, the Celtic Sea to the south west, with the North Sea to the east and the English Channel to the south separating it from continental...
.
This name is Viking influenced and is thought to mean Skinners grove or pit. The village had a slaughterhouse until recent times.
History
The village had an agricultural and fishing economy until the opening of local
ironstone
Ironstone
Ironstone is a sedimentary rock, either deposited directly as a ferruginous sediment or created by chemical repacement, that contains a substantial proportion of an iron compound from which iron either can be or once was smelted commercially. This term is customarily restricted to hard coarsely...
workings in 1848 initiated an industrialisation boom. Iron smelting was introduced and a railway built by 1865. A jetty on the coast built in 1880 allowed seagoing vessels to carry heavy cargoes from the area. Mining continued until 1958 and the iron and steel works continued in production until the 1970s.
Contemporary description
The closure of the local industries have caused economic and social problems for the village.
The
Cleveland Ironstone Mining Museum
(formerly the Tom Leonard Mining Museum) describes the villages mining heritage, providing a unique underground experience and an insight into how 6.2 million tons of ironstone was extracted from Skinningrove. The village has a large natural sand beach used for recreational fishing and a
beck
Stream
A stream is a body of water with a current, confined within a bed and stream banks. Depending on its locale or certain characteristics, a stream may be referred to as a branch, brook, beck, burn, creek, "crick", gill , kill, lick, rill, river, syke, bayou, rivulet, streamage, wash, run or...
, which occasionally floods, notably in the year 2000. It also has The Riverside Building community centre which is on the site of a former school. There is a Methodist Chapel which has services on a Sunday at 18:00. There is also a fish and chip shop, a community centre and general dealers and post office. Every year Skinningrove hosts a bonfire and fireworks display which attracts hundreds of people. Each year the bonfire is on a different theme.
The
Cleveland Way
Cleveland Way
The Cleveland Way is a National Trail in ancient Cleveland in Northern England. It runs 110 miles from Helmsley to Filey, skirting the North York Moors National Park.-History:The trail was opened in 1969...
runs through the village.
Oarfish
On 17 February 2003, a rarely seen
oarfish
Oarfish
Oarfish are large, greatly elongated, pelagic Lampriform fishes comprising the small family Regalecidae. Found in all temperate to tropical oceans yet rarely seen, the oarfish family contains four species in two genera...
was caught by
angler
Angling
Angling is a method of fishing by means of an "angle" . The hook is usually attached to a fishing line and the line is often attached to a fishing rod. Fishing rods are usually fitted with a fishing reel that functions as a mechanism for storing, retrieving and paying out the line. The hook itself...
Val Fletcher, using a
fishing rod
Fishing rod
A fishing rod or a fishing pole is a tool used to catch fish, usually in conjunction with the pastime of angling, and can also be used in competition casting. . A length of fishing line is attached to a long, flexible rod or pole: one end terminates in a hook for catching the fish...
bait
Bait (luring substance)
Bait is any substance used to attract prey, e.g. in a mousetrap.-In Australia:Baiting in Australia refers to specific campaigns to control foxes, wild dogs and dingos by poisoning in areas where they are a problem...
ed with
squid
Squid
Squid are cephalopods of the order Teuthida, which comprises around 300 species. Like all other cephalopods, squid have a distinct head, bilateral symmetry, a mantle, and arms. Squid, like cuttlefish, have eight arms arranged in pairs and two, usually longer, tentacles...
. The fish was 11ft 4in (3.3 metres)long and weighed, 140lb (63.5kg). Graham Hill, the science officer at
The Deep
The Deep (aquarium)
-External links:* in association with the University of Hull*...
, an aquarium in Hull, said that he had never heard of another oarfish being caught off the coast of Britain. The
Natural History Museum
Natural History Museum
The Natural History Museum is one of three large museums on Exhibition Road, South Kensington, London, England . Its main frontage is on Cromwell Road...
in London said that it would be interested in preserving the fish in its permanent collection however the fish had been 'cut up into steaks' before any scientists could examine it.
External links