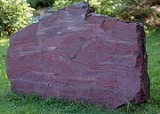 Ironstone
Ironstone
is a
sedimentary rock
Sedimentary rock
Sedimentary rock are types of rock that are formed by the deposition of material at the Earth's surface and within bodies of water. Sedimentation is the collective name for processes that cause mineral and/or organic particles to settle and accumulate or minerals to precipitate from a solution....
, either deposited directly as a ferruginous
sediment
Sediment
Sediment is naturally occurring material that is broken down by processes of weathering and erosion, and is subsequently transported by the action of fluids such as wind, water, or ice, and/or by the force of gravity acting on the particle itself....
or created by chemical repacement, that contains a substantial proportion of an iron compound from which iron either can be or once was smelted commercially. This term is customarily restricted to hard coarsely banded, nonbanded, and noncherty sedimentary rocks of post-
Precambrian
Precambrian
The Precambrian is the name which describes the large span of time in Earth's history before the current Phanerozoic Eon, and is a Supereon divided into several eons of the geologic time scale...
age. The iron minerals comprising ironstones can consist either of oxides, i.e.
limonite
Limonite
Limonite is an ore consisting in a mixture of hydrated iron oxide-hydroxide of varying composition. The generic formula is frequently written as FeO·nH2O, although this is not entirely accurate as limonite often contains a varying amount of oxide compared to hydroxide.Together with hematite, it has...
,
hematite
Hematite
Hematite, also spelled as haematite, is the mineral form of iron oxide , one of several iron oxides. Hematite crystallizes in the rhombohedral system, and it has the same crystal structure as ilmenite and corundum...
, and
magnetite
Magnetite
Magnetite is a ferrimagnetic mineral with chemical formula Fe3O4, one of several iron oxides and a member of the spinel group. The chemical IUPAC name is iron oxide and the common chemical name is ferrous-ferric oxide. The formula for magnetite may also be written as FeO·Fe2O3, which is one part...
; carbonates, i.e.
siderite
Siderite
Siderite is a mineral composed of iron carbonate FeCO3. It takes its name from the Greek word σίδηρος sideros, "iron". It is a valuable iron mineral, since it is 48% iron and contains no sulfur or phosphorus...
; silicates, i.e.
chamosite
Chamosite
Chamosite is the Fe2+end member of the chlorite group. A hydrous aluminium silicate of iron, which is produced in an environment of low to moderate grade of metamorphosed iron deposits, as gray or black crystals in oolitic iron ore. Like other chlorites, it is a product of the hydrothermal...
; or some combination of these minerals.
Appearance
Freshly cleaved ironstone is usually grey. The brown external appearance is due to oxidation of its surface.
Ironstone, being a sedimentary rock is not always homogeneous, and can be found in a red and black banded form called tiger iron, sometimes used for jewelry purposes.
Sometimes ironstone hosts
concretion
Concretion
A concretion is a volume of sedimentary rock in which a mineral cement fills the porosity . Concretions are often ovoid or spherical in shape, although irregular shapes also occur. The word 'concretion' is derived from the Latin con meaning 'together' and crescere meaning 'to grow'...
s or
opal
Opal
Opal is an amorphous form of silica related to quartz, a mineraloid form, not a mineral. 3% to 21% of the total weight is water, but the content is usually between 6% to 10%. It is deposited at a relatively low temperature and may occur in the fissures of almost any kind of rock, being most...
gems.
Occurrence
Ironstone occurs in a variety of forms. The various forms of ironstone include siderite nodules; deeply weathered
saprolite
Saprolite
Saprolite is a chemically weathered rock. Saprolites form in the lower zones of soil profiles and represent deep weathering of the bedrock surface. In most outcrops its color comes from ferric compounds...
, i.e. (
laterite
Laterite
Laterites are soil types rich in iron and aluminium, formed in hot and wet tropical areas. Nearly all laterites are rusty-red because of iron oxides. They develop by intensive and long-lasting weathering of the underlying parent rock...
); and
ooidal
Oolite
Oolite is a sedimentary rock formed from ooids, spherical grains composed of concentric layers. The name derives from the Hellenic word òoion for egg. Strictly, oolites consist of ooids of diameter 0.25–2 mm; rocks composed of ooids larger than 2 mm are called pisolites...
ironstone.
Ironstone as a source of iron
Ironstone, although widespread, is a limited source of
iron
Iron
Iron is a chemical element with the symbol Fe and atomic number 26. It is a metal in the first transition series. It is the most common element forming the planet Earth as a whole, forming much of Earth's outer and inner core. It is the fourth most common element in the Earth's crust...
(Fe). Historically, most of British iron originated from ironstone, but it is now rarely used for this purpose because it is far too limited in quantity to be an economic source of iron ore.
Ceramics
Ironstone is used as a component in some ceramics, commonly known as "ironstone china".
Josiah Wedgwood
Josiah Wedgwood
Josiah Wedgwood was an English potter, founder of the Wedgwood company, credited with the industrialization of the manufacture of pottery. A prominent abolitionist, Wedgwood is remembered for his "Am I Not A Man And A Brother?" anti-slavery medallion. He was a member of the Darwin–Wedgwood family...
also manufactured a "stoneware" china in the 19th century. It was commonly used for heavy-duty dinner services in the 19th century. Charles James Mason (son of the potter Miles Mason) took out a patent for "Mason's Ironstone China" in 1813. Ironstone china was very popular during the 1970s.
In construction
The stone can also be used as a building material. Examples include the
parish church
Parish church
A parish church , in Christianity, is the church which acts as the religious centre of a parish, the basic administrative unit of episcopal churches....
es at
Kirby Bellars
Kirby Bellars
Kirby Bellars is a village and civil parish near Melton Mowbray in Leicestershire, England.-History:The village is recorded in the Domesday Book under the name of Chirchebi....
and
South Croxton
South Croxton
South Croxton is a village and civil parish in the Charnwood district of Leicestershire, England. It has a population of around 250. Nearby places are Beeby, Barsby and Twyford.-Governance and facilities:...
in
Leicestershire
Leicestershire
Leicestershire is a landlocked county in the English Midlands. It takes its name from the heavily populated City of Leicester, traditionally its administrative centre, although the City of Leicester unitary authority is today administered separately from the rest of Leicestershire...
.